Mar 26 2014
Riesling is one of those white wines that drinks well on its own and yet pairs easily with a wide range of food.   It can be served in the winter, spring, summer or fall.  It finds its way around cheeses, vegetables, seafood, poultry, Asian dishes, Mexican cuisine and even some Thai and Indian cuisine.  It is a wine that does not need to be rushed and offers a lovely minerality, racy acidity and bevy of fruit flavors to reflect where it is grown.  The varietal's grape vine consists of a uniquely hard wood for white wine grapes and as such, it can be grown in cooler climates and admittedly shows its best attributes when grown in the right climate.
In Napa Valley there are only a couple of Rieslings which I will purchase and have featured them on this site.  Generally I prefer fruit coming from farther north and in Washington State but admittedly there is a lovely Riesling that hails from farther south down Highway 101 in Central Coastal California from the beloved Edna Valley of San Luis Obispo County.  This article will serve as a reminder to check from time to time this web site's "SLO Vine tab" for a few favorite picks from San Luis Obispo County.   These wines hold equal enjoyment to Napa Valley wines and merit equal attention and review.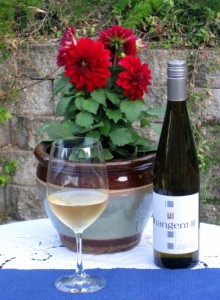 Located just south of the town San Luis Obispo is the beautiful Edna Valley which is home to the Niven Family Wine Estate which makes a number of labels under one house with the same winemaker, Christian Roguenaut.   Tangent is one of the winery's labels and it tends to focus on wonderfully delicious white wines.  The Paragon Vineyard (owned by the Niven Family) is the home of the winery's Riesling grapes and when made into a wine it is clear that this is a product of the cool Central Coast.   As with most Rieslings, it has a racy acidity that is kept into check with a vibrant minerality and lovely flavors of peach, melon and a bit of citrus.   There is no exposure to oak so the wine is able to show of the true attributes of the vineyard, the soil, the climate and the ability of the winemaker.  White wines which are made with such a true expression of the fruit are, in my opinion, the most enjoyable and give the consumer a true sense of place.
Whether you are highly-skilled in the kitchen or a budding home chef, one easy rule to remember with Riesling is that because it is an acidic white wine, it matches well with other acidic dishes.  Tomatoes are such an easy match for acidic wines:  whether the wine is white or red.  Just because a tomato is red does not mean that it has to pair with a red wine.  To show off Tangent's Riesling's pairing ability, I decided to put together a dish involving steamed mussels and juicy garden harvested tomatoes.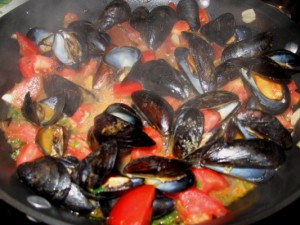 The mussels are steamed in some white wine with garlic, shallots, lemon thyme and other herbs from the garden.  As the mussels open, they are removed and set aside.  Large chunks of juicy tomato are added to the pot along with some butter to make a light stew consistency without obliterating the tomatoes.   The mussels are added toward the end to reheat slightly and then served with the tomatoes and broth with warm home-made artisan toasts.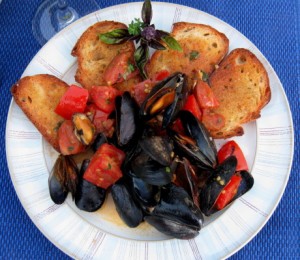 With the wine, the acidity in the Riesling cancels out the acidity in the tomatoes.  All of the fruit flavors of the wine tumble forward and the tomato becomes sweet and robust.   The mussels have a wonderful flavor of their own which pair perfectly with the minerality of the Riesling.   The toasts served alongside sop up any of the remaining broth and are not too heavy with the wine.
This is such a simple and straight-forward way to enjoy Tangent's Riesling at home and to serve to guests out on the deck on a warm spring evening.   It is the very basic essentials to cuisine and wine pairing at play and will satisfy everyone at your table.   Cheers!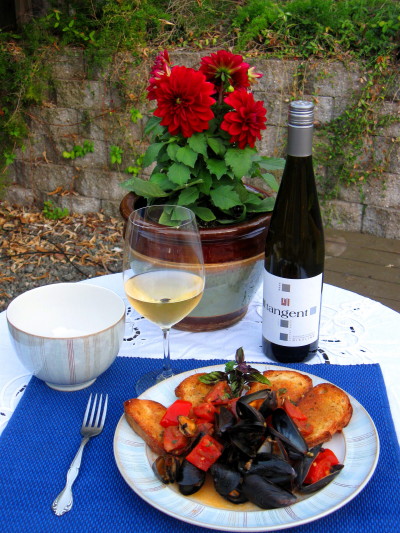 Comments Off on The Wondrous Versatility of Riesling