May 15 2012
EASY SPRING EVENING
By: Jan Littlefield, Correspondent Connoisseur
Date:  May 16, 2012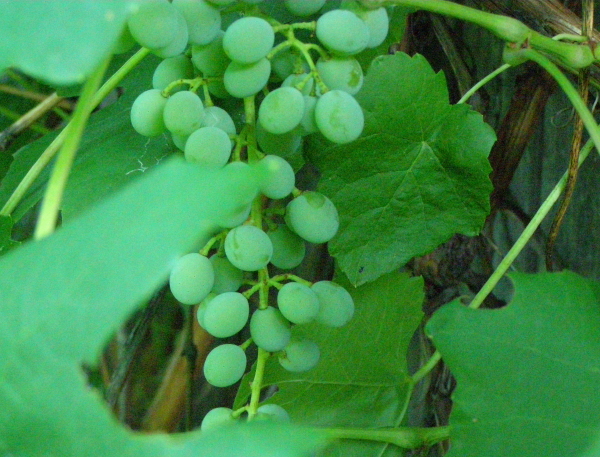 A simple weeknight dinner and an easy-to-drink wine are a perfect match after a stressful day at work.  And luckily, I had ingredients for a  quick, but tasty,  dinner, as well as a chilled bottle of white wine.
Owned by Bob and Billie Witham, Two Rivers Winery and Chateau is located on the southwest side of Grand Junction, Colorado, not far from the Colorado River.  It is named after the confluence of the Gunnison River with the Colorado River (thus, the "Grand Junction").  Its first wines were pressed in the fall of 1999.  Since then, Two Rivers has produced nine different wines, but currently releases six:  Chardonnay, Merlot, Cabernet Sauvignon, Riesling, Syrah and Port (much missed is their Gewürztraminer).  In my refrigerator tonight was a bottle of Two Rivers' 2011 Riesling.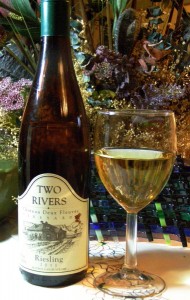 Made by winemaker Tyrel Lawson (who also makes wine for Colterris and his own Kahil label using Grand Valley AVA grapes), Two Rivers' 2011 Riesling is a good choice to keep on hand to complement a wide variety of foods.  Lawson has made a freshly aromatic wine with the typical varietal flavors of peaches and honey, semi-sweet, but showing the firmness of the Grand Valley's minerality and enough acidity to prevent the wine from being cloying.  Riesling has affinities for both spicy and sweet foods, and can be made in a variety of styles ranging from dry to sweet, covering the full range of a meal.  Reflective of its origins in the Rhine region of Germany, Two Rivers bottles its Riesling in tall, tapered brown bottles.
Chosen to complement Two Rivers' 2011 Riesling are:
Warm clam, bell pepper and sugar snap pea salad with orecchiette, and
Mixed greens with strawberries
Orecchiette ("little ears") are my favorite shape of pasta.  They are ideal for pasta dishes which include vegetables cut into shapes slightly smaller than the pasta.  Often, I am able to find orecchiette that do not contain eggs and are thus more opaque and rougher-textured than egg pasta, giving a dish an additional homemade quality.  In my most recent organic vegetable box, I received a shallots, sugar snap peas and two colors of bell peppers.  In my freezer was a bag of shelled and cooked Manila clams, far less expensive than clams in their shells and infinitely superior to canned clams.
While bringing water to a boil for the pasta, I diced the shallot, cut a red and an orange bell pepper into small squares, and removed the strings from and sliced the snow peas.  Meanwhile, the clams were slightly thawed in the microwave.  While the pasta was cooking, I sautéed the shallot in canola oil with a little butter added for flavor.  When it was softened, I added the snow peas and bell peppers and sautéed them only enough to cook the pea pods slightly.  I then added the defrosted clams, along with their accumulated liquid, and stirred in little salt, a good quantity of freshly ground black pepper, the juice of one lemon, and minced fresh oregano from my garden.  When the orecchiette was cooked and drained, it was poured into a big bowl, and the sautéed vegetables were added, along with a generous amount of shredded parmesan cheese and chopped chives, also from the garden.  The whole process took less than 45 minutes, including some time for making up the dish on the spot, and running outside to harvest herbs.
Food cools rather quickly in Colorado, so by the time I finished making the accompanying green salad, the pasta and vegetables were just above room temperature.  The salad was an assembly of mixed baby greens and sliced strawberries, drizzled with sushi vinegar and tossed with ground pepper.  I had meant to include pine nuts, but forgot to take them out of the refrigerator to toast them.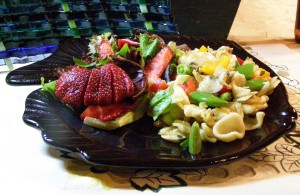 Both the clam salad and the green salad had a slightly sweet profile, despite the inclusion of acid in each dish.  Clams, ripe bell peppers and sugar snap peas are all slightly sweet.  Strawberries and sushi vinegar sweetened the green salad.
Tasted on its own, the clam salad contained both crunch and smooth and creamy textures.  The vegetables were intentionally undercooked to retain a very crisp texture, especially since I do not like the flavor of cooked bell peppers.  Clams provided a little "chew" in each bite, while orecchiette covered in butter and melted cheese gave the dish a decadent and smooth creaminess.  Including clam broth added the tang of the ocean, enhanced by fresh lemon juice for acidity, but not enough to add a distinct citrus flavor.  The green salad was refreshingly crisp, with the strawberries adding a second texture.  Using only sushi vinegar, without oil, insured that the salad remained a distinct contrast to the richness of the pasta salad.
Also tasted on its own, Two Rivers' 2011 Riesling has a very floral and fruity nose, inviting a taste, knowing that it will be sweet.  And on its own, the wine is semi-sweet, rich and creamy with honey and stone fruit flavors, and a distant peppery note.  It would make a lovely contrast to a spicy Chinese meal based on chicken or shrimp and lots of vegetables, but also adds new notes to a less-boldly seasoned dinner.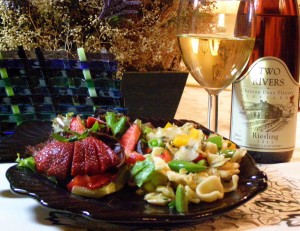 With the pasta salad, the minerality of the wine blossoms and the wine fills the mouth with acidity which contrasts pleasantly with the richness of cheesy and buttery pasta and clams.  While bell peppers are not an easy match for white wines, the fact that these were almost raw and retained their fruity sweetness, enabled Riesling to complement a strong vegetative flavor.  The saltiness of the salad, provided by clams and Parmesan cheese, was a good contrast to the deep minerality of the wine, which shows that its roots are definitely planted in the sandy river bench soils of the Grand Valley AVA.  Adding strawberries to the salad was an easy choice.  Riesling and strawberries were made for each other, and keeping the flavors in the salad pure with only acidity and additional sweetness added, made the pairing perfect.
After finishing my dinner, I enjoyed another leisurely glass of Two Rivers' 2011 Riesling, a treat after hustling to cook and photograph the meal.  The wine is just as enjoyable as an after-dinner treat, just sweet enough to accompany a fruit dessert (if I'd had one), but lovely on its own.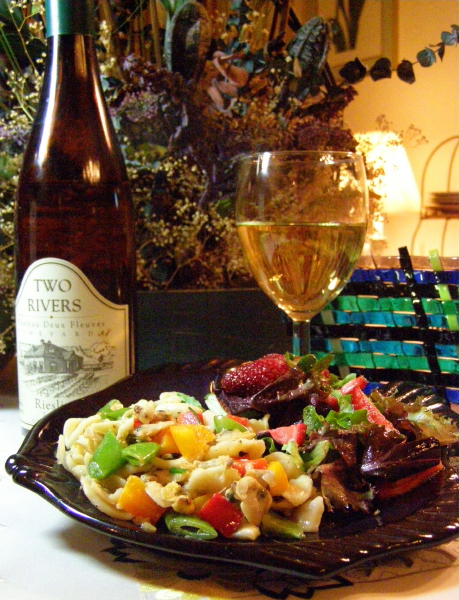 A  TITANIC  UNDERTAKING
By: Jan Littlefield, Casual Correspondent
Date:  May 2, 2012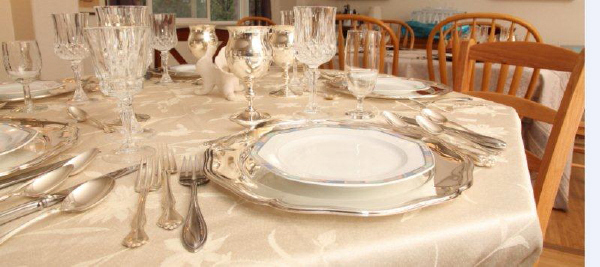 On April 14, I, along with so many others, hosted a "Last Dinner on the Titanic," based on the book of the same name by Rick Archbold and Dana McCauley (Madison Press, 1997).  The original menu for the first class dining saloon survived the sinking, but the recipes did not.  Therefore, the authors researched each dish and created the most historically accurate recipe.  Of the eleven original courses, I selected the following menu, with the authors' suggested wine pairings:
First Course:
Canapes a l'Amiral
Oysters
Chablis, White Bordeaux or White Burgundy
Second Course:
Potage Saint-Germain
Madiera or Sherry
Third Course:
Poached Salmon with Mousseline Sauce
Dry Rhine or Moselle
Fourth Course:
Chicken Lyonnaise
Vegetable Marrow Farci
Red Bordeaux
Fifth Course:
Punch Romaine
Sixth Course:
Sirloin of Beef Forestiere
Chateau Potatoes
Creamed Carrots
Red Burgundy or Beujolais
Seventh Course:
Asparagus Salad with Champagne-Saffron Vinaigrette
Eighth Course:
Chocolate Painted Éclairs
French Vanilla Ice Cream
Ninth Course:
Coffee, Tea and Champagne
Assorted Cheese
Assorted Fresh Fruit
Fortunately, I belong to a gourmet club, so the members shared the cooking, serving and cleanup.  One member volunteered to fold a dozen linen napkins according to the authors' suggested pattern.  I gathered up all of the dishes I own, sorted and stacked them into groupings of 11, and labeled them with number for each course.  Cleaning silver for the dinner took about 8 hours.  All the work was worth it, when I was able to set a largely authentic Edwardian table, complete with ice cream forks.
At 7:00 on April 14, a party of eleven took our places at tables to enjoy a once-in-a-lifetime meal and honor the memories of those lost on the Titanic.  At 11:30, we finally finished our meal, having survived.  In the course of the marathon meal, the smoke stacks on the carved ice Titanic sculpture had melted almost to deck level.  A full Edwardian meal takes stamina, we discovered.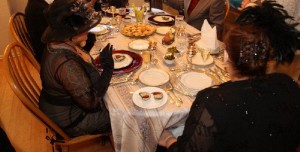 My intent is not to review each course, but anyone who wishes to recreate the Titanic menu will find that the recipes are familiar, although the seasoning may be slightly bland for modern tastes.  Standout dishes were the canapés; the poached salmon (how could one not enjoy Hollandaise sauce enriched with whipped cream?); the punch Romaine (a sparkling wine slushy); and the éclairs.  The progression of the meal was somewhat unusual for modern diners, with salad following the final meat course, and it was difficult to keep up with a different wine with each course, even when the pours were only 2-3 ounces.  We were all astounded that Edwardians could consume the amounts of food represented by this meal, and even more so when we remembered that two full courses and many dishes within various courses had been omitted.  We skipped the game course and the foie gras with celery, and made one selection from courses that offered multiple choices, with instructions that portions were to be tastings, not full servings.
The beef course was superior, due to the fact that a local meat market barded and tied a top-quality cut of beef.  The accompanying potatoes were rather ordinary, but tasty; however, the creamed carrots were unusual and a recipe worth repeating.  I had the responsibility of preparing the beef and its accompaniments, and I selected a Colorado wine to pair with it.  The menu suggested a red Burgundy or Beaujolais, so I searched my collection and chose a 2005 Canyon Wind Cabernet Sauvignon.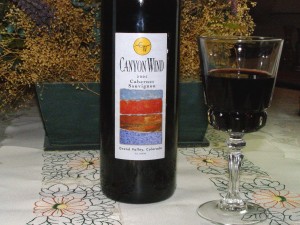 Roast Beef Forestiere is a well-seasoned dish, considering the relative timidity of the seasoning in other courses.  A "butcher's heart roast," a barded and tied sirloin roast, was rubbed with a combination of garlic, thyme and red wine, and allowed to marinate for four hours.  Roasted until just barely medium rare, it is served with pearl onions and Sauce Forestiere, a mixed mushroom and red wine sauce, seasoned with thyme.  Chateau potatoes are traditionally peeled white potatoes, trimmed to an octagonal shape, and oven roasted.  I substituted three colors of fingerling potatoes, but followed the recipe and seasoned the potatoes with rosemary.  Creamed carrots were a very pleasant surprise, and one of my favorite dishes in the meal.  Peeled carrots were simmered in water with a cinnamon stick, until the carrots were tender.  The drained carrots were then sautéed in butter with cinnamon, nutmeg and pepper, and finished with heavy cream and lemon juice.  The recipe called for julienned carrots, but since I had small organic carrots, with their tops, I chose to serve whole carrots.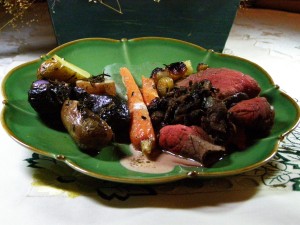 Pairing wine with this course was not a challenge, since the menu specified a red Burgundy or Beaujolais.  One of the major varietals in Burgundy is Cabernet Sauvignon.  And one of my favorite Colorado wines is Canyon Wind's Cabernet Sauvignon.  The winery is currently marketing its 2006 Cabernet, but I selected a 2005 from my "wine cellar" (ok, it's a couple of racks in a cool, temperature- stable corner in my basement).  Canyon Wind produces a classic Cabernet Sauvignon, aged 20 months in oak.
The 2005 growing season in Palisade, in the Grand Valley AVA, was warmer than the 2006 season, producing a Cabernet that is softer and more earthy than the fruit-forward 2006 Cab.  Since Canyon Wind is one of Colorado's larger wineries, with its own vineyards, they are able to hold their wines longer before release, making their reds some of the more readily drinkable reds produced in Colorado.  Smaller wineries often must release their red wines within a year or two of their vintage, thus requiring the purchaser to either age the wine further, or drink a wine that has not quite reached its potential.  Upon its release in 2010, Canyon Wind suggested that its 2005 Cabernet was ready to drink, but it could be cellared for an additional 3-5 years if desired, so its selection for the Titanic dinner was appropriate, although I look forward to opening additional bottles from my collection in the next year or two.
The overall profile of the Beef Forestiere, Chateau Potatoes and Creamed Carrots is herbaceous and rich, verging on fatty, but definitely in the scrumptious sense of the word.  The interplay of thyme, rosemary, cinnamon and nutmeg was slightly exotic, but the flavors blended together due to the richness of the beef, the smoothness of the potatoes roasted in butter, and the creaminess of carrots – in other words, fat carried the flavors of the seasonings.  In the original sequence of an Edwardian dinner, the beef course would have been a game course, and on the Titanic, roasted squab was served.  Since poultry had already been served (Chicken Lyonnaise), it seemed appropriate to move the beef from the "removes" course to the position of the game course, providing a meal that featured fish, fowl and red meat.  Interestingly, red Burgundy was the suggested wine for both the removes and the game courses, so Canyon Wind Cabernet Sauvignon would have been appropriate if roast squab had been served.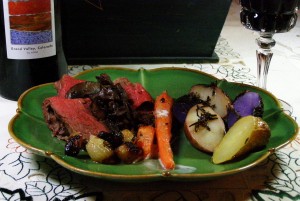 Canyon Wind's 2005 Cabernet has a subtle nose that develops with a few minutes of airing, when one begins to smell cherries, dark berries and oak.  Tasted with the beef and mushroom sauce, the Cabernet provides a pleasant level of acid that cuts through the richness of the meat and sauce, and allows the wine to develop cherry and stone fruit flavors.  One is left with a slight chocolate finish.  The 2005 is not as full-bodied as some Cabernets, but it is certainly not weak or flabby.  It is simply slightly lighter than some Cabernets, which allows it to be adaptable to more types of foods.  Tasted with the potatoes, the flavor of the wine dominates, but the rosemary enveloping the potatoes provides a platform to bring out the oakiness and subtle herb flavors in the wine.  The carrots were a surprisingly good match, due to the hints of cinnamon and nutmeg carried in cream, which emphasized the cherry and distant leather flavors in the wine.
A dinner as singular as The Last Dinner on the Titanic demanded careful selection of wines.  Canyon Wind's 2005 Cabernet Sauvignon met the challenge and proved to be a fine match for the roast course.  A wine that appears six courses into a banquet and demands notice is a wine that will stand up to modern and bold flavors.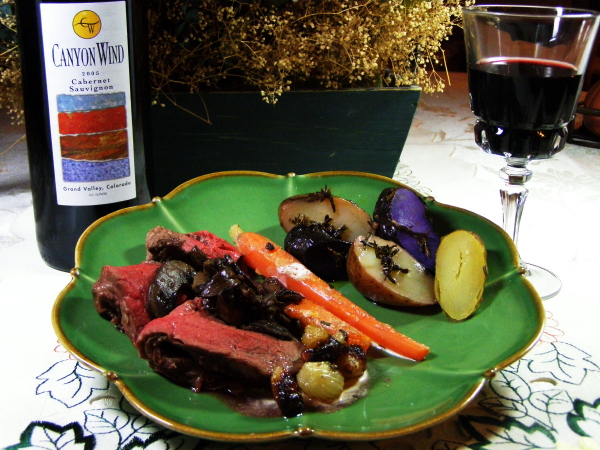 EDITOR'S REQUEST
By:  Jan Littlefield, Correspondent Connoisseur
Date:  March 27, 2012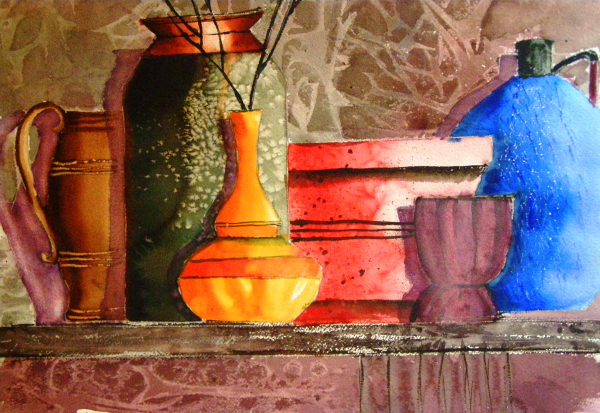 Kristin Hanson, creator of the Casual Connoisseur blog, requested that I make my "famous" lettuce wraps, because she wanted to read about them, even if she couldn't be in Colorado to eat them.  Asian, or pseudo-Asian, foods are not always easy to match with wines, but the flavor profile of lettuce wraps suggested an interesting rosé.  Coincidentally, a friend and I had recently visited Denver's Winery Row, a cooperative project involving several Colorado wineries – Bonacquisiti Wine Company, Cottonwood Cellars, The Olathe Winery, Garfield Estates Vineyard & Winery, and Verso Cellars.  Most of the participating wineries make their wines elsewhere, at wineries in Western Colorado, but of the Winery Row group, Bonacquisti produces its wines on site, from grapes grown in the Grand Mesa AVA in Western Colorado.  Billed as "Denver's Urban Winery," Bonacquisti's facility is a tasting room next to French oak barrels and stainless steel tanks.  Among Bonacquisti's more popular wines is their White Merlot.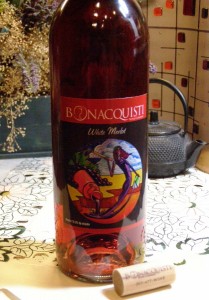 Paul Bonacquisti learned to make wine from his father, who learned to make it from his father, an Italian immigrant who came to Colorado to work at the coal mines in Southeastern Colorado.  Paul, and his wife, Judi, opened the winery in 2006, after Paul obtained an Executive Sommelier certificate from the International Wine Guild, and after Paul chose to leave his job as a disc jockey after his radio station changed formats.  Although Judi works in the education field, the winery is a family affair, and two of their wines, Vinnie No Neck and Bella Risa, are named after the Bonacquisiti children.  Local Denver artist Daniel Luna was chosen to design bottle labels for the "family wines."  The winery consciously chose to develop both easily accessible, everyday wines, as well as reserve wines for more special occasions.  White Merlot sits firmly in the everyday wine group and is one of their most popular wines, selling out quickly and greatly missed when not available.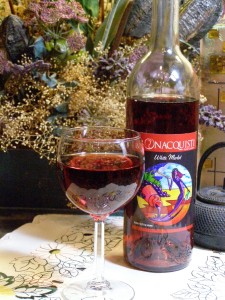 Recently, the winery has introduced "jug" wines in two styles of red.  Customers purchase a gallon bottle of red wine, and bring back the empty bottle to be refilled, thus reducing both price and the waste of glass.  The Bonacquistis plan to expand to other varieties of wine, including white wines, and perhaps, someday, White Merlot.  Obviously not intended for long-term storage, the Bonacquistis suggest that the wine be consumed within 30 days of purchase.  Since the winery is convenient to downtown Denver, it would be easy to purchase a jug of wine for a party.
Denver has had unusually warm weather this month, and exceptionally dry.  March is generally the snowiest month, but 2012 brought most of the snow in February, leaving us with early Spring fever in March.  I would normally save lettuce wraps, if served as an entrée and not an appetizer, for late Spring or Summer.  As a celebration of unusually good weather, lettuce wraps trotted out early.  As an appetizer, there is no need to worry about an accompaniment, but lettuce wraps alone do not make a meal.  Rice would be an easy side dish, but heavy and unimaginative.  Instead, I developed a simple, but elegant salad of hearts of palm and three colors of bell peppers.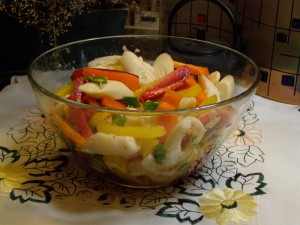 The filling for the lettuce wraps does not vary, because it is always a tasty success.  Ground pork and ground chicken are browned with a clove of garlic and a considerable amount of freshly grated ginger.  To this mixture, finely chopped water chestnuts, diced bamboo shoots and thin slices of the white portion of green onions are added.  The sauce is a mixture of equal amounts of hoisin sauce and oyster sauce, with a teaspoon of sesame oil.  When the sauce has melded into the meat mixture, sliced tops of the green onions and sliced almonds are added.  The warm filling is wrapped in Boston or butter lettuce leaves.  The combination is both zippy and slightly sweet.  Hoisin and oyster sauce are slightly sweet, but the garlic and ginger lend a savory aspect to what could be a cloying flavor.  Pickled ginger was added to the plate to add a contrasting sharp flavor.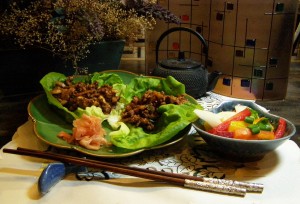 To accompany, a very simple salad of sections of hearts of palm, and batons of red, yellow and orange bell peppers were mixed with sushi vinegar and a dusting of black pepper, with the remaining green onion tops added for additional color.  The whole meal was prepared in little over 45 minutes, with the bulk of the effort going into prepping the bell peppers.  Thus, this meal could easily be a weeknight favorite. In summary, to complement Bonacquisti's White Merlot, I chose to serve:
  Chicken and Pork Lettuce Wraps; and
 Bell Pepper and Hearts of Palm Salad.
Tasted with a bite of lettuce and filling, White Merlot loses its sweetness and a pleasant acidity enhances the saltiness of the pork and chicken in sauce.  Hoisin sauce, oyster sauce and ginger make an assertive mouthful, but the berries and a slight spiciness push the wine forward, and it is not lost to an overwhelming flavor.  A sip of wine with a bite of lettuce wrap make the flavors of lettuce, green onion, and almonds become more prominent, smoothing the salty soy and oyster flavors of the sauce.  A tartly acidic wine would be an unpleasant pairing, but the slightly sweet flavor of White Merlot cuts through the richness of a meat-dominant bite.
In contrast, a bite of salad with the wine brings out the sweetness of White Merlot, but, again the cherry and strawberry flavors in the wine add a roundness to an essentially two-flavored salad.  While sushi vinegar is slightly sweet, it seems more acid than the wine, giving the wine an entirely different flavor than when it is tasted with the lettuce wraps.  Bell peppers are not easily matched with wine, especially if raw, but White Merlot is a good companion.
Rosés tend to be thought of as the red-headed stepchild of wines.  Bad memories of low-quality white Zinfandel drive many away from delightful wines.  My thoughts about blush wines lead me back to my early 20s and fern bars filled with women drinking white Zinfandel and hoping to meet the perfect man.  However, rosé has been redefined, with winemakers making rosés from many varietals.  There is an effort in the industry to distinguish "blush" wines from "rosés," with blush continuing to apply to the sweeter, paler wines, and rosé being applied to more "serious" wines.
Bonacquisti's White Merlot is a sturdy and darker style of rosé.  It is off-dry, but not sweet enough to relegate it to dessert wines.  Full of berry nose and flavors, with beautiful rich color, it would be a lovely aperitif on a warm afternoon on the deck.  However it has complexity to stand up to a variety of foods.  It is especially suited to match with Asian flavors, having enough sweetness to smooth out spicy or salty foods, but it would pair well with ham, barbecue, sturdier seafoods and poultry.  The modest price of Bonacquisti's White Merlot makes it a good wine for everyday drinking.  I will definitely be keeping several bottles on hand for a casual dinner.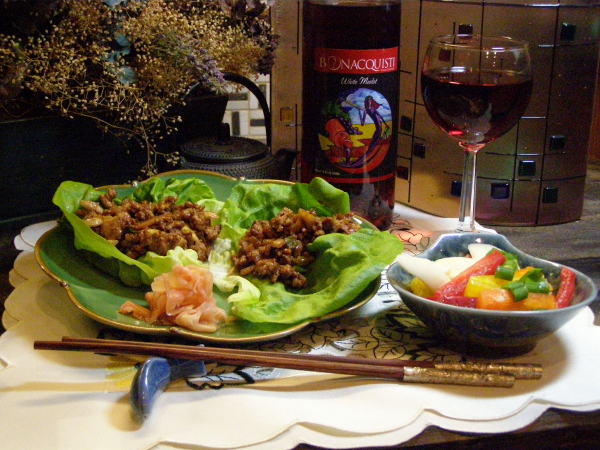 FRUITS OF WINTER
By:  Jan Littlefield, Correspondent Connoisseur
Date:  January 17, 2012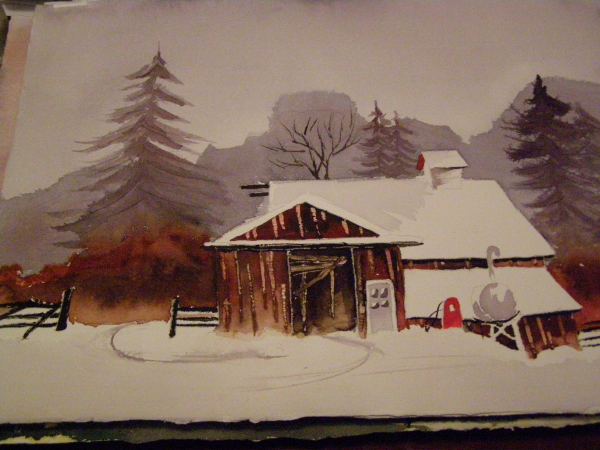 Even in winter, a ladies' lunch generally features a light entrée.  As I was having friends over for a crafting afternoon, I wanted to serve a meal that was flavorful, but light and easy.  Remembering a wonderful pizza I sampled at a wine tasting at a local Denver winery, I chose to recreate the pizza and pair it with a light, but nutritious, soup, and a complementary white wine.
The pizza I tasted at the winery was baked outdoors in a brick oven, to which, unfortunately, I do not have access.  Instead, I chose to concentrate on the other flavors in the pizza, which were unusual and haunting:  ripe pears, paper-thin lemon slices and a plain white cheese.  Wanting the pizza to be the star of the meal, but needing an additional dish to round out the meal, I chose to make the meal vegetarian and invented a soup of barley, small white beans, onions, fennel and zucchini, in an unthickened vegetable broth.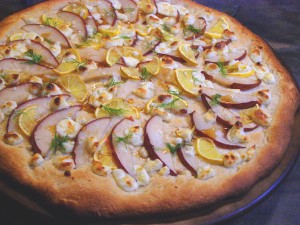 I prebaked a thin pizza crust for five minutes, then topped it with very thin slices of red pears, and filled in spaces with paper-thin slices of Meyer lemon.  Wanting cheese for the protein, but not wanting to have the cheese overwhelm the fruit flavors, I added small pieces of hand-shredded queso panela, a Mexican cooking cheese similar to a slightly salty mozzarella, but with a much fresher taste and consistency than supermarket mozzarella.  Queso panela is often used in quesadillas, and does not spread widely when heated and often acquires an attractive and tasty browned surface.  After baking the pizza until the cheese browned, I removed it from the oven and allowed it to cool slightly, then drizzled it with a fine stream of honey, a delicious artisan honey gathered in Paonia, Colorado, by Austin Family Honey.  Finally, more for color than flavor, the pizza was strewn with fresh dill sprigs.  While not as stunningly attractive as a brick-oven baked pizza, it is, nonetheless, an attractive dish.
Since the pizza was intended to be the star of the meal, I invented a soft soup, using vegetable broth, in which diced cipollini onions were simmered for about 30 minutes, along with uncooked barley.  Once the barley softened, I added minced fennel stems left over from another meal, along with a well-rinsed, canned, small white beans and quarter-slices of a small zucchini.  I continued to cook the soup until the zucchini was thoroughly cooked, but not limp.  I corrected the seasoning with salt and pepper, and garnished with dill fronds.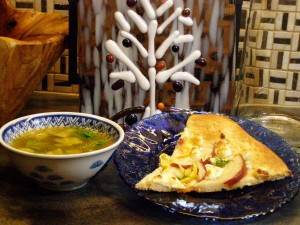 This menu was designed to complement a wine that I purchased in the fall, on a trip to Estes Park, Colorado.  While there, I visited Snowy Peaks Winery, a small winery which is located in a modest building between downtown Estes Park and the highway to Rocky Mountain National Park, the main tourist destination in the area.  One of the wines I purchased was their 2010 Rousanne, a wine which I had not previously known to be made in Colorado.  Purchasers of Colorado wines need to be watchful, if a local wine is the goal, because some local wineries actually purchase grapes from California, which are shipped across country to be made into "Colorado wine."  Snowy Peaks, however, sources its Rousanne grapes from a vineyards near Palisade, Colorado, in the Grand Valley AVA.
Snowy Peaks' Rousanne is descended from one of the major white Rhone grape varieties, and, in France, it is often blended with Marsanne and Grenache Blanc.  In some areas of France, Rousanne may be added to red blends, as well.  In warmer areas, Rousanne wines are rich and lush; in cooler climates, the wines are leaner and more delicate.  Somewhat difficult to grow, the grapes ripen late and are prone to mildew and have low resistance to drought and wind.  Rousanne is known to improve in the bottle for up to 15 years, although several experts imply that the wine is best enjoyed young, or when well-aged, because the wine closes down in intermediate years, losing the crisp qualities of a young wine, but not yet acquiring the nuttiness for which older Rousannes are valued.  Rousanne grapes may well have become extinct in France, if the grapes had not been valued for blending.  It is one of the only white wines, other than Marsanne, allowed in the northern Rhone appellations of Crozes-Hermitage, Hermitage and St. Joseph, all primarily red wine producing appellation.  The grapes are also grown in Italy and Australia.  In the United States, Rousanne has been a somewhat controversial grape, with California "Rousanne" having been discovered in the 1990s to be genetically identical to Viognier grapes.  Vines planted after this discovery have been from genuine Rousanne stock.  Rousanne grapes, at maturity, are characterized by a russet or brownish blush, which probably led to the grape's name.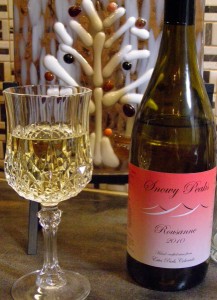 Rousanne wines are renowned for an herbal tea nose and distinctive acidity, both of which are present in Snowy Peaks' vintage.  The label does not disclose the alcohol content of the wine, but it has none of the heat that can accompany a higher alcohol wine.  It is not an overly fruity wine, and examples of bottle-aged Rousanne are often described as having a "nutty" flavor, with a slight hint of bitterness.  Snowy Peaks chose to make the wine in a dry style, which makes it a good companion to lighter foods.  A sip of the wine, on its own, reveals a beautiful herbaceous aroma, a tart lightness on the palate, with strong flavors of pears, honey, herbs and pepper, and with it enough acidity to avoid being cloying.
Tasted with a spoonful of soup, the acidity of the wine brings out the soup's vegetable flavors, especially onions and fennel, and brightens the smoothness of the barley and the white beans.  It is not a jarring acidity, however. And does not overwhelm the gentle flavors of the soup.  The herb aspects of the wine are complemented by the mild soup, but the fennel flavor was a surprising standout and blended beautifully with the herb aroma and flavors of the Rousanne.  The pizza and wine could almost be a dessert course, but the acidity of Snowy Peaks' Rousanne saves the combination from being too sweet.  Again, the wine has enough crisp acidity to bring out the lemon flavors in the pizza, while blending beautifully with the honey and pears.  The crispness of pizza crust, and its lack of sweetness also contributes to preventing the pizza from becoming dessert, and the saltiness of the cheese adds a welcome savory quality.  With a sweeter white wine, the combination could be cloying, but the briskness of Rousanne is a welcome foil to the fruitiness of the pizza.
Rousanne is not a common wine in Colorado, and Snowy Peaks' creation is worth seeking out.  Only 35 cases were produced of the 2010 vintage, and it is most readily available at the winery in Estes Park.  This wine will be enjoyable in warmer weather, as well, paired not only with vegetarian dishes, but with fish or chicken entrees, or sipped with a cheese and fruit dessert after a meal.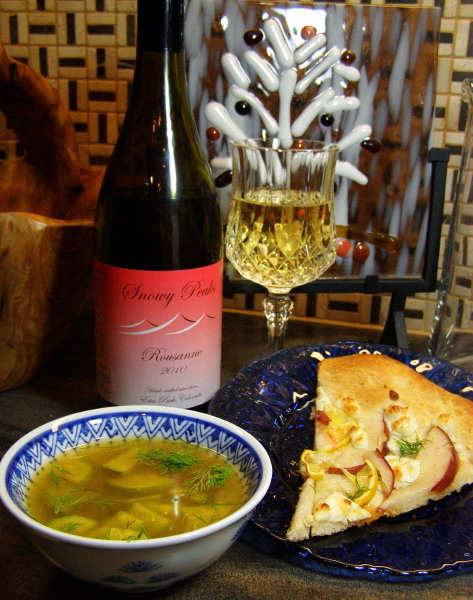 SOUP WEATHER
By:  Jan Littlefield, Correspondent Connoisseur
Date:  December 6, 2011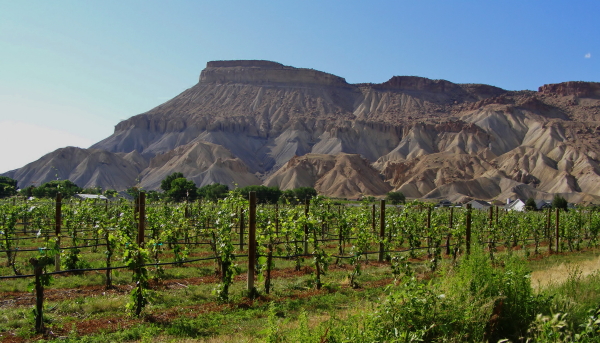 Snowy weather and soup are a natural pairing.  Despite the green in the initial photo, it is minus 4 degrees in Denver and there is a chill in the house.  My trip home from work tonight was scary because the streets were icy and cars were sliding on curves.  But I knew that I had beef and leek soup waiting for me at home, with a good glass of wine to accompany it, so I drove home carefully on side streets, away from the kamikaze SUV drivers sailing too quickly down the highways.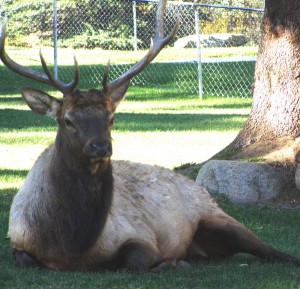 Over the weekend, I started the soup from scratch, slowly simmering for several hours meaty soup bones, the green tops of leeks, several carrots, onions celery, and a bouquet garni of fresh herbs, allspice and star anise to develop a complex broth.  The beef bones were not browned prior to simmering, so that the beef would gently flavor the broth rather than dominate it.  I strained the broth and refrigerated the liquid over night.  The next day, the broth was defatted and reheated.  I added cubes of lean beef round to simmer for an hour, then I added white and pale green slices of the leeks, along with barley, carrots and celery, to cook until almost tender.  Slices of fingerling potatoes were added, seasonings corrected, and the soup continue to gently cook until the potatoes were tender.  The soup was intentionally plain, to allow the vegetable flavors to remain the focus.  Leeks are expensive in Colorado, and allowing leeks to be the main ingredient pays homage to a luxury.
Vegetable soups often improve after resting for a day, as was the case with my simple leek and beef soup.  Resting smoothes the edges of the carrots and celery, allowing them to merge into the gentle sweetness of the leeks and barley.  Based on pot au feu, but simplified, this soup is all about the broth.  Leeks complement beef and lend complexity to simple vegetables such as carrots and celery.  However, it is the broth that captures my attention and encourages me to make this soup several times each winter.  Leeks mimic the flavor of onions, but are milder, with a fresher and more vegetal undertone than onions.
This soup is filling but not rich.  Unlike its cousin, French onion soup, it does not call out for fatty accompaniments.  For serving, I added a garnish of shredded arugula and a dollop of whole grain mustard, traditionally served with beef pot au feu.  Whole grain mustard lacks the sharpness and acidity of mustards made with ground seeds, and adds an interesting texture to the soup.
Wanting something to round out the meal, I added baguette slices topped with a Mexican queso fresco and toasted until the cheese browned slightly.  The cheese was topped with chopped Roma tomatoes to add a slight acidity.  This comforting meal without pretensions called for a wine with character that would complement, but not overwhelm, the gentle sweetness of the leek soup.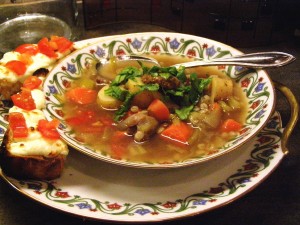 I returned to my collection of wines from Garfield Estates to look for inspiration.  Both the Syrah and Malbec are delicious wines, but too lush for the meal.  Spotting a bottle of Garfield's 2008 Cabernet Franc, I knew that I had found the proper match for my simple meal.  Cabernet Franc grapes produce a lighter-bodied wine with soft tannins.  However, Cabernet Franc has peppery and leafy qualities that make it a good pairing with the soft and slightly sweet flavors of the soup.
Cabernet Franc is a black grape that is often used to blend with Cabernet Sauvignon.  It is being grown with increasing frequency in cooler wine regions such as Colorado's Grand Valley AVA.  The vines flourish in the dry mineral soils of the area, although the grapes' thin skins make them susceptible to late freezes common in Colorado.  However, the grapes ripen early, a valuable trait in the short growing season of the high altitude Grand Valley.  Vintners often have the opportunity to leave the grapes on the vines for a few extra days to allow the fruity qualities of Cabernet Franc to develop.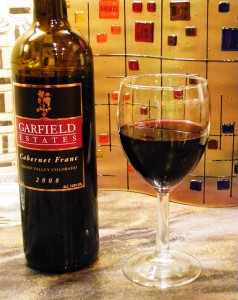 Wines produced from the Cabernet Franc varietal often have a prominent vegetal quality, with green flavors almost reminiscent of green bell peppers or mild chile peppers.  Cabernet Francs grown in Colorado often have a tobacco edge, but are still fruit forward.  The flavor does not immediately endear itself to many tasters.  Most Cabernet Franc needs time in the bottle too round out its edges and smooth the vegetal flavors.
Garfield's 2008 Cabernet Franc is not widely available, but the 2009 is currently being marketed.  The 2008 was promising when I tasted it two years ago at the winery, but it was definitely dominated by green flavors.  Aging has mellowed the wine, but it still has hints of leaves and rosemary or pine that blend with its berry and plum aspects to make an interesting wine to pair with food.  It has a rather neutral, slightly floral nose that does not particularly hint of the complexities of its flavor.
Sipped alone, Garfield's 2008 Cabernet Franc provides a pleasant mouth feel, light but complex.  Not as elegant as a Cabernet Sauvignon, the Cabernet Franc is nonetheless an intriguing wine.  Taken with a spoonful of leek and beef broth, the wine comes into full bloom, providing the acidity and complexity lacking in the simple soup broth.  It reduces the sweetness of the broth without overwhelming it, while complementing the sharpness of the garnish of arugula and whole grain mustard.  Not surprisingly, the soup, based on a traditional French recipe, calls out for the completion provided by a complex red wine.
No less interesting a combination is Cabernet Franc and the baguette with toasted cheese and chopped tomatoes.  The bread and cheese are rather plain and not particularly rich.  Queso fresco is a fresh cheese which does not last long unless it is loaded with preservatives.  It shares the squeaky character of a fresh mozzarella.  The addition of chopped tomatoes provides a slight acidity.  A bite of baguette and cheese taken with a sip of Garfield's  Cabernet Franc elevates the simple bite, reminiscent of dipping bread and cheese into balsamic vinegar.  The simplicity of bread and cheese allows the wine to shine and to be appreciated against a neutral background.  Although I did not think of it at the time, another note could be added to the pleasant combination by grinding fresh black pepper over the cheese before toasting.  Cabernet Franc has its own peppery notes that would be enhanced by adding pepper to the bread.
A simple meal on an extremely cold winter night is a welcome comfort.  Simple meals do not have to be boring.  Beef and leeks are a classic pairing, and for me, almost irresistible.  Adding a nicely aged wine to the equation elevates simplicity to classic elegance.  Garfield's 2008 Cabernet Franc was the perfect pairing and created a memorable meal from the simplest ingredients.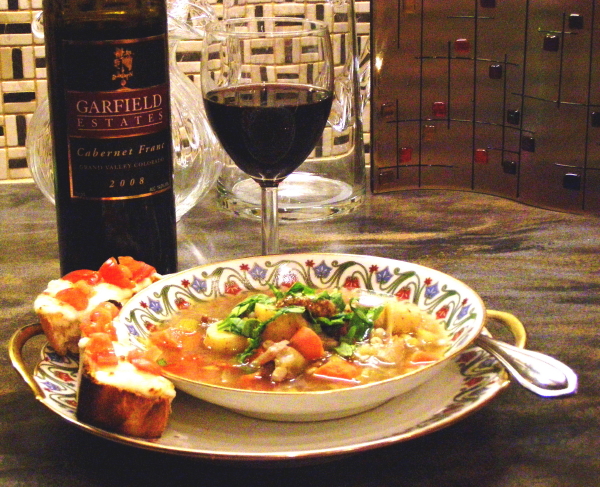 LABOR DAY WEEKEND CELEBRATIONS
Date:  September 13, 2011
By:   Jan Littlefield, Correspondent Connoisseur
J.A. Balestreri Vineyards ("Balestreri"), is an oasis in an industrial area of northeast Denver, with a soon-to-be completed improved tasting room and lovely gardens.  The winery produces completely natural wines, unfiltered and without additives.  John Balestreri, his wife Birdie, and their daughter Julie welcome visitors to the winery.  Judging from their recent wine tastings during Labor Day weekend, the winery is very popular with Denverites, who flock to taste and buy local wines and enjoy pizzas baked in the winery's brick oven.
John Balestreri sources the majority of his grapes from vineyards in the Grand Valley American Viticultural Area.  However, he also purchases grapes not available in Colorado from relatives in the Lodi, California area, allowing him to produce an extensive collection of white, red and dessert wines.  All Balestreri wines are made one barrel at a time, and the barrels are American oak.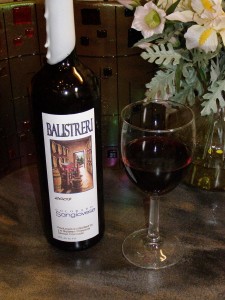 Each time I have visited the winery, I find myself drawn to the Colorado Sangiovese.  The grapes in the 2008 and 2009 Sangiovese are sourced from the Talbott Vineyard in Palisade, Colorado.  An award-winning wine, the 2008 Sangiovese was not available for purchase at my most recent visit; however, the 2009 Sangiovese is the equal of the 2008.  Sipping the Sangiovese with pizzas fresh from the brick oven, and with cheeses and olives from the winery's antipasto array, is a delight that I cannot reproduce at home.  However, I was able to devise a menu that salutes a late summer holiday weekend, while also complementing a delightful wine:
1)      Barbecued Brisket on Kaiser Rolls;
2)     Potato and Green Bean Salad Nicoise with Caper and Thyme Vinaigrette; and
3)     Red and White Cole Slaw with Vidalia Onion and Poppy Seed Dressing.
A well-trimmed brisket was rubbed with Kosher salt and Park Hill Maple & Spice Pepper (a peppery-sweet herb mix devised by Denver's own Savory Spice Shop).  Wrapped tightly in foil, the brisket was baked slowly for hours, until it was fork-tender (and the delicious juices were repurposed to become the base for soup).  Served on Kaiser rolls, the brisket was napped with a mild tomato-based barbecue sauce that allows the pepper in the rub to shine through.  Accompanying the sandwiches were cole slaw and potato salad.  The cole slaw, made with both red and white cabbage, was dressed with my favorite dressing, a Vidalia Onion and Poppy Seed dressing that I purchase at a farm stand in Hotchkiss, Colorado.  A Nicoise-style potato and fresh green bean salad shuns mayonnaise in favor of a vinaigrette flavored with fresh thyme and minced capers.  Simple and clean-tasting, the potato salad fulfills the role of a traditional potato salad, without overwhelming the brisket sandwiches, or overwhelming the waistline.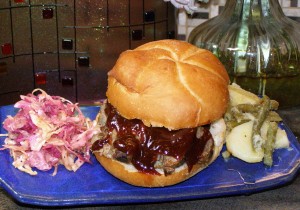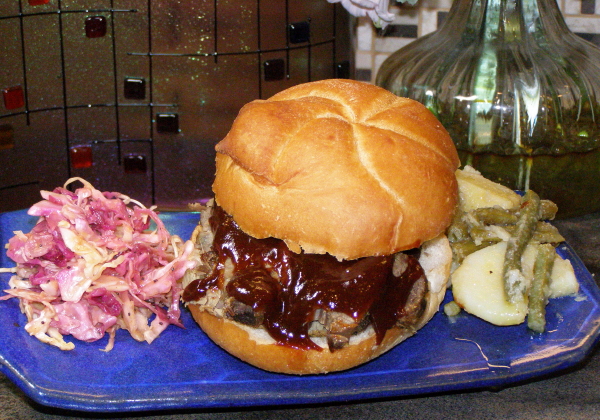 Sangiovese is an ancient grape, perhaps dating back to Roman times, as indicated by the name, which translates to "the blood of Jove" – the Latin name for Jupiter.  The grapes are well-adapted to growing in heavily limestone or shale soils, and favor cooler climates that do not produce heavy autumn rains.  Sangiovese grown in too much sunlight tends towards high yields, which can result in wines that are light in color that tend to oxidize.  Vintners strive for a controlled yield by planting in lean soils, such as those found in the Grand Valley AVA, and allowing the vines to canopy and protect the thin-skinned grapes.  Because Sangiovese wines can be excessively acidic and tannic, wines are frequently fermented in oak barrels to mellow such tendencies.  Although Sangiovese is often blended with other grapes to cover the grapes' weaknesses, Balestreri's 2009 Sangiovese is produced from 100% varietal grapes.  Aging in American oak mellows the acidity and tannins in the wine, producing an easily drinkable young wine.  Some Sangioveses are intended for aging, but the vast majority are intended to be consumed within three to four years of bottling.
After swirling in the glass, the Sangiovese yields aromas of vanilla, berries and cherries, with a slight hint of toastiness.  A first sip, without food, shows the wine to be surprisingly smooth and rounded for such a late vintage, giving testimony to John Balistreri's skill as a vintner.  Rising to the forefront are vanilla and cherry flavors, with enough acidity to avoid being cloying.  Slight spiciness, reminiscent of Zinfandel, is tasted, but the wine is fruit-forward and inviting.
Taken with a bite of barbecued brisket sandwich, Balestreri's Sangiovese plays well into the spicy sweetness of the beef and the tomato-based sauce, echoing the traditional Italian pairing of Sangiovese with pasta and a tomato sauce.  There is enough acidity and tannin in the wine to prevent the sweetness of the sauce from becoming  overwhelming.  Cole slaw is a traditional foil to barbecued meats, but it can sometimes be too vinegary to complement wines.  Choosing a Vidalia onion and poppy seed dressing allows the salad to develop a crisp flavor that is tempered by the sweetness of the onions.  Sangiovese holds its own with such a salad, allowing the crispy texture of the cabbage to be appreciated, without competing with a tart dressing.  Finally, a bite of the potato and green bean salad provides the greatest challenge to the wine, which is why the vinaigrette was made with mild rice vinegar and thyme, an earthy herb that tames the tartness of the capers.  Because the potato salad is dressed lightly and simply, it does not compete with the fruity crispness of the Sangiovese.  Instead, it brings out the acidity of the wine in a pleasant manner that relieves the palate from the sweeter aspects of the barbecued brisket and the cole slaw.
Nothing quite compares to the pairing of Balestreri's Sangiovese with simple brick oven pizzas, eaten in the garden at the winery.  However, the 2009 Sangiovese is such a food-friendly wine that it is easy to pair with a variety of foods.  Today's menu reminisces of summer, but looks forward to autumn, making a pairing of a fruity Sangiovese with barbecued meat an inspired choice for a delightful wine.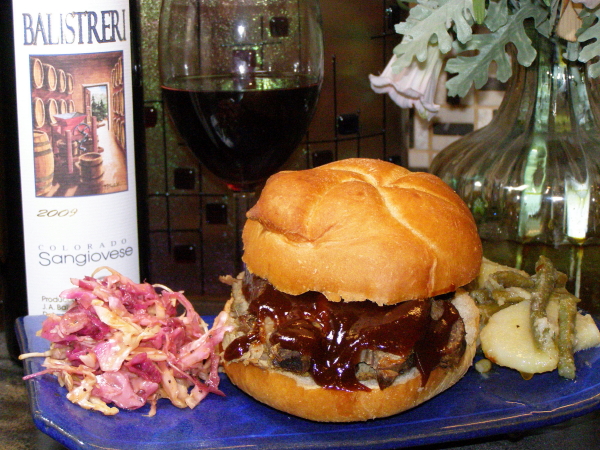 Comments Off on Rocky Mountain Vine