Jan 15 2013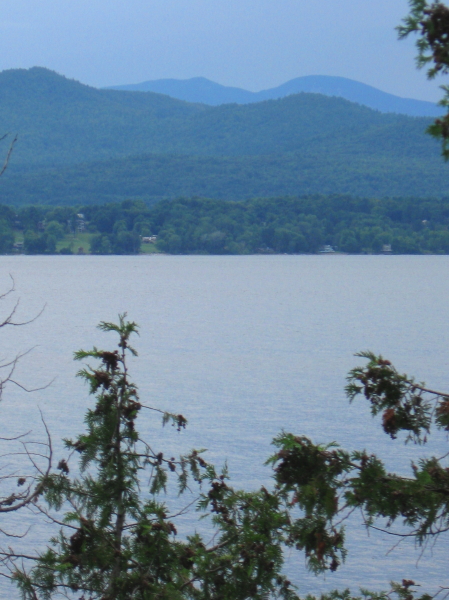 Cold-Hardy Vermont Wine
Date:  January 15, 2013
By:  Kristin Hanson
It is January.   Right now coast to coast, people are gripped by Old Man Winter's fierce cold temperatures.   While it is intuitive to reach for a glass of hearty full-bodied red wine during such winter weather, it is also an ideal time to discuss hearty grapes which grow in the north and whose vines can seemingly weather any storm.
In November the site wandered just north of Middlebury, Vermont to feature a dessert wine.  This month, we continue north up Route 7 to Burlington.   Heading farther north, one does wonder how grape vines can survive the fierce winter temperatures of northern Vermont.   Naturally those vines are cold-weather hardy.   And when they say cold-weather hardy, imagine the vine surviving temperatures as low as 40 degrees below zero.  Local wineries continue to plant that which thrives in these regions of Vermont.  And because they do that, there is great wine made in Vermont.
East Shore Vineyards ("East Shore") has a tasting room which is open to the public and located in Burlington, Vermont.  The vineyards themselves are located on Grand Isle, Vermont, in the middle of Lake Champlain.  With its deep lake waters, Lake Champlain creates a unique microclimate on Grand Isle that is ideal for cold-hardy varietals.   The vineyards are family-owned and while production began small in 2007, it has grown exponentially over the last few years and the accolades have arrived as well. 
This month I have elected to feature East Shore's Louise Swenson wine.  When I first was introduced to this, I asked, "What varietal is this?"  With a wine education founded in California grapes, I mistook "Louise Swenson" as a name for a wine, as opposed to the actual varietal itself.  Wine education is always an adventure and if you leave your wine growing region, you, too will find that there is so much more to learn no matter how versed or unversed you are.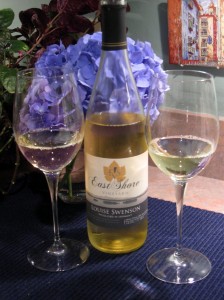 While the white wine grape varietal Louise Swenson may be known in the northern region of the United States (and particularly in the Upper Midwest), it has not been a part of the wine industry for much more than ten years.  In the 1980's, a long-time grape grower named Elmer Swenson began experimenting crossing vines in Wisconsin.  After about fifteen years later and only three years prior to his own death, the grape was officially introduced for winemaking as "Louise Swenson" and was named after Elmer's wife. 
Even though the Louise Swenson grape is new to the winemaking arena, it is one that is clearly here to stay as over the last decade it has proven itself for its consistency and hardiness.   The vine itself can survive to temperatures 40 degrees below zero.   When made into a wine, the flavors are pleasant.  They are crisp without racy acidity and trigger subtle notes of honey accompanied by sweet aromas of flowers.  Because it is grown in colder climates, its sugar and alcohol level is lower.   The only noted criticism in the wine world is that the wine can often be light-bodied.  As such it is commonly blended and when found in a single varietal bottling, the wine is delightful, easy drinking and can be thoughtfully paired with a variety of foods such as poultry, fish and vegetable dishes. 
To show the versatility of pairing a Louise Swenson, I elected to pair:
 Pan-roasted Chicken Breast atop Kale Pesto Multi-Grain Pasta with Roasted Vegetables.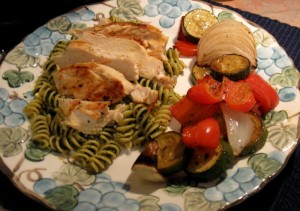 First, let's visit the wine.  East Shore's Louise Swenson is of a straw pale yellow color and is accompanied by a slight effervescence.   This slight effervescence allows a gentle acidity that is best described as a gentle crispness.   The bouquet is typical of the varietal's gentle floral nose offering lovely aromas of citrus blossom, honeydew melon, pear and hints of lemon.  On the palate the wine is overall pleasant and balanced presenting gentle flavors similar to a good Chenin Blanc.   The wine is not flabby nor is it is overly acidic.   It simply holds its own in a pleasant way and is easy to sip in the kitchen while cooking or chatting over dinner with a friend.
To pair for dinner, a chicken breast with simple herbs is roasted in a pan on the stove top.  The real showcase is beneath the poultry where one finds a lovely kale-basil pesto pasta.   Using another green is a fantastic way to stretch your pesto farther and also to add important health benefits.   Kale here lessens the amount of basil needed to be used and with just a small amount it dresses a multi-grain pasta and is quite filling.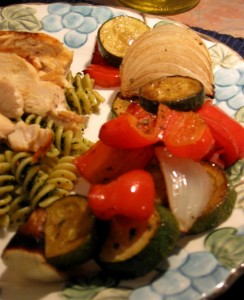 To accompany the meal is a selection of roasted vegetables consisting of zucchini, red pepper, Vidalia onion wedges and herbs.   Naturally the wine pairs pleasantly with the chicken and similarly with the kale-based pesto.  It flirts lightly across the palate yet with a bite of the roasted vegetables, the wine quickly changes its profile.  Suddenly the wine becomes slightly sweet (mimicking the caramelized notes of the vegetables) and the flavors in the wine pop a bit more.
Within a matter of bites and sips, the meal and the wine are gone. It is a pleasant repast and is casually enjoyable at the dinner table any day of the week.
Remember, if you find yourself traveling in New England and you walk into a local tasting room, you will not find the usual suspects of chardonnay or cabernet sauvignon. Instead, for the average wine connoisseur, you will walk in, leave your traditional wine education at the door and instead be introduced to otherwise unique varietals.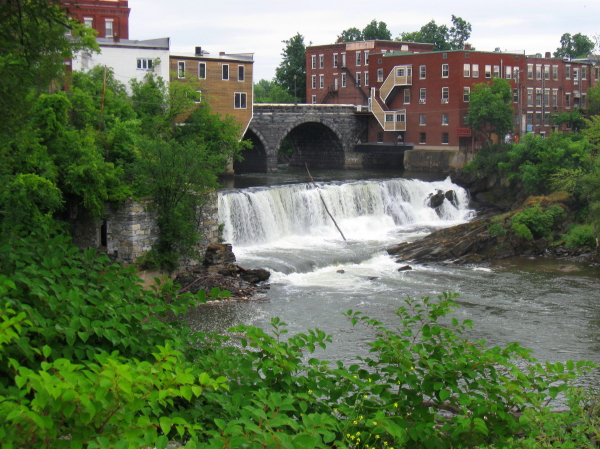 Sweet Vermont-Made . . . Late Harvest Wine
Date:  November 9, 2012
By:  Kristin Hanson
Earlier this week, we officially kicked off the celebration of wine found in New England with a tourism piece taking our readers wine tasting in Salem, Massachusetts.   To officially introduce our readers to wine made and grown in New England, however, we travel to Vermont.
Vermont known as the Green Mountain State is home to many a beloved food product and increasingly nationally recognized for organic farming and sustainable living.  The state, however, is known for more than good cheese and maple syrup.   Move over other wine regions:  there is great wine in Vermont. 
Great wine being made in Vermont should not be earth-shattering news in the wine world.  Cornell University ("Cornell"), for example, in the last several years has been recognized as having a competitive viticulture and enology program on par with UC Davis in California: with the caveat that Cornell's focus is aptly on cool-climate grape varietals.   In the world of wine, it makes absolute common sense to grow that which grows well and sustainably in the environment or region where one sits.   As backyard gardeners, we often push the limit trying to grow plants which are not indigenous to our region today. While on a small scale that is forgivable, on a large commercial scale that would be unfeasible and in the wine world, bluntly, it would be unpalatable.   Given that Vermont naturally embraces the concept of sustainability, winemakers and growers have embraced the cool climate wine grape market over the last decade and reaping its rewards today.
Lincoln Peak Vineyards ("Lincoln Peak") is located just off of Route 7 north of Middlebury, Vermont.  The winery and vineyard sits on a hilltop soaking up the western sun, facing in the direction of the not-so-distant Adirondack Range.  Summers in Vermont are short and hot yet cool sunny days quickly arrive with autumn to cool the vineyard down.  The winery is family-owned and run with the help of a dedicated farm crew.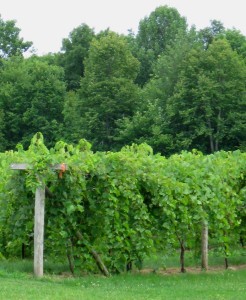 The Granstrom family (owners, growers and winemakers) planted the vineyard in 2001 after twenty-five years of growing strawberries there on their farm.  The vines now cover twelve acres of their farm and what once was a strawberry stand is now a winery. The entire family is still involved in the winery's operations and they choose to only use 100% Vermont-grown wine grapes. And for those Middlebury College alumni, this winery is not only close to old stomping grounds but the family itself consists of several generations of college alumni. This is "family-owned, drink locally" at its best. Since the winery sits in a cool climate, the family focuses appropriately on cool climate grapes and prides itself on meticulous devotion to the best winemaking techniques.  Their intentions have paid off as they have been increasingly recognized for their cool climate varietal wines in various wine competitions.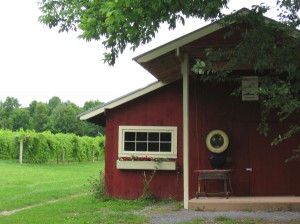 This month to celebrate the upcoming holidays, I have elected to feature Lincoln Peak's Late Harvest wine.  For those who have regularly read my articles over the past several years, you know that my palate is not one for the overly sweet, sugary dessert wines.  When I choose to feature a dessert wine, the selection is made carefully and without haste, pressure or outside request.  To be featured and recommended, it has to be something special.   Lincoln Peak's dessert wine is special and not only do I think so, but it recently won gold at the International Cold Climate Wine Competition.
To enjoy this, you somewhat have to abandon your prior experiences with late harvest wines.  Why?  There is no muscat grape in this wine.  None.  In fact, the grape is a cool-climate grape that unless you venture to a state in the north, you will not have heard of it.  The cool-climate white grape La Crescent is the grape for this dessert wine.  Lincoln Peak's La Crescent is a fun white wine that is easily enjoyed in a variety of settings as it offers flavors of citrus and apple, a hint of sweetness and a flirtatious crisp finish.  It is deliciously dry and semi-sweet all at the same time.   Take this description but imagine it as a dessert wine.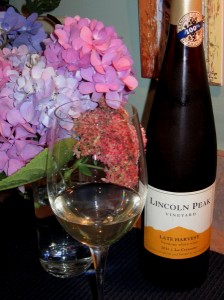 Lincoln Peak's 2011 Late Harvest (La Crescent) wine takes the above-described flavors and coaxes them into a perfectly balanced dessert wine.  While the wine is sweet, it is not cloyingly so.   Once poured, the nose is greeted by a beautiful stone fruit bouquet of apricot and peach coupled with floral perfume of honeysuckle.  On the palate, the flavors are delicious notes of sweet white nectarine with a gentle spritz of lemon (representing the grape's natural acidity) and a sprinkle of sugar (representing the later harvest of the grape).
While this wine is a treat all on its own and could easily be sipped alone or coupled with a cheese plate, I decided in honor of autumn to create:
 Spiced Pumpkin Cranberry Almond Bread With Blue Ledge's Maple Chevre.
Spiced Pumpkin Bread is exactly what you would imagine as it contains all of those wonderful pumpkin pie spices and fills the home with wonderful warm comforting aromas as it bakes.   Incorporated into the recipe are dried cranberries and freshly chopped almonds which not only help keep the bread moist but also lend a smooth texture and flavor to the bread.
To kick this pairing up a notch, I served it with Middlebury's local Blue Ledge's Maple Chevré.  This sweetened chevré is almost a dessert on its own. However, move over pumpkin pie because when it is lightly spread on this bread the resulting combination may become your favorite pumpkin dessert.   Together, the pumpkin bread and maple chevré present a perfect balance yielding a cornucopia of flavors:   spice, sweet, cream, fruit, pumpkin and nuts.   It is a fall harvest all on its own.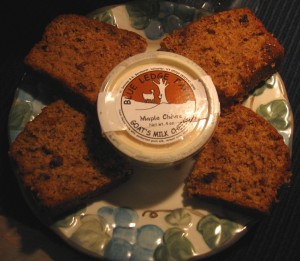 When Lincoln Peak's 2011 Late Harvest (La Crescent) wine is paired with this bread, the wine is the perfect sprinkle of sweetened fruit to finish an otherwise surprisingly perfect dessert.   This pairing is one that can quickly and casually be shared to celebrate favorite autumn flavors or to kick off the countdown to the holidays.
Similarly, if you find yourself traveling in New England this fall, think about stopping to wine taste.  When you walk into a local tasting room, you will not find the usual suspects of chardonnay or cabernet sauvignon. Instead, for the average wine connoisseur, you will walk in, leave your traditional wine education at the door and instead be introduced to otherwise unique varietals that will dazzle your palate, remind you of those that you know from other regions and for the adventuresome, a chance to diversify your wine collection.

Wine Education on The Road
By:  Kristin Hanson, Editor
Date:  November 7, 2012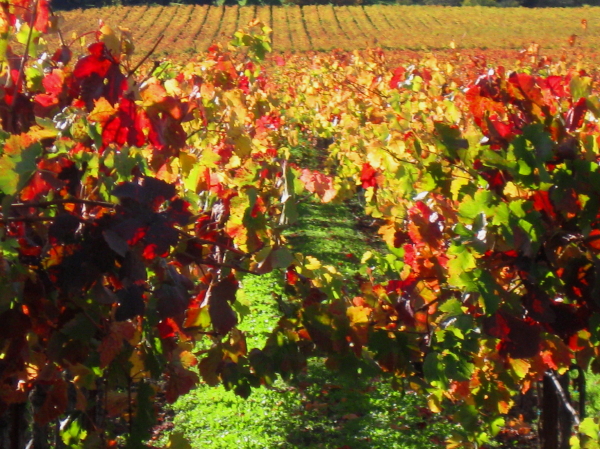 In continuation with the current theme of giving a glimpse of my wine and culinary adventures this summer, this week's article takes us to Salem, Massachusetts where anyone's wine knowledge can be expanded.
Salem, Massachusetts, located north of Boston, is well known for the witch trials of 1692, its historic buildings, its museums and numerous restaurants.  Yet tucked away in its downtown area is a wine shop, Salem Wine Imports, that offers a selection and wine education compared to none.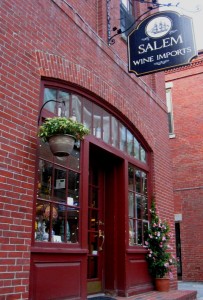 The proprietor of Salem Wine Imports is Eric Olson who has been in the wine industry for over thirty-five years.  He is often found in the shop himself and if you arrive on Tuesday or Thursday evenings at 6:30 p.m., you have the pleasure of sitting in on one of his wine tastings.   Like any good proprietor, he selects a few wines that fit with the season and the crowd that typically attends the tasting and begins to impart his knowledge of wine to his audience.  His selections are thoughtful, can be from various parts of the world and generally fall within a certain reasonable price range.  Despite having the globe to select wines from, Eric also recognizes local winemakers and during the month of August featured a local nearby winery for a weekend tasting.
On one Thursday night in particular, my brother and I dropped in on one of the wine tastings.   The group present was friendly, welcoming, good-natured and most importantly, enthusiastic.   They were a group of individuals who have become accustomed to attending on Thursday night and it was easy to feel like you had an instant group of wine loving friends.
Since it was a warm night, Eric had selected three white wines for our group to taste and one lighter bodied red wine:  1) a 2009 Nebbiolo D'Alba Casa Vinicola by Bruno Giacosa; 2) a 2010 Grunet Veltliner by Schloss Gobelsburg, Austria; 3) Varner's Home Block 2010 Chardonnay from Santa Cruz, California; and 4) a 2009 Puligny-Montrachet, France.    Any of these four wines I would personally feature in articles for each wine exhibited the quality and caliber of the wines that I typically promote.  Similarly, Eric's statement on his shop's web site captures the sentiment succinctly:  "Unique, singular, natural and rewarding, every glass can be thought provoking and contemplative or unassuming and unobtrusive as the mood may be."   However, more importantly, the ambience of the back room of the shop where the tastings are held makes one feel welcomed into an Academie du Vin in the sense that maps of various wine regions in the world adorn the walls and similar wine country themed artwork.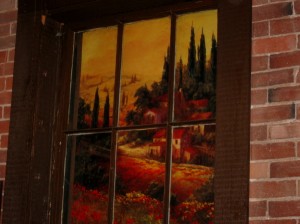 Similarly, my brother and I had earlier in the week picked up a bottle of Sancerre from Salem Wine Imports.  In France, the wines are often referred to by the appellation or area where they are grown.  For example, a white wine that is referred to as a "Sancerre" is made from the Sauvignon Blanc grape, however, the grape itself is grown in a particular section of the Loire Valley, France, consisting of approximately 4450 acres.  It is in the Sancerre appellation that Sauvignon Blanc has had some of its greatest growing success and it is evidenced in the wines that are produced.  If you have yet to fully appreciate how terroir affects wine grapes, taste a Sancerre and you will learn how a particular grape can be firmly rooted to the very earth where it is grown.  It is here that Sauvignon Blanc becomes its most expressive, aromatic and intense.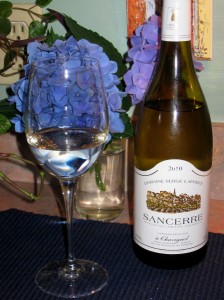 For those who typically wince at California vintages of Sauvignon Blanc, you will embrace Sancerre.  The Sancerre that we decided to enjoy is made by Serge and Elizabeth Laporte (Domaine Serge Laporte 2010 Sancerre, France) and it is grown in hillsides with parcels of clay limestone and stony limestone.   It is likely due to this soil composition that it creates a Sancerre that is utterly lovely, with no bracing acidity but instead it is blissfully balanced.  It is complete with breathtaking flavors of lemon that lean towards iced lemon water.  Its flinty minerality dances across the palate and only at the very back of the palate does one experience a delicious smooth twist of acidity.
Food pairing ideas can range from herbed dishes, chevre, shellfish and poultry.   With this in mind, I elected to create a vegetable and poultry themed menu:
Pan Sautéed Thyme-Chicken Stuffed With Herbed Chevré;
Garlic Wilted Spinach; and
Shallot-Garlic Green Beans.
Taking herbed chevré and stuffing a chicken breast is an easy and simple way to keep chicken moist while it is being sautéed on a range.  Once one side is browned and turned, thyme leaves are placed on top while a lid is lowered over the chicken breast.   The result is not only succulent and delicious but attractive.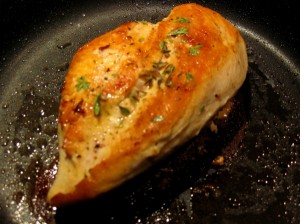 When green beans are only boiled for a few minutes and then dumped into a bath of ice water, the cooking will stop.  This is a great culinary technique so that they can later be quickly cooked with previously sautéed almonds and garlic and yet the green beans will maintain a bright appealing green color.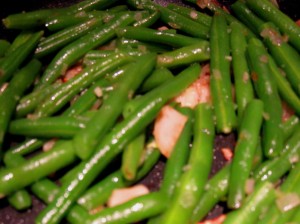 Similarly it does not take long to wilt spinach and that makes a healthy and attractive bed upon which slices of the stuffed chicken breast will rest.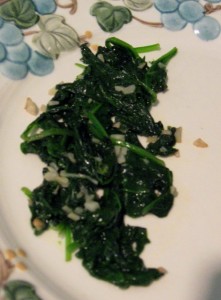 To finish the plate, a bit of chevre is placed on the plate as a garnish.  However, as a different twist, mint leaves picked from the herb garden are placed beneath.   Taken together, the mint and chevre pair spectacularly with a sip of the Sancerre.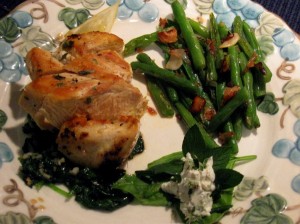 The meal when combined with the Sancerre is a wonderful example of how the Sauvignon Blanc grape pairs effortlessly with herbs and tangy cheese like chevré.  This is due to the natural acidic nature of Sauvignon Blanc.   Again the Sancerre is easy to enjoy, contemplate and share with friends and family.   Similarly if you find yourself in Salem, Massachusetts, a visit to Salem Wine Imports will introduce you to wines such as this and a new world of wine education.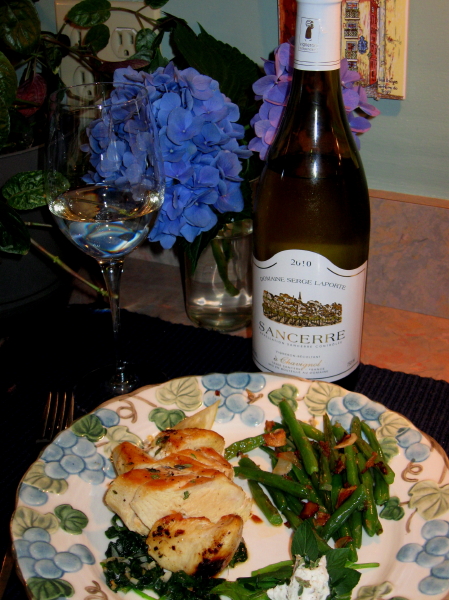 Comments Off on New England Vine