May 08 2013
The Wondrous Versatility of Riesling
Riesling is one of those white wines that drinks well on its own and yet pairs easily with a wide range of food.   It can be served in the winter, spring, summer or fall.  It finds its way around cheeses, vegetables, seafood, poultry, Asian dishes, Mexican cuisine and even some Thai and Indian cuisine.  It is a wine that does not need to be rushed and offers a lovely minerality, racy acidity and bevy of fruit flavors to reflect where it is grown.  The varietal's grape vine consists of a uniquely hard wood for white wine grapes and as such, it can be grown in cooler climates and admittedly shows its best attributes when grown in the right climate.
In Napa Valley there are only a couple of Rieslings which I will purchase and have featured them on this site.  Generally I prefer fruit coming from farther north and in Washington State but admittedly there is a lovely Riesling that hails from farther south down Highway 101 in Central Coastal California from the beloved Edna Valley of San Luis Obispo County.  This article will serve as a reminder to check from time to time this web site's "SLO Vine tab" for a few favorite picks from San Luis Obispo County.   These wines hold equal enjoyment to Napa Valley wines and merit equal attention and review.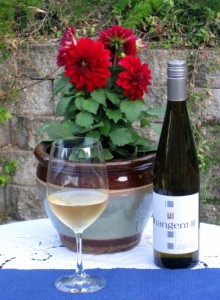 Located just south of the town San Luis Obispo is the beautiful Edna Valley which is home to the Niven Family Wine Estate which makes a number of labels under one house with the same winemaker, Christian Roguenaut.   Tangent is one of the winery's labels and it tends to focus on wonderfully delicious white wines.  The Paragon Vineyard (owned by the Niven Family) is the home of the winery's Riesling grapes and when made into a wine it is clear that this is a product of the cool Central Coast.   As with most Rieslings, it has a racy acidity that is kept into check with a vibrant minerality and lovely flavors of peach, melon and a bit of citrus.   There is no exposure to oak so the wine is able to show of the true attributes of the vineyard, the soil, the climate and the ability of the winemaker.  White wines which are made with such a true expression of the fruit are, in my opinion, the most enjoyable and give the consumer a true sense of place.
Whether you are highly-skilled in the kitchen or a budding home chef, one easy rule to remember with Riesling is that because it is an acidic white wine, it matches well with other acidic dishes.  Tomatoes are such an easy match for acidic wines:  whether the wine is white or red.  Just because a tomato is red does not mean that it has to pair with a red wine.  To show off Tangent's Riesling's pairing ability, I decided to put together a dish involving steamed mussels and juicy garden harvested tomatoes.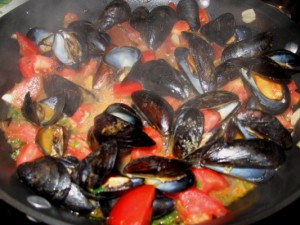 The mussels are steamed in some white wine with garlic, shallots, lemon thyme and other herbs from the garden.  As the mussels open, they are removed and set aside.  Large chunks of juicy tomato are added to the pot along with some butter to make a light stew consistency without obliterating the tomatoes.   The mussels are added toward the end to reheat slightly and then served with the tomatoes and broth with warm home-made artisan toasts.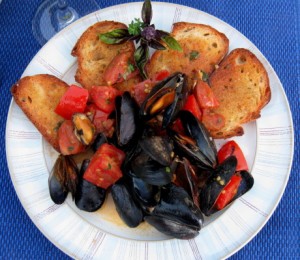 With the wine, the acidity in the Riesling cancels out the acidity in the tomatoes.  All of the fruit flavors of the wine tumble forward and the tomato becomes sweet and robust.   The mussels have a wonderful flavor of their own which pair perfectly with the minerality of the Riesling.   The toasts served alongside sop up any of the remaining broth and are not too heavy with the wine.
This is such a simple and straight-forward way to enjoy Tangent's Riesling at home and to serve to guests out on the deck on a warm spring evening.   It is the very basic essentials to cuisine and wine pairing at play and will satisfy everyone at your table.   Cheers!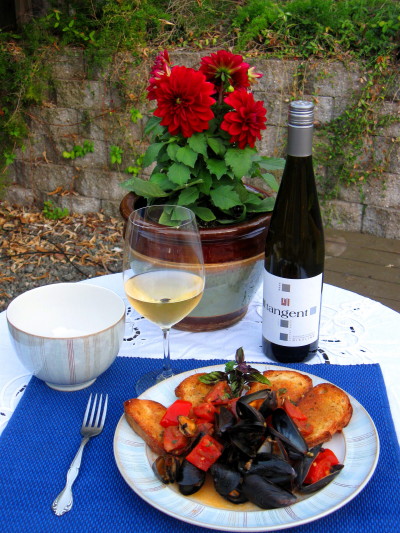 Wine and the Story it Tells
Date:  May 8, 2013
By:  Kristin R. Hanson
What is it about wine?  How is it that a beverage can be nearly universally consumed and have the ability to connect, impassion and at times divide people at all levels of society?   Wars are fought figuratively and literally throughout history for certain grape-growing areas.   Spain levied a law on colonial Mexico that it was not allowed to grow grapes in fear that it might produce something that could rival Spanish wine.  Royalty and politicians drink it.  Prior to the Prohibition, Italian immigrants nearly painted city streets red with zinfandel.  Rock stars drink it and students save up for a bottle or two here or there.  Some of us collect it, some of us get wrapped up in the precise "when" to drink it and others of us simply enjoy it.  Prior to President Richard Nixon, only champagne and wines from France were served at White House functions.  Perhaps the one good thing out of the Nixon administration was the serving of California sparkling wine instead and while on an international stage promoting peace. 
No matter our differences, whether they are origin, politics, or station in life, nearly all of us at one point or another get impassioned about wine.  So what drives this excitement and what compels people of such different places to come together with similarity?  
Wine has a story to tell.  More importantly, wine is the narrator for the land.  The dirt where the grape vines reside has a story.  If the land can tell its story well, the wine will happily narrate it for you.  It is these stories that vintages of wine, vineyards and certain varietals deliver that connect the consumer to the glass.  Sure its alcohol, but when pressed, most individuals will talk about a certain moment or a certain occasion and a specific bottle of wine that was shared.  As they emotionally elaborate, the memory of that wine is firmly imprinted in their brain as they, too, can recant the tale of what was discovered, tasted, experienced and smelled.   That tale comes from the soil where the grape vine is planted.  Is the soil volcanic, alluvial, calcareous or rocky?   What nutrients are present from crops growing there on the floor as the vines are dormant over winter?   All of these things plus the weather and the hand of a vintner come together to tell a tale of where that wine comes from, as it leaves the bottle, enters your glass and meets your palate.   It is because of this that a specific vineyard might be preferred over another or even right down to a certain small block of vines in the vineyard.   The stories that evolve from these wines become welcome guests at our tables or even in our glasses while shared with our family members, loved ones and friends.
One of the reasons that I am fond of San Luis Obispo County, California, is that it is only a few hours south of Napa Valley and yet the wines that await you tell such different stories than those of Napa Valley.  Certainly certain varietals thrive in these different climates and soil, making each wine region better for a particular varietal than another, but the adventure of discovering San Luis Obispo County's wines is one that will enliven your senses, sharpen your palate, entertain you and increase your wine education.   The region's soil is calcareous and thus is a wonderful growing area for Rhone varietals and also certain varietals grown well in Spain.   This is something unique compared to the composition of the soil in Napa Valley (for example).
Christian Roguenaut is the winemaker for Niven Family Wine Estates ("Niven").  Niven owns a variety of wine labels and Christian Roguenaut is the vintner behind them all and demonstrates a wide portfolio of abilities which include a tribute to Spanish wines.   Trenza is the wine label in the Niven portfolio that hosts wines made with Spanish grapes where Old World grapes meet New World wine making.
Trenza's red wine "Tinto" is a medley of four Iberian grapes typically grown in Ribera del Duoro, the Priorat and Rias Biaxis.  While the tasting room is located just outside of San Luis Obispo at the start of Edna Valley, the grapes are from both the northern end of the county (Paso Robles) and the southern end of the country (Edna Valley and Arroyo Grande Valley).   Paso Robles is significantly warmer than the southern end of the county which results in bigger, bold wines yet the southern end of the county brings a climate that is windy and cool which adds acidity and concentrated fruit flavors to the wine.   A lively blend of Syrah, Tempranillo, Grenache and Mourvèdre grapes are used from these two distinct areas of San Luis Obispo County to create a red blend wine that is food friendly, casual and vibrantly enjoyable.
Texturally, the Trenza's Tinto is a slightly softer red wine without the distraction of brash tannins.  Its fruit is readily accessible and makes it a lovely wine for pairing with food.   Flavors of raspberry, blueberry pie, black pepper, maple syrup, bay leaf and hints of tobacco are mirrored on the palate as initially discovered by the nose.   The wine still has structure and offers a fullness crossing the palate with a finish that is long and silky.
To pair, I created recipes for a menu that would pay tribute to Spanish cuisine:
1)      Iberian Braised Cippolini Onions; and
2)     Rioja Braised Beef with Creamy Polenta.
In the oven braising, beef is kept company with tomatoes, cumin, cinnamon, thyme, bay leaf, oregano, red pepper flakes, garlic, sweet onion, golden raisins and some red wine.
On the stove top, tender cippolini onions are braised as they simmer in a mix of plumped golden raisins, cherries, cranberries, currants, cinnamon, cumin, tomato, garlic, bay leaf and thyme.   Towards the end, the flavors are liven a bit with fresh orange zest and reducing some red wine in the sauce.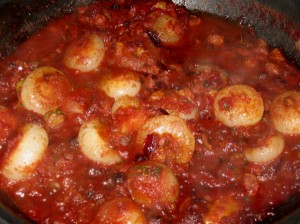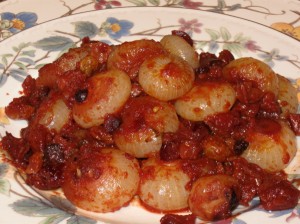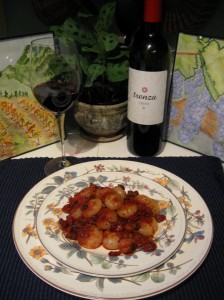 When paired with the wine, due to the higher acidity in the sauce with the braised onions, the Grenache and Tempranillo predominantly shine to show off their flavors in the pairing.
The next course involves a bed of creamy polenta topped with shredded braised beef and a reduction sauce created thereof.   The polenta involves a blend of fontina and parmesan.  The fontina is a softer, nutty flavor in the polenta adding to the creaminess and the parmesan adds a naturally salty flavor, too.  To add a touch of Old World flare, a touch of nutmeg was added to the polenta.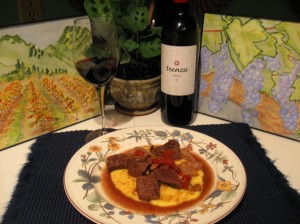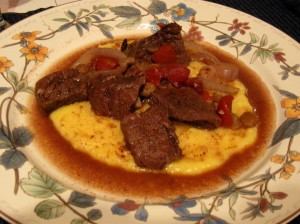 As the polenta and beef are enjoyed with the wine, the deeper, smoky flavor that is traditional of Syrah comes forward on the palate and intermingles with the Moroccan spices found in the dish.  The tannins of the Mourvèdre are softened with the natural fats of the beef and the cheese in the polenta, but allowing its darker earthier flavors to come forward.   Tempranillo adds a certain earthiness to the mixture and the Grenache continues to brighten with flavors of raspberry.  
Bringing together an Old World inspired menu with an Old World inspired wine brings together a medley of flavors, a good story unfolds and a horizon opens ahead for adventure.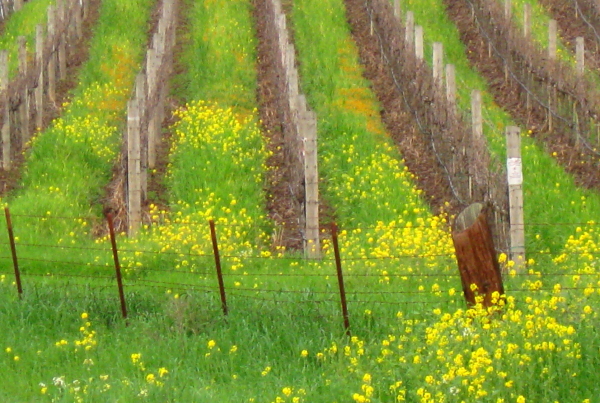 Spirit of Adventure
Date:  February 27, 2013
By:  Kristin Hanson
Nothing quite spices up the doldrums of winter than introducing a different varietal to your friends.  For those whose palates boast that they have tasted it all, introducing them to a blend with different varietals gives them moment to pause and remember that there is a constant cascade of education to process in the world of wine.
For those who love wine from San Luis Obispo County, it is easy to understand that there are two very different climates lying therein:  for example at the southern end of the county in beautiful Edna Valley the grapes are kissed with fog and coastal breezes and at the northern end of the county in toasty Paso Robles, the grape vines are drenched in sunlight and bask in hotter temperatures.  A calcareous soil gives the region its common denominator and depending on where you find yourself, you will delight in exploring varietals that thrive in the Rhone region of France.   If you have had the opportunity to explore some of these varietals in Napa Valley or Sonoma County, you will delight in familiarizing yourself with the varietals' seemingly endless potential and learning why some thrive in one climate better than the other.
On the table for this article is a blend that offers something for everyone whether he or she be a novice or expert red wine connoisseur.   Tablas Creek Winery ("Tablas Creek") located on Adelaida Road in Paso Robles, offers a red blend wine called "Esprit de Beaucastel".   This is one of the winery's signature red wines and with a sip, there is little question as to why.   Each year, the Tablas Creek uses estate grapes from four different varietals to make this wine:  Mourvèdre, Grenache, Syrah and Counoise.   To get a better understanding of the wine, it is often helpful to understand each varietal that is being incorporated.  In this case, the blend is notably unique as its largest contributor is Mourvèdre.   
Mourvèdre is a grape with which traditionally red wine drinkers will not be familiar.  The grape's origin traces back to Spain but can be found planted in both the Rhone and Provence regions of France.  The grape itself is a bit of a prickly pear in that its vine requires a great deal of sun exposure yet at the same time has an unyielding thirst requiring irrigation.   If planted in a dry hot climate like Paso Robles, the grape's vine will have a better chance of avoiding mildew (to which it is susceptible) and will also have a long growing season which is essential as it matures late in the fall.  Yet needing a long growing season also increases the grape's potential for high Brix sugar levels which later translates into a high alcohol level in the wine.  Despite its need for irrigation, the vine will still produce compact clusters of small grapes with thick skins.  This combination of qualities produces a red wine grape that can have incredibly intense flavors followed with a big tannic punch and a varietal that clearly needs a specific home (fortunately found well at the estate of Tablas Creek).  
While Mourvèdre can be made into a single wine varietal, it often finds its home in blends (commonly in GSM red wines:  Grenache, Syrah and Mourvèdre) but what makes the Esprit de Beaucastel unique is that Mourvèdre leads the blend and in the 2008 vintage that I sampled, it comprised 38% of the blend.   Where the grape is grown greatly affects its flavor profile but typically notes can be of wild game, earthy, chocolate, mint and soft red fruit.  Similarly, time in the bottle is a friend to this varietal as it allows the tannins to tame and any sulfur-oriented notes to subside.  If allowed to age, the wild game elements will fall by the wayside and instead the earthier notes will come forward.
Grenache is the next heavy hitter in the composition of the wine as it comprises 30% of the blend.   Grenache is well grown in Spain and for a more involved break down of the varietal, please see my article, "Friends, Family and Love for Grenache" on the main page of this web site.   It is a red wine that is friendlier on the front and mid palate and typically delivers flavors of red cherry, licorice, raisin and mocha.
Syrah, commonly found in Napa Valley, comprises 26% of the 2008 Esprit de Beaucastel.   While the grape varietal tends to be bigger and brambly in its flavor profile for Napa Valley wines, in San Luis Obispo County, the varietal thrives in the calcareous soil softening its profile slightly and delivering it with more elegance.  It offers flavors of dark fruit such as blackberries and black raspberries, smoke, tar and black pepper.   For a red wine it reflects minerality well and also brings more tannin to the table.  It blends well and is often referred to as bringing more backbone to a blend wine featuring Grenache or Counoise.
Counoise is definitely an obscure red wine grape yet it makes it into the 2008 Esprit de Beaucastel to make up 6% of the wine.   This red grape varietal is easy going with its alcohol content and tannins and instead of forcing its way onto the palate it pleasantly delivers flavors of anise, blueberries and strawberries.  It helps relax the more closed varietals of Mourvèdre and Syrah, and instead allows those varietals to contribute their more palatable flavor profiles to the blend.
From a color perspective, each of these four varietals bring different hues of red or black to the wine.   As a result when blended together, the wine at first glance can appear dark and brooding but when catching the dining light just so it will show lovely jewel tones of ruby or garnet and in one of the photos below, you will see that it is even reflecting on the edge of the plate despite hovering above.
To say that a bottle of Tablas Creek's Esprit de Beaucastel is a conversation piece is an understatement.  It can easily be a good thirty minute education but more importantly, the real adventure begins once it is in the glass.
In the glass, as initially mentioned, the wine has a dark garnet hue which can change with the light.   Keeping in mind that this is a 2008 vintage and has had some additional bottle aging, its bouquet is beguiling and offers so many aromas from which to choose:  red raspberry, smoke, vanilla, dark chocolate, crushed rock, plums and bacon.  In the mouth the wine surpasses expectations as it delivers tart and sweet cherries on the front of the palate, followed by flavors of plums, blueberries, and black berries mid-palate.   On the back of the palate are delicious bits of bacon fat along with cedary spice, tannins and a long lingering finish.  This wine will keep you hunting and deciphering as you work your way through your glass of wine.  The best part, however, is that it is lusciously delicious with a wonderfully velvety texture at this stage of bottle aging.
With a wine that has this much going on, the mind races with food pairing combinations.   From exquisite and elegant to heavy winter comfort foods, the pairings are endless.   Thinking again, however, how there is so much to enjoy in this wine, perhaps it could also pair with something a bit simpler that would be good for entertaining and conducive to conversation.   With this in mind, this article's menu hosts:
Kristin's Gorgonzola Spinach Stuffed Mushrooms
Appetizers are wonderful savory bits that get the palate going, pair exceptionally well with wine and keep the conversation flowing among guests.   Truth be told, however, they are also calorie bombs.   In the mushrooms that I chose to create, I wanted to fill them without going overboard on calories.  Similarly, I tire of mushrooms that are stuffed with butter soaked breadcrumbs.   They tend to be drying in the mouth and heavy on the palate.  In this case, I opted to avoid the simple carbohydrate fillers and went instead for lower calorie cheese (in this case, using lowfat cream cheese as the cheese that would hold and bind the ingredients together).  A simple sauté of shallot, garlic, mushroom, lemon thyme, ribbons of fresh spinach and chives is mixed together to fill the medium sized stuffing mushrooms before being topped with just a few sprinkles of crumbled gorgonzola.  Gorgonzola is a fatty cheese but its flavor packs a punch, so a little goes a very long way.  In the case of this pairing, only a small amount is used to create some structure and backbone (much like the Syrah in the wine does for the blend).   Emerging from the oven, the smell is heavenly and the palates in attendance are already watering.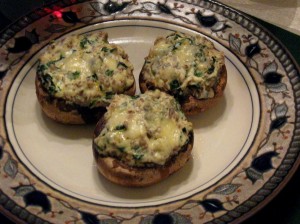 A bite of the mushrooms is like being taken on a field trip to an afternoon in France.  Taking a sip of Tablas Creek's 2008 Esprit de Beaucastel with a bite of mushroom takes you mentally to the Rhone region itself.   The mushrooms themselves offer a creamy flavor that helps to tame the tannins found in the wine.  As the tannins are balanced in the wine, the lovely flavors of the mushroom, shallot, garlic, lemon thyme and spinach sauté come forth to intermingle with the fruit and earthy flavors of the wine.
The result of this combination is exquisite as it delivers something that is savory, succinct and sassy.   It is a delicious way to entertain any time and a guaranty to break up the monotony of winter.  Cheers!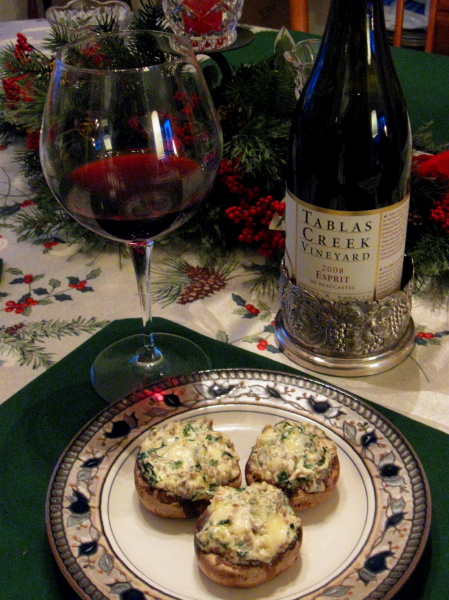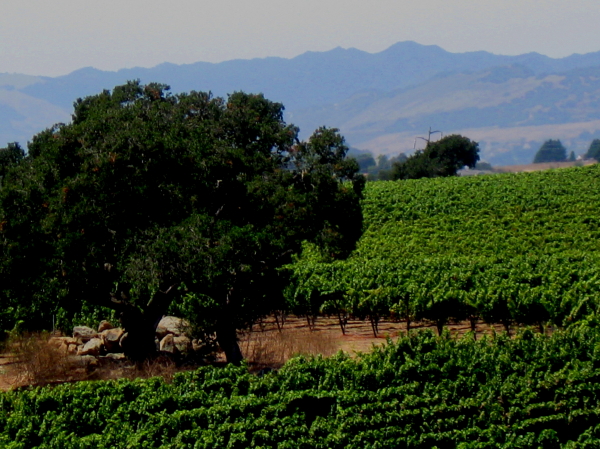 Hope for the New Year
Date:  December 29, 2012
By:  Kristin Hanson
This month's wine is found in San Luis Obispo County, but the home of its grapes sits in neighboring Santa Barbara County.     
I had hoped to feature this wine prior to the start of the holidays as it truly is my personal top pick for pairing wine with cheese and charcuterie plates which appear at every turn during the holiday season.  However, when I saw the message printed on the side of the wine's cork, it seemed all too fitting that this wine should cap off the end of featured wine on this site for the calendar year, 2012.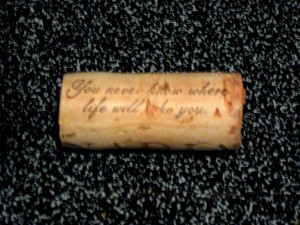 "You never know where life will take you" is a lovely sentiment as a calendar year ends.  The time is often characterized with plenty of self-reflection, it causes one to wrestle with future personal goals and while shutting a door and opening a different one, a new year refreshingly breezes in.  It is clear that hope is on the wings of a new year's arrival.  With all of this in mind, it is ever timely that I introduce you to the wine known as "Nadia White".
First, Nadia is a sister label for Laetitia Vineyard and Winery ("Laetitia").  Laetitia's estate vineyards sit in the most southern part of San Luis Obispo County, California, along Highway 101.   However, wanting to find a vineyard with a specific climate and soil composition took the owner of Laetitia to the southeastern edge of the Santa Barbara County American Viticultural Area ("AVA") and there they discovered the land that would become known as the "Santa Barbara Highlands Vineyard".   With mindful cultivation, this vineyard became home to the grapes that are used to make the wines under the Nadia label.
"Nadia" is actually the name of the winery owner's daughter.  In Russian, it means "hope" and in Arabic it means "delicate".  The Santa Barbara Highlands Vineyard is framed by chalky cliffs and distinguished by a higher elevation of 3,200 feet.  The grapes there are drenched by sun and cooled by the chilly night air.  It has a far different climate than its sister's California Central Coast influenced vineyards.   To branch away from its estate, pick an area that the owner and the winemakers believed would allow true expression of Bordeaux and Rhone varietal grapes, by all means "hope" was involved.  Naming the wine Nadia is apt and similarly, its meaning of "hope" is welcomed as a new calendar year awaits us.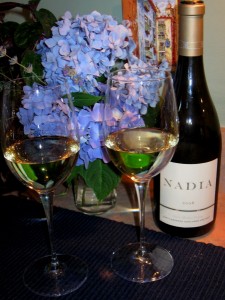 The "Nadia White" is a blend of three white wine grapes.  Its percentages may vary depending on the vintage but generally, the three contained are Viognier, Grenache Blanc and Roussanne.   Northern California wine drinkers will be readily familiar with Viognier (a grape that has a floral bouquet that often rivals perfume, a great tendency to pair with Asian or spiced cuisine and a high alcohol content if grown in too hot of a climate).   Grenache Blanc and Roussanne, however, are white wine grapes that are better suited to the growing conditions and climate of Central California and moreover to the chalky, if not calcareous, soils of Central California.  
Grenache Blanc is believed to be related to the red wine grape, Grenache.  While its origin is in Spain it quickly found a home in the Rhône wine region of France.   It produces a flavorful wine (often citrus and herbaceous flavors) and it can produce a lengthier finish, which is atypical to most white wines.
Roussanne is native to the Rhône wine region of France and often allowed in most areas for blending purposes.  This grape brings a round full mouth feel to white wine and similar rich flavors of honey and pear.   Its bouquet is intense and flowery, yet herbal, which adds to the character of any white wine in which it is incorporated.  All three of these white wine grapes are highly influenced by climate and growing conditions so the central coast of California is ideal with Roussanne particularly enjoying the drier conditions of a higher altitude vineyard such as that of Nadia's.
The combination of these three grapes makes a complex white wine that has depth, changing character, acidity, smooth mouth-feel, varied fruit and minerality.   In short, there is something for everyone.   Featured in this article is the 2008 vintage which was composed of 56% Viognier, 33% Grenache Blanc and 11% Roussanne.
The 2008 Nadia White wine is a lovely melody of these three white varietals which instantly leads to a lovely complex bouquet.   The wine's bouquet consists of aromas of:  1) toasted oak; 2) grapefruit, lemongrass and citrus; 3) a little bit of vanilla; and 4) a hint of yellow peach.   The palate is deliciously supple, smooth and balanced while crossing the palate (this can be attributed to the Roussanne).  There is a gentle sprinkle of acidity which keeps the wine from feeling heavy (this is the Grenache Blanc).  On the palate, there are flavors of bits of candied lime, lingering traces of yellow peach, bits of lemongrass and a sprinkle of minerality.   This is truly a beautiful wine that could become anyone's favorite white wine, including the staunchest of "red wine only" advocates.
When I first enjoyed this wine at the winery, my immediate thought left to the endless cheese and charcuterie pairings that I could do with this wine.  It is still the holiday season and people are still gathering, socializing, eating and imbibing.  If you are going to do a cheese plate, you might as well do it right: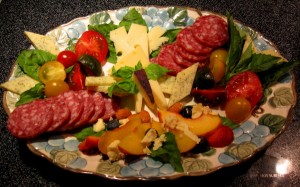 The cheeses included here are simple cheeses that you can pick up locally no matter where you are or even at your local Trader Joe's.   This cheese plate in particular does demonstrate the diversity and dynamic nature of the Nadia White from a pairing perspective.  Included on the plate are:
1)      Parmesan-Gouda:  attracts the smooth nature of the Roussanne;
2)     Harvarti Dill:  a zesty bright cheese that welcomes the acidity found in the wine;
3)     Syrah Toscano: a slightly creamier cheese with notes of red wine that marries nicely with the notes of Grenache Blanc;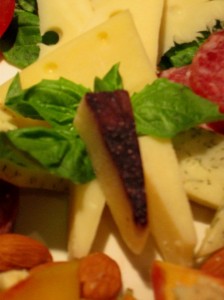 4)     Pinot Grigio Salame:  soft lingering flavor of pinot grigio fruit in the meat that ties nicely to the lemongrass and minerality found in the wine and similarly the spice of the salame pairs intuitively with the nature of Viognier and Grenache Blanc;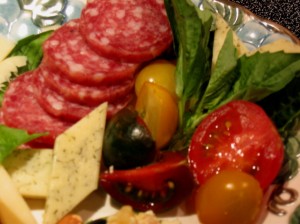 5)     Heirloom Cherry Tomatoes: they add pops of color to the plate and in your mouth as their acidity encourages the same in the wine, the result is forceful bright citrus notes;
6)     Fresh Basil Leaves:  adorn the plate with fresh basil leaves and let your palate move you.  Tear a bit off to pair with cheese and let your inhibitions guide you.  Add a bit of chevre, add a slice of strawberry.  The basil teases the olfactory senses. Add a bit of Peach Stilton and nectarine and wrap in a basil leaf.  Is it dessert?  An appetizer?  It is simply delicious;
7)     Slices of Nectarine, Strawberries and Blueberries:  simple fruit that accentuates the perfume bouquet of the Viognier and Grenache Blanc, cleanse the palate and encourage the honeyed and peach notes found in the wine; and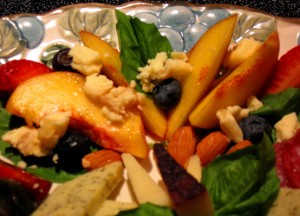 8)     Peach Stilton:  as the cheese softens and warms at room temperature, it tastes like dessert.   It entangles itself in the honeyed notes of the Roussanne.
In short, the 2008 Nadia White is fantastic for picking up the creaminess of cheese.  Depending on what you put with it, the wine gracefully transcends from appetizer, main course or dessert.   It presents a sensory experience of hope as your senses awaken, enliven and wonder avidly what will come next from this wine.  It marvels, delights and becomes a conversation piece with anyone with whom you share it.  The palate never tires of it and you simply want more.   It will be wonderful at the new year, after the new year, in the spring, or summer. 
Head to your local wine shop or take a trip on Highway 101 to find it.  Happy New Year and Cheers!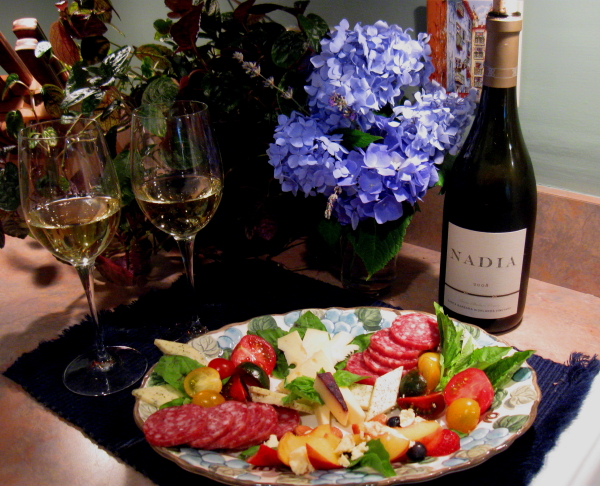 Thankful For Rosé
Date:  November 20, 2012
By:  Kristin Hanson 
California which is known for wine is a gem in the United States for hosting so many wine regions.  While it is easy to spend a life time in Napa Valley, venturing to south to San Luis Obispo County offers the wine connoisseur a true treat.   Not only is the climate different in San Luis Obispo County, but so is its soil.   With naturally calcareous soil (meaning that the soil is chalky and has more lime content), the soil is better suited to growing varietals that grow best in the Rhône wine region of Southern France.  For a vintner this becomes a winemaking playground as varietals such as Syrah, Mourvèdre, Grenache, Counoise and Viognier (among others) thrive and come to life in San Luis Obispo County and allow the winemaker to make wine not found on the traditional wine list.
Tablas Creek Winery ("Tablas Creek") is located in the hotter, northern part of the county in Paso Robles.  Tablas Creek has been recognized for its Rhône style varietals and is an endless recipient of various awards and recognition.  It should then be expected that the Rosé wine that it bottles will be a unique composition and closer in French style.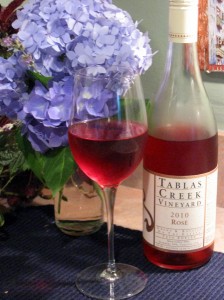 This past summer while visiting my brother, I decided to share a bottle of Tablas Creek's 2010 Rosé which consisted of 59% Mourvèdre, 30% Grenache and 11% Counoise.   Just looking at the composition of this wine, this is a Rosé for a true Rhône wine lover.
Mourvèdre is believed to have originated in Spain but it receives its most common recognition from the Rhône wine region of Southern France.  The grape (which grows in clusters of small, thick-skinned berries) thrives in hot dry, if not windy, climates (making it an ideal grape to be grown in Paso Robles).  When made into wine, it can make tannic wines and similarly will lead to higher alcohol content given the grape's love of hot growing temperatures.  This grape, however, brings great depth in flavors from earthy notes to round red ripe fruit to the wine in which it is introduced.
Tablas Creek chooses to use grapes from some of its oldest French-sourced vines grown at its estate for its Rosé.   It is from these vines that all three varietals are harvested at the same time and are co-fermented in stainless steel.  Then about 800 gallons of the juice is separated from the skins to be fermented dry.   Next it is introduced to saignées from other Mourvèdre and Grenache lots and ultimately produces a solid dry French style Rosé wine.  The result in the glass is a delightful cranberry-colored wine with a bouquet of chile, watermelon, mineral and plum.   On the palate it offers wonderful flavors of watermelon, strawberry, bits of lime and tart cherry.
Similarly when considering Tablas Creek's Rosé, it is important to keep in mind that its alcohol content will be a bit higher (14.5%) than others and that can be a detriment during summer months but make it a wonderful candidate for more substantive meals such as Thanksgiving dinner.  Even though I paired this wine during a casual meal in July, its ability to pair with substantial salads such as kale makes this prior month's menu appropriate:
Kale-Cranberry-Roasted Almond Salad;
Chilled Grilled Vegetable Salad; and
Chevré Stuffed Strawberries with Balsamic Dipping Glaze.
Prior to spending time with my brother in New England this summer, my cross-country adventure took me to Los Angeles where I had the good fortune to share a meal with my good friend, Adele.  Adele, like me, is an avid gardener and loves local fresh produce.  "The fresher the better and the more local even better" is a daily way of live in Southern California.  During my dinner with Adele, she introduced me to a kale salad that embodies the best of this concept:  fresh kale picked up at the local farmer's market that day and a giant lemon from a neighbor's tree.   Pine nuts, olive oil, honey and vinegar quickly brought this salad together and as we visited for hours, I could have nibbled on that salad all evening. 
Kale is a form of cabbage however, despite its tough and bitter leaves, it is what American society considers a super-food.   It is loaded with nutritional value, however, when it is chopped or minced it is loaded with sulforaphane (which is a chemical believed to have important anti-cancer properties).    Making kale into a salad preserves this chemical property. 
Introducing kale to my sibling, I chose to do a variant of my friend's salad.   First, I plumped dried cranberries in warm water before coarsely chopping them.  Second, I toasted almonds tossed in melted butter.   In order to help counter the bitter naturally occurring flavor in kale, for twenty minutes I marinated the washed, chopped leaves in a mixture primarily of white wine vinegar and a dash of raspberry and balsamic vinegar with olive oil, lemon thyme, fresh lemon juice and a bit of honey.  Combining the other ingredients and some coarsely grated parmesan cheese, the result is a surprisingly filling salad.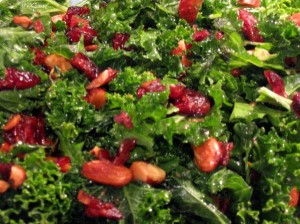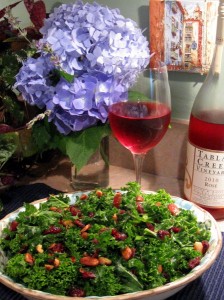 The kale salad encourages the Rosé wine to become more playful and increasingly so due to the inclusion of plumped, dried cranberries.  The parmesan cheese in the salad allows the wine to become richer in flavor and all in all complement the kale nicely.
As a second course, this summer offered a plate of chilled grilled vegetables with slowly sautéed garlic slices, fresh basil ribbons, chopped chives and a balsamic reduction.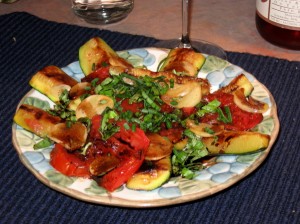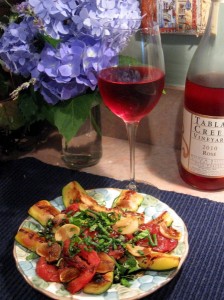 Here this salad offers slightly sweet flavors and encourages the fruit found in the wine to come forward.
And as a final simple palate cleanser, strawberries stuffed with chevré on a base of balsamic reduction is served.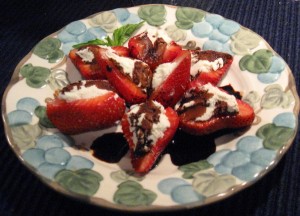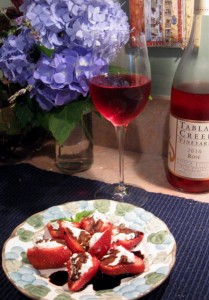 Rosé in general is most often enjoyed during warm summer months.  However, as Thanksgiving holiday meals are planned, Rosé is also an important wine to remember for serving purposes.  It pairs with a variety of appetizers, vegetarian dishes and most importantly salads.   It is a wonderful option for guests who are vegan or vegetarian.  And for those keeping the host chef company in the kitchen, it pairs well in that environment, too.   Have a wonderful, safe Thanksgiving and most importantly, cheers!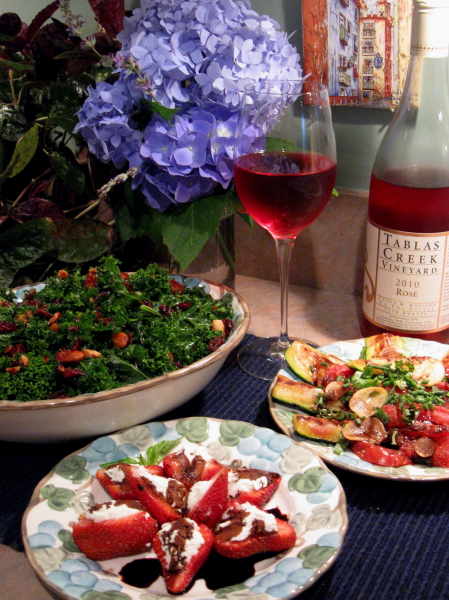 The Many Faces of Chardonnay
Dated:  April 25, 2012
By:  Kristin Hanson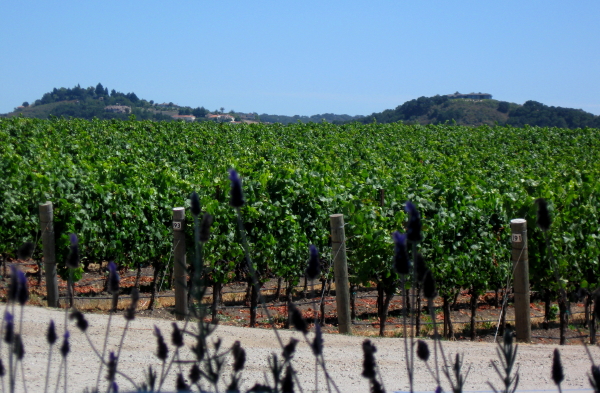 Chardonnay is a grape in California that has reinvented itself over the last several decades.   On its own and without much winemaking fuss, it can be made into a simple refreshing pleasant white wine.  In the 1980's, however, California winemakers began exposing the grape to more oak which resulted in buttery, oaky Chardonnays with which California has long been associated.   Particularly in the last seven years, vintners are beginning to take a step away from the traditional prolonged oak exposure and heavy buttery flavor.   Chardonnay instead is beginning to emerge anew in the California wine industry and this time is flashing a cleaner, brighter and lighter flavor profile.
This new style of Chardonnay is the result of increased stainless steel fermentation.   Depending on the vintner's style, some of these wines may be 100% stainless steel fermentation with no oak barrel exposure whatsoever.  This in turn opens the doors for a varietal to suddenly have many identities in the sense that the wine can be a heavier dose of liquid gold or it can flit across the palate like a carefree spring afternoon.
Similarly, in California, the discerning palate can find that Chardonnay varies greatly from region to region.   This should not be a surprise as the Chardonnay grape is highly malleable and reflects not only the hand of the winemaker but the identity of the terroir from which the vine grows.   Nevertheless, given the various microclimates of California, should you venture down the coast and sample Chardonnay along the way, you will invite your palate to a pleasant education. 
Once harvested, Chardonnay runs the risk of losing its acidity.  If the weather in a region is temperamental, this early ripening grape may be rushed to be harvest if the weather is too warm without having the full opportunity to develop its full flavors.   As you head south down Highway 101 in California and descend into the beauty of San Luis Obispo County, you will note a difference in climate across the county.  In the north, the county can be quite hot in Paso Robles, and yet as you wind down to the southern end of the county to Edna Valley, the geography places you closer to the coastline.   It is here in Edna Valley that Chardonnay grapes perhaps have quietly found their ideal home.  Coastal fog can reach the grapes to cool them and prolong their harvest time.  Biding time on the vine, these Chardonnay grapes have far greater opportunity to develop their full natural flavor potential.  As a result, the Chardonnay wines that emerge from this region are ripe with flavor, acidity and overall personality.
In September, I featured Chamisal Vineyards' ("Chamisal") estate Chardonnay which is perfection in a bottle.  It is not heavily oaked and instead shows that perfect whisper of oak and allows the grapes to sparkle like California sunshine.   For those who wish to venture further into the exposure of complete stainless steel fermentation, Chamisal also bottles a Stainless Chardonnay that unabashedly reveals the naked character of the winery's Chardonnay grapes in all of its glory.  While I opened a 2009 vintage, it should be noted that this treat from Chamisal (located in Edna Valley in San Luis Obispo County) has been collecting accolades from the Wine Enthusiast and the Wine Spectator with scores registering as high as 90 points.   Similarly for a wine ranked this high, you further win with its outstanding affordability (at approximately $18 a bottle).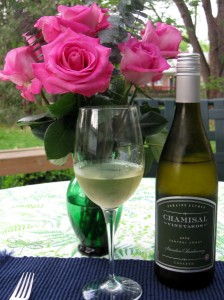 Chamisal's Stainless Chardonnay consists approximately of 16% of its own estate-grown Chardonnay and remaining fruit sourced from various vineyards up and down the Central Coast of California.   Showing off its idyllic climate and growing season, the 2009 Stainless Chardonnay presents a bouquet of lime, citrus blossom and verbena.  On the palate the wine is beautifully clean and characterized by a soft entry that lulls back like a springtime lullaby.   There is no bracing acidity but instead is characterized by a delightful twist of tangerine citrus on the finish.   Chamisal's Stainless Chardonnay is a wonderful wine for early warm spring evenings that catch you off-guard and suddenly searching for something refreshing yet still seasonally delicate.
When you are working with a stainless steel fermented Chardonnay, there are endless cuisine pairing opportunities.  Seafood and shellfish are immediate options and a bevy of springtime vegetables follow.  Soft chevré cheeses are also a natural choice.   However, wanting to veer away from the standard Californian culinary choices, I was in the mood for Southern inspired fare:
1)      Kristin's Un-fried Lemon Thyme Buttermilk Chicken;
2)     Artichoke Mashed Cauliflower Puree; and
3)     Sassy Strawberry Rhubarb Mini-Pies.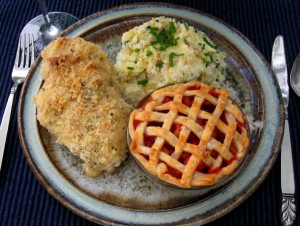 Southern cuisine for most immediately invokes thoughts of high sugar, carbohydrate, oil and fat content.  Yet for the patient palate, others in the know recognize that Southern cuisine is recognized for textures, varied flavors, unique acidity and overall indulgent flavors.  As a native Californian, it is difficult to convince me to fry much of anything; with enough home culinary experience, however, it is easy to make many foods with enough moisture, flavor and crispy texture without frying them.   Un-fried chicken is one of those dishes.
Boneless skinless chicken breasts are first marinated in buttermilk in the refrigerator such that they remain cold and are able take on a coating that will prepare them to be dipped into a breading mixture.   Said mixture is created using panko bread crumbs (which allow a light crispy texture) with a carefully measured and determined mixture of spices and other ingredients.  Most home chefs in the South will never divulge their personal barbeque sauce recipe and similarly the measured allocations of spices in a breading will never be shared either.  Nevertheless (to whet your whistle), a combination of cayenne pepper, fresh oregano, basil, lemon thyme, garlic, black pepper and Old Bay seasoning are combined.  Lemon thyme is the main herb that purposefully dominates my recipe as it is refreshing, will pair perfectly with the wine in question and simply embodies the very nature of spring. 
To "un-fry" your chicken, simply use a cooking spray gently on it before placing it in a hot oven to bake.  It likely will require a quick spray again midway through cooking, but the result is beautiful and will more than satisfy (if not fool) most at your table.  The chicken is moist, crispy on the outside and the buttermilk melds wonderfully with the panko breading and tames the spices.  The wine is responsive to the spices as well.  The seasoning recipe for the breading will challenge that of any major fried chicken purveyor and it is a dish that will make any Southern cuisine aficionado proud.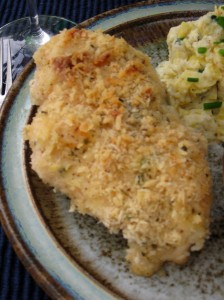 Next up, rather than overload on simple carbohydrates, I created a twist on the traditional cauliflower puree to work in artichokes.  Artichokes are a challenge to pair with wine because they can actually make the wine taste better than the wine really is.  This is due to a chemical found specifically in artichokes.  Yet no matter when artichokes are involved in a dish, they always sweeten the pot.  In this case, the wine being paired is wonderful on its own merits and I am not reluctant about pairing it with a dish involving artichokes.  Artichoke hearts are gently sautéed with minced garlic before being introduced to fresh chives, cream and steamed cauliflower in the blender.   They are gently pureed in the blender to give a chunky texture akin to mashed potatoes and garnished with more freshly chopped chives from the garden and sprinkled with black pepper.  True to form, the artichoke pleasantly manipulates the wine as it almost candies the lime, apple and tangerine flavors found in the Stainless Chardonnay.   The puree is savory splendor and a delicious welcome on any plating.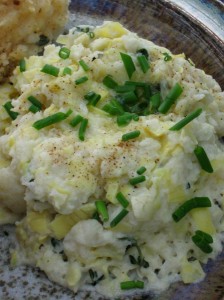 To finish, a Southern meal would not be complete without pie and spring is the seasonal stage for strawberry-rhubarb pie.   However, for a different twist, why not make personal pies that can be served on the plate, warm from the oven, alongside dinner?   Honestly, who cannot resist a mini-lattice created on a pie just for him or her?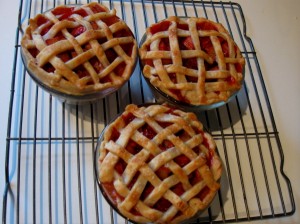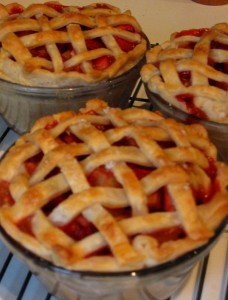 Rhubarb from the backyard meets seasonal spring strawberries.   Gussied up with ginger, minced lemon peel, cinnamon and vanilla extract, this strawberry-rhubarb pie is nobody's early-bird special.   Sweet, tart, acidic and spice come together in a tricked-out version of an old-fashioned favorite that will have your diner quickly focusing on the small custard-cup sized pie in front of him/her.   This is a fabulous way to finish a meal as the bites are dynamic in flavor.   Sugar, furthermore, is not heavily relied upon as the strawberries are naturally sweet at this point in the spring.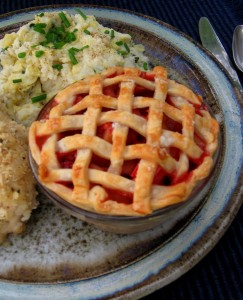 A meal such as this paired with a stainless steel chardonnay is one of the best ways to celebrate those first warm evenings in late spring.  Enjoyed on a warm back patio, it is the proper pairing to remind one of the warm evenings ahead, to slow down and to enjoy the simple straightforward flavors that seasonal food and stainless steel fermented wine offer.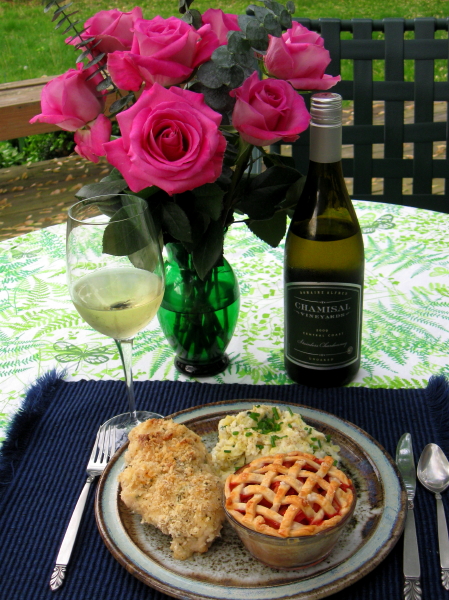 Happy Christmas
Date: December 28, 2011
By:  Kristin Hanson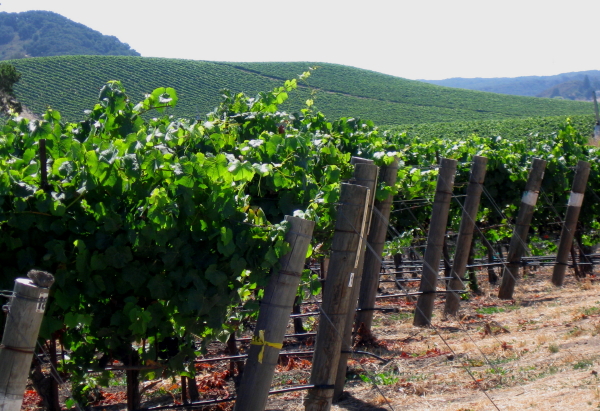 As John Lennon's song goes, "And so this is Christmas and what have we done; another year over and a new one just begun . . ."  I find myself in that odd week following the Christmas holiday and watching the New Year's weekend loom on the horizon.  It is very much a week of feeling as though one is hanging in limbo.   The anticipation of the Christmas holiday is over and yet a new year is about to begin.   Whether you greet the new year with excitement, optimism, anxiety, trepidation or pessimism, you can always clean out your fridge to welcome in a new year of culinary creations.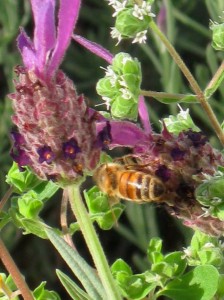 Cleaning out the refrigerator is not necessarily the most glamorous task but when one sets forth to do so while keeping a firm eye on what sits on the pantry shelf, he or she will be surprised at what can be created.  
Similarly, as we wind down the holidays, some of us may pinch our wallets a big more tightly and watch more carefully as pennies are spent.   When looking at wine, this week is equally fitting for a more affordable wine that will still delight, impress and entertain at any table when shared.
Grüner Veltliner is a white wine grape that is not widely grown in the United States.  Across the world in Austria, it is quite popular and given the varietal's propensity for complexity as a white wine, it should become increasingly popular in the United States.   In Edna Valley, winemaker Christian Roguenant has found success making an affordable bottling for $20 or under of this varietal under the Zocker label (which is a sister label to Baileyana and Tangent, among others).   Zocker's 2010 Grüner Veltliner is so delightful that nearly critic who has sampled it has given it a 90 point (if not more) rating.   Any time a 90 point wine can be found for $20 or less, you know that you have stumbled upon a wonderful find.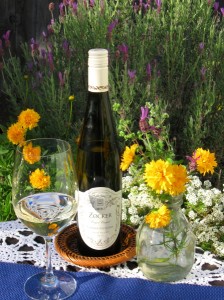 So what makes a Grüner Veltliner so unique compared to other white wines?   The acidity found in this variety is incredibly lively while maintaining an artful balance that does not cause the consumer to "pucker" as they sip.   Add in the changing ripe, lush fruit that crosses the palate as it is complimented by a spritz of citrus when needed and sprinkled with minerality and a Grüner Veltliner will enamor the palate of many.
2010 was a challenging harvest in Napa Valley and this past summer it was a welcomed discovery to find that San Luis Obispo County has a very different harvest that year.   Their white wines were vibrant, balanced, fruit laden and a delight to a palate that was previously worried if this year would be a year without white wines to enjoy.   The 2010 Zocker Grüner Veltliner was a particularly unique delight to discover as the varietal is not grown in Napa Valley and after a sip, it is apparent that Edna Valley is the perfect home for this varietal.   The bottling is donned by a screw cap which once upon a time wine connoisseurs rebuffed but now readily accept as it is an indicator of foresight from the winemaker to ensure that beautiful aromas will be encapsulated longer.   As the wine hits the glass, this theory is proven true as the bouquet is frankly provocative.   Seductive aromas of fresh yellow peach stride forth coupled with distinct enchanting aromas of honeysuckle, melon and lime blossom.  The bouquet on this white wine is one where you will want your nose to linger, which is rarely encountered with white wines.  Normally a white is far too perfumey or lacking to keep the nose's attention but here it is so provocative such that it is capable of taunting one's senses to believe that indeed a white wine might give the traditional complexity of certain red counterparts a run for its money.
On the palate, this is one smooth character.   It shows a delicate acidity but instead it captivates you with its smooth texture, sophisticated minerality and pleasing balance of citrus and melon flavors.
Returning to the pantry and the refrigerator to assess available ingredients, this month's pairing menu hosts:
Meyer Lemon-Thyme Panko Crusted Halibut with Red Pepper Lemon Garlic Mint Roux
Earlier this year a colleague brought me a small gift of preserved Meyer Lemons.  He has a Meyer Lemon tree in his backyard and each year (as a nod to his grandmother's traditions) he preserves the fruit, packages it in small jars and gives them as gifts when he deems appropriate.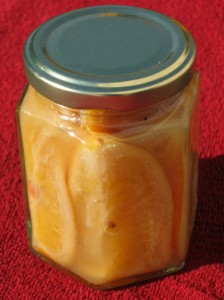 While some may think that such a gift may not be much, to someone who cooks it is treasured.   With my Meyer Lemon tree, I generally use that which I need, donate the rest and simply wait out the season until new fruit emerges.   Once Meyer Lemons are preserved, however, they become an entirely different cooking ingredient (given their salty nature) and something that my pantry clearly lacked.
The lemons themselves are chopped and placed upon a thawing piece of halibut in the fridge.   Once thawed, the pulp is mostly scraped off and the fish is then rolled in some panko bread crumbs.   The rind of the lemons, however, has been reserved and chopped to be mixed with bits of red pepper, tomato, saffron, chocolate mint, garlic and other ingredients.   The fish emerges with more depth aromatically than traditional dishes.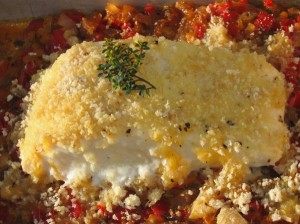 To dress the fish, a holiday appropriate theme of chopped chives from the garden are added to the colorful pepper mix and with a final sprig of variegated lemon thyme placed on top.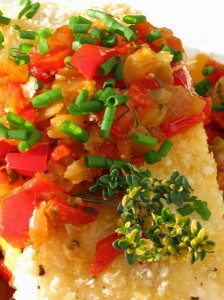 The result is colorful, aromatic and once tasted, flavorful.
When the wine is taken with the fish, the wine's citrus notes leap forward due to the citrus component included in the recipe.   The wine similarly has the potential to pair well with spices and surprises the palate with vivaciousness when introduced to saffron.  The preserved meyer lemons in the dish are rich and delicious after baking.  While this wine pairs well here, less can be more with this wine, too.  It probably is my single favorite white wine to enjoy with cheese because it can pair with such a wide assortment.
Generosity is something that we celebrate at the holidays whether we are giving or receiving.   Using saffron and preserved meyer lemons that were received from other friends give a dish a certain tender, fond touch as those are at the table, too.  Similarly in a challenging economic landscape, while some favorite wines may be cost-prohibitive, Zocker's Grüner Veltliner opens the door for new discovery and a broadening of one's wine palate.  New introductions are made in your cellar and as we cherish our favorite wines, we welcome new discoveries, too.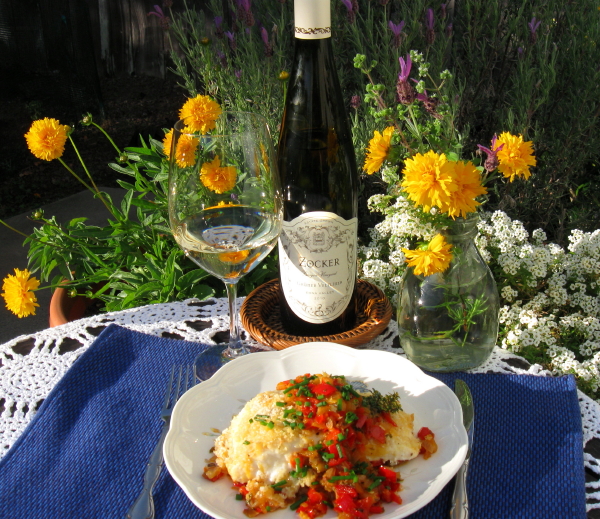 Thanksgiving on the Fly
Date:  November 22, 2011
By:  Kristin Hanson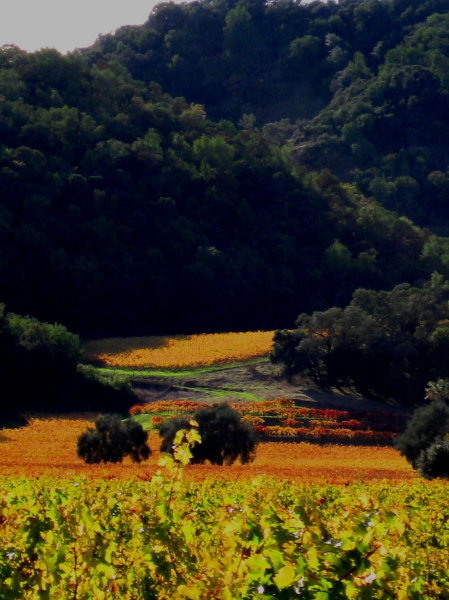 The holidays approach fast and furious.  No matter what your schedule dictates, you should celebrate.  There is always something to be grateful or thankful for no matter where you find yourself.
There are a number of wines that you can select to serve alongside your Thanksgiving dinner but to deliver a traditional classic style of celebration, look no further than sparkling wine.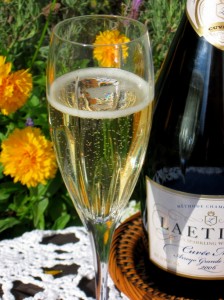 Laetitia Winery ("Laetitia") is located in San Luis Obispo County and is best known for its Pinot Noir, but if you are a fan of "bubbles", the winery offers several different types.  Laetitia's "Cuvee M" is akin to its reserve bottling.  Its 2006 vintage finds its flavor profile from fruit in Arroyo Grande Valley and benefits from the valley's idyllic weather as its alcohol content only reaches 12.5%.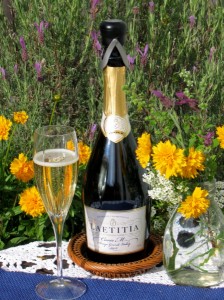 Smooth and beautifully balanced, Laetitia's Cuvee M is gently round on the front of the palate.  It presents a delicious blend of peach, melon, ginger and citrus that makes it easy to be thankful for this wine.   Similarly, the Cuvee M offers just a hint of sweetness to further please the palate of any Thanksgiving dinner guest.
To pair the Cuvee M for Thanksgiving this month, it was necessary to jump the culinary gun and quickly put together something that effortlessly ties together the seasonable flavors of Thanksgiving.   For the past two years, I have contributed my Thanksgiving Turkey recipe on the Facebook fan page for the website out of gratitude for my loyal readers.  This year, I have taken elements of that recipe to create Thanksgiving Turkey Breasts in a pot.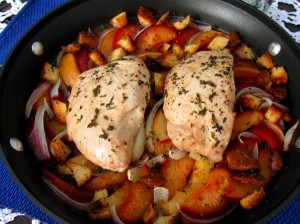 First, seasonal red plums, Vidalia onions and fuji apples are sliced and organized in colorful alternating rings in low, large covered pot.  Spices such as cumin, cinnamon and nutmeg dust the fruit.  Dry white wine is added to the pot to help baste the boneless turkey breasts which will ultimately sit atop.   The turkey breasts are rubbed with the open face of a meyer lemon before being seasoned with fresh herbs of marjoram and thyme from the back patio.  The turkey breasts next are set atop wedges of yellow onion which have been pierced with a bay leaf and cloves.  As this ensemble roasts in the oven, large bread crumbs are created, tossed in a mixture of melted butter, olive oil and finely minced fresh herbs.   They are added to the oven on a baking tray to bake.   Towards the end of the roasting of the turkey breasts, the bread crumbs are added to the pot containing the fruit and turkey breasts.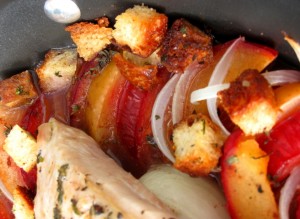 Meanwhile, a Thanksgiving dinner is not complete without vegetables.  Two vegetables are recently seasonable:  brussel sprouts and butternut squash.   The two combined satisfy a craving for something sweet and something slightly spicy.  Fresh brussel sprouts have a slight mustard or peppery flavor.  Butternut squash has a delicious sweet flavor.   The squash is cubed and tossed in cumin and other spices prior to being roasted.   The brussel sprouts are steamed, halved and/or quartered before being tossed with shredded parmesan cheese and the squash cubes.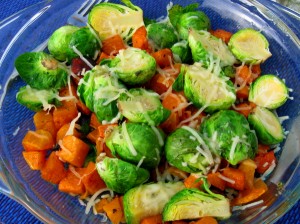 Turn this side dish into a salad later with a drizzle of balsamic vinaigrette.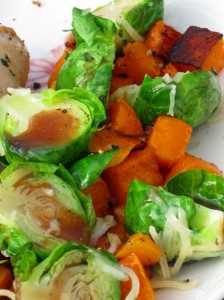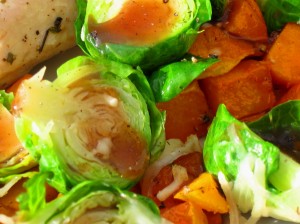 Before you serve your Thanksgiving dinner, if you are still growing herbs in the garden, clip healthy fragrant stalks and combine them with seasonal flowers.   Using fresh herbs for your dining table's centerpiece brings aromas of autumn into your home.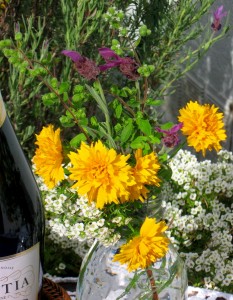 As the turkey, fruit and vegetables finish roasting in the oven, aromas of Thanksgiving dinner fill the house.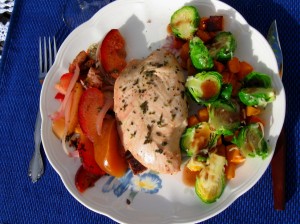 Once this ensemble is paired with Laetitia's Cuvee M, warm rich full notes of baked apple appear in the wine to match up to the roasted fuji apple, plums and sweet onions.  The wine's ginger notes embrace the cinnamon, nutmeg and cumin spices, too.   Similarly with the brussel sprouts and butternut squash, the wine equally warms up to the cumin and cracked black pepper.   The wine's flavors are soft and slightly sweet.  It is as if it is mimicking softness, yet it delivers a cleansing green apple finish.
Even if you do not have time for the traditional turkey this year, you can still incorporate your personal traditional recipe into something modernly simple.  Any time culinary simplicity is discovered in a novel way, it is well worth celebrating.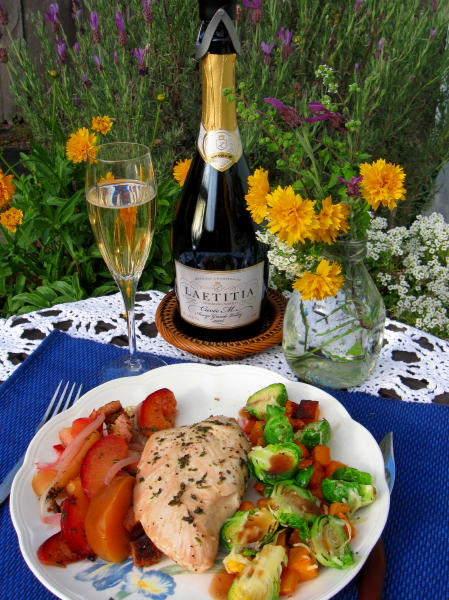 Sit and Stay a Spell With Sparkling
Date:  October 25, 2011
By:  Kristin Hanson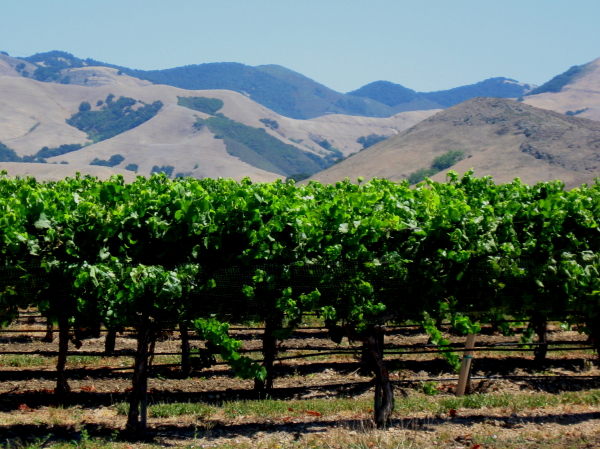 Edna Valley in San Luis Obispo is readily known for its breathtaking beauty and quietly known for grapes that continue to gain more attention for the award-winning wines that are made.   The valley saw some of its first wines emerge in the 1970's but residential and community presence in Edna Valley dates even farther back.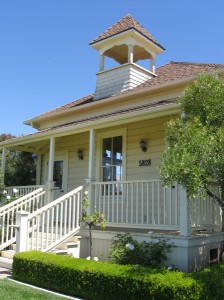 In 1909, the rural farming community of Edna Valley constructed a single-room schoolhouse to educate children.   For the following 47 years, the schoolhouse continued to operate.  In 1956, the schoolhouse became a private residence but ultimately in 2003, the charming little historic schoolhouse would find its permanence in the Edna Valley wine community as it became the home to Baileyana wines ("Baileyana").
Surrounding Baileyana are the Firepeak and Paragon Vineyards.   While it is customary for a winery to have estate vineyards, it is an achievement if its vineyards are officially certified as sustainable.   Both the Firepeak and the Paragon Vineyards have earned the Sustainability in Practice ("SIP") Vineyard Certification.  SIP provides a comprehensive and verifiable method by which a vineyard's commitment to integrated farming practices can be authenticated.  More importantly, certification reflects Baileyana's dedication to environmental stewardship, economic viability and equitable treatment of its employees.  The immediate tangible result of these activities for the consumer, however, is the production of quality delicious sparkling wine.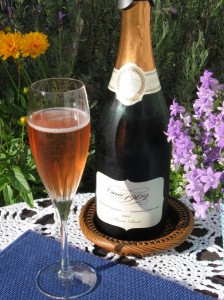 In 2005, Baileyana created a sparkling brut rosé with the intent of commemorating the 100th year of its home, the historic schoolhouse.  Visiting the winery, it is impossible not to feel embraced by hospitality.   Sitting slightly up above the road, the building's schoolhouse windows provide beautiful views of Edna Valley from every angle.  Gazing out on such beauty, it is easy to linger and the winery's employees never make you feel rushed.  You are encouraged to explore the bocce courts outside or to play croquet, on a typical sunny utopian Edna Valley day it is near impossible to depart.  Once you sip 2005 Baileyana's Cuveé 1909 Brut Rosé, you will simply wish to sit and stay for a spell.
The 2005 Baileyana's Cuveé 1909 Brut Rosé is an elegant surprise as it reveals itself in your glass.  Consisting of 72% Chardonnay and 28% Pinot Noir, ultra fine bubbles gracefully rise in this sparkling wine.  As your nose approaches the glass, it is met by readily identifiable aromas of ripe ruby red grapefruit.  In fact, when the glass is one foot away from your nose, the wine is gently aromatic.  With a simple taste, you discover that the wine is smooth and achingly dry with refreshing citrus and a simple kiss of raspberry and strawberry cream on the finish. 
On its own, this wine is a delightful sipper whether you linger in the sun at Baileyana's bocce court, stick your toes in the sand at a beach along the Pacific Coast or dream in the autumn sun of your back patio.  If pairing food, the 2005 Baileyana's Cuveé 1909 Brut Rosé is well-suited for chevré, olives and herbs and if brought to the dining table, seafood should be there to greet it.   With this in mind, this month's menu hosts:
Bacon, Scallops and Asparagus and Citrus Beurre Blanc
Simple ingredients found in the freezer, refrigerator and backyard garden can create something impressive in a flash.
Asparagus is a vegetable that is beginning to reappear at produce stands and grocery stores.  It is also a vegetable that pairs well with sparkling wine due to its mild nutty flavor.  Peeling the lower third of the stalk slightly, asparagus is placed with minced shallots, meyer lemon juice and a bit of olive oil to roast in the oven. Once done, the tops of the asparagus are sliced off at varying heights.  The remaining parts of the stalks are sliced and tossed with the minced shallots.
While the asparagus is cooking, slices of center cut bacon are diced and sautéed.   Some of the drippings from the bacon are mixed with a bit of olive oil and scallops seasoned with fresh ground black pepper and sea salt are sautéed.  Once complete, a bit of the drippings are then whisked with orange juice and dry white wine.   After reducing, butter is quickly whisked in to create a sauce.  
Asparagus spears are tied together by a chive from the garden and sliced asparagus and minced shallots are added to the plate with the other ingredients before being dressed with the citrus beurre blanc sauce.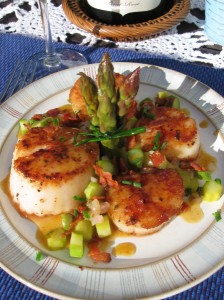 Each mouthful is a little bit of heaven:  savor and sweet, despite being potentially sinful.  The scallop and bacon encourage the wine's berry notes to become rounder and fuller.  Similarly the asparagus wields a citrus flavor given its manner of preparation.
As much of California continues to experience a warm late October, it takes little to encourage one to take advantage of the beach weather.   Before the winter rains arrive, it is the perfect time to simply sit, sip and enjoy some sparkling wine.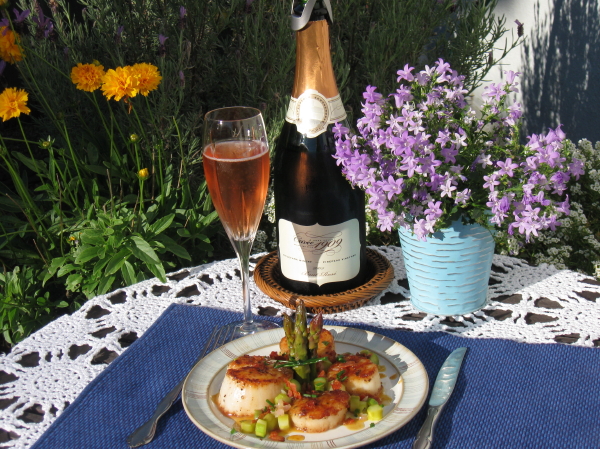 Breathtaking Beauty in Edna Valley
Date:  September 27, 2011
By:  Kristin Hanson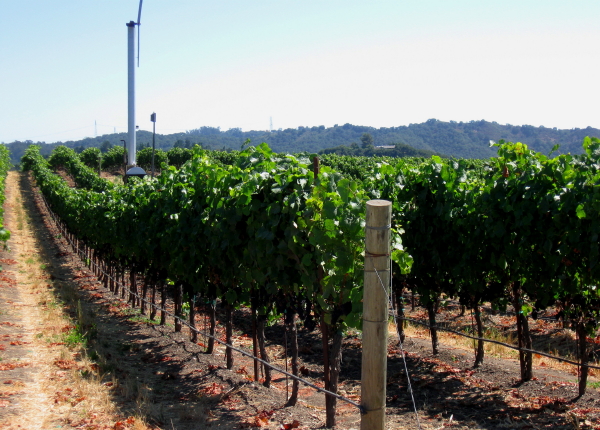 San Luis Obispo County, located halfway between Los Angeles and San Francisco, is known for its idyllic weather, calcareous and clay-rich soils and close proximity to the Pacific Ocean.   With the combination of these elements, an agricultural area results with a potential for limitless bounty.   Tucked back away from Highway 101, stretching from Arroyo Grande to San Luis Obispo, sits Edna Valley.  For those in the know, whether it is a vintner in Malibu to industry aficionados in Napa Valley, the mere mention of Edna Valley triggers the same breathless utterance followed by a steeled direct glance:  "utopia".   
Utopia is a high benchmark to reach for, yet collectively, those passionate about wine will associate Edna Valley.   Characterized by a gentle rolling landscape, carpeted with lush vineyards and canopied by a seemingly cloudless pristine blue sky above, it is here that the sun shines brightly and the temperatures are perfect (never too hot, never too cold).  For a grape grower or a vintner, Edna Valley is magical.
The wine industry in Edna Valley reverently knows that they have something special.    In tradition with the San Luis Obispo's "SLO" culture, the wineries are inviting.   The folks who work there hope that you will stop, stay a while and simply enjoy what Edna Valley has to offer.   There is no reason to rush and if you happen to bring your dog along with you, well, she is generally invited just about everywhere.
In 1973, Chamisal Winery ("Chamisal") broke ground in Edna Valley.   Now, thirty-eight years later, the winery still is home to only five varietals in its vineyard.   Unique, however, to Chamisal is its long-standing commitment to planting numerous clones of a certain varietal.   A clone is generally a plant that has been propagated asexually, either by a cutting or by grafting.   This is done intentionally to reproduce certain plants that have unique traits (such as being disease resistant) but is also done in the wine industry to create plants capable of producing varietals with distinct aromas, flavors, yield and ripening ability.   Planting various clones of a specific varietal gives the resident vintner great latitude in creating a particular wine that will be unique to the winery and similarly best representative of all that a varietal can offer in a single bottling.
Sitting outside on comfortable patio seating at Chamisal, each wine that was poured for us was delicious exploration.   Upon learning Chamisal's commitment to planting numerous clones of the five resident varietals, I knew that my palate had found a new home.    While Chamisal is known for making a Pinot Noir in 2004 which received the highest rating in history for San Luis Obispo County (96 points from the Wine Enthusiast), its ability to produce Chardonnay has not gone unnoticed either.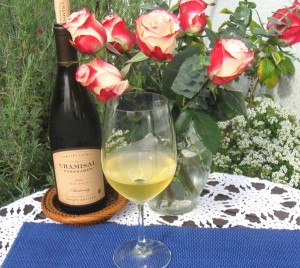 Chamisal's 2008 Chardonnay is breath-taking.   Most Chardonnays that I have explored out of Napa Valley or Sonoma County to date flirt between a fluttery kiss of oak or heavier lumbering oak (excluding, unoaked Chardonnays).   Only since the revival of unoaked Chardonnay in Napa Valley have I been able to truly appreciate the varietal and for many years, simply out of personal preference avoided California Chardonnay as it yielded far too firmly a commitment to over-oaked exposure.   Thus, when I found myself on a lazy warm August afternoon lingering at Chamisal, I had no expectations of what I would experience in its 2008 Chardonnay.   Pouring into the glass, the aromas that drifted up tempted with nuances of Meyer lemon, fresh peach, tantalizing tangerine and a slightly gingered fennel spice.   In the mouth, slightly tropical notes of pineapple float past, with a slight taste of celery and herbs accompanied by lemon creating a clean feeling in the mouth.   Yet the show-stopper of this wine is the distinctly notable balance of oak.  It presents itself not as a kiss and not as a lumbering party guest that you simply wish would know when to leave, but instead, it presents itself as an elegant satin ribbon that neatly draws itself across the palate from start to finish.   This is not a wine that you wish to rush off the palate.  Instead it offers flavors of crème brulée with sweet citrus, soothed by that unique ribbon of oak, allowing the palate to savor the wine that just slipped past and daydreaming for more.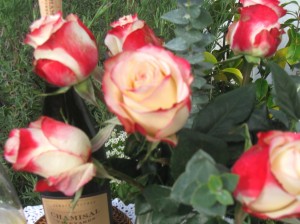 Chamisal's 2008 Chardonnay was so enjoyable that while I left with my customary bottle to feature on the site, later that week I found myself daydreaming about the wine.   Knowing the vast amount of wine that I have tasted over the years, it is something special when four days later I find myself daydreaming about the palate profile of a wine. Before heading back up Highway 101, I found myself returning to Chamisal to test if palate had perceived the wine properly and found that I was not wrong.   Later doing research, I am glad that I did return to Chamisal.   The 2008 growing year for Edna Valley was perhaps one of the most perfect growing seasons imaginable.  The year experienced a dry winter and spring, followed by a classic San Luis Obispo summer.   With the idyllic temperatures accompanied by less rainfall, the grapes' flavor is a bit more concentrated and lends to create an incredibly balanced wine as I experienced.   My perceptions were not unique as the Wine Enthusiast awarded this vintage with 90 points and the vintage also won "Best of Show White" at the American Fine Wine Competition.   
Returning home, a bottle of Chamisal's 2008 Chardonnay soon found its way to the refrigerator and one Thursday evening made it to the wine glass to simply enjoy by itself.   All enjoyed elements were still present and while the wine is easily enjoyed alone, the vintage begged for one type of cuisine in particular, leading to this month's pairing:
Kristin's California Lobster Roll
Chardonnays understandably vary and in the culinary world each vintner's touch can uniquely determine how best his/her wine will pair.   In the case of Chamisal's 2008 Chardonnay, the wine opens with juicy notes of pineapple and a nuance of green apple but the distinctive ribbon of oak dares the palate to dream of butter.   Experiencing a dash of celery in the wine is yet another characteristic that hints that perhaps the perfect destined pairing is the classic lobster roll.   East Coast friends and siblings aside, however, it would not be seasonal local cuisine if the lobster roll was not given a dash of California flare and a swift kick of gourmet.
To commence, a sauce of crème fraiche, a bit of neufchatel cheese and fresh lemon juice is created to deviate away from the traditional mayonnaise based dressing.   Fresh lime thyme and marjoram picked from the backyard patio are chopped and added along with flecks of lemon zest to create depth.   Similarly, pickling cucumbers are abundant in the backyard and picked right from the vine, one was minced to be added to the mixture.   Instead of celery, I opted for chopping green apple and added sweet paper thin sliced spring onion slices.   Lobster chunks are added to make the salad complete.   Rather than phone it in with iceberg lettuce, finely chopped cabbage and pea sprouts are used in the roll.   Cabbage has a crispness to its texture which livens seafood salads and pea sprouts are sweet yet add depth of flavor and appearance.
Finally, fresh bakery rolls are gently brushed with olive oil before being dipped sandwich side down in melted butter and pureed roasted garlic.   Placed atop the grill, the bread is toasted and grilled before adding the lobster salad and pea sprout slaw.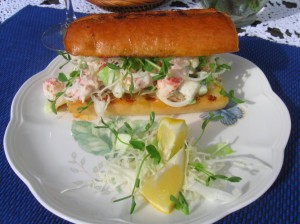 The result is a succulent lobster roll with the flare typical of California cuisine, offering bright flavors indicating that it is a destined love to Chamisal's 2008 Chardonnay.   The combination of tart, sweet, acidic, herbaceous and buttery all equate to savory.   Pouring alongside this back patio delight, the Chamisal Chardonnay demonstrates a terrific transition off of summer into early autumn where days are still delightful and low autumnal sun warms making seafood a great late afternoon treat.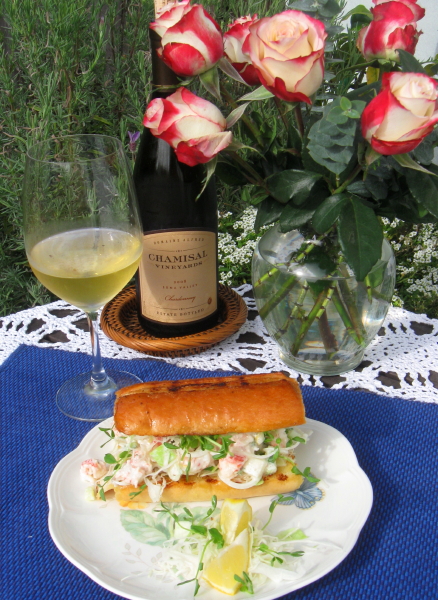 Viva a Vermentino
Date:  August 30, 2011
By:  Kristin Hanson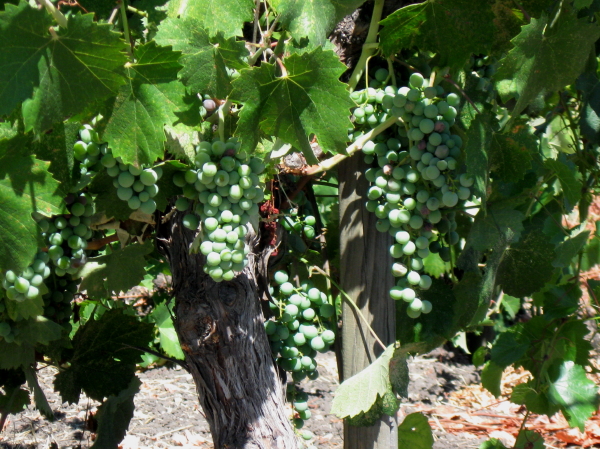 With a short two hour drive south of Silicon Valley down California's Highway 101, the temperatures heat up and one finds him/herself crossing into San Luis Obispo County.   San Luis Obispo County in California has long been recognized as a county with a strong commitment and passion towards organic produce, agriculture and viticulture.   While California is readily recognized for certain wine regions, wineries have been present in San Luis Obispo County since the early 1970's and since have been producing quality wines.   The diversity and possibilities of wine and food are endless in San Luis Obispo County but perhaps what is most admirably fascinating is that despite easily forty years of winemaking, this county has managed to preserve and protect a culture that allows you to slow down, enjoy what it has to offer and is in no rush to move you up or down Highway 101.   For those who are native Californians, this is an aspect of old-fashioned California culture that is quickly disappearing throughout much of the state.
If the culture of San Luis Obispo County is not more than enough to entice you to pull up a chair and stay for awhile, the wines that you discover here will.  Given the diverse climates throughout California, traveling to Central Coastal California allow you to be introduced to different varietals and to how familiar varietals grow distinctively in different climates.   The northern part of San Luis Obispo County is home to Paso Robles and while the southern end of the county is blissfully cool, the temperature is notably warmer in Paso Robles.  
Vermentino is a white wine varietal well known in Italy and even better known for its ability to excel in hot climates.   The vines are prone to taking on influences from herbs planted nearby and crafting its flavor profile based on the terroir where they grow.   Depending on where Vermentino is planted, it can vary from light and crisp wine to a fuller bodied wine with decisively fruit-driven flavors.   In San Luis Obispo County, the soil is calcareous and lends for crisp, clean flavors while maintaining a round mouth feel inherent to the varietal. 
Wander west, just outside the outskirts of Paso Robles, on winding country roads and you will find yourself at Tablas Creek Winery ("Tablas Creek").  While the winery is readily recognized for its commitment to Rhone varietals, it also provides the unique opportunity to explore a 100% Vermentino bottling.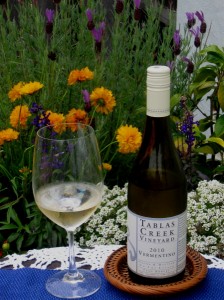 Tablas Creek's 2010 Vermentino is smartly bottled with a screw top closure.   Opening the bottle and pouring the wine into the glass, gentle aromas of citrus blossom float forward.  Soft on the front of the palate, the wine finishes with a gentle pleasant twist of acidity at the back of the palate.  While the finish is similar to adding a spritz of citrus to your meal, the wine offers flavors of refreshing melon, meyer lemon, a bit of lime and a hint of ginger.  At first sip, the wine could be quickly compared to Sauvignon Blanc but as it is enjoyed, it is not as acidic as many of its white wine cousins.
Perfect for summer afternoon gatherings, Vermentino pairs artfully with seafood or light summer oriented appetizers.   As such, this month's menu hosts: 
Zucchini Mint Ricotta Cakes with Summer Lemon Wedges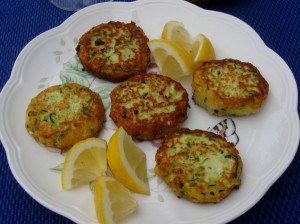 Zucchini Mint Ricotta Cakes with wedges of fresh lemon make for a delicious appetizer dish to reflect that which is currently in your backyard edible garden.   A combination of grated zucchini, lemon zest, chocolate mint, lemon thyme, Mexican spring onion, garlic and other spices meet a carefully measured combination of ricotta, egg, flour and panko bread crumbs.   Chemistry is intrinsic to cooking and how ingredients are combined determines sweetness, acidity, texture and consistency all at once.  In this case, the recipe that I created purposefully avoids a heavy fried appetizer and instead creates something light, dressed with a spritz of fresh lemon juice.  The result is representative of a casual array of refreshing summertime flavors with a subtle nod to comfort food.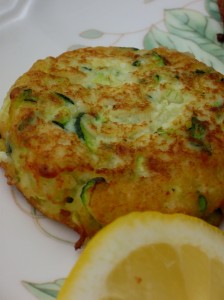 When paired with Tablas Creek's Vermentino, the appetizer accentuates that less acidic, rounder mouth feel of the wine's 100% varietal.   It brings a full feel to the palate that does not overwhelm but brightens with a quick citrus burst.
Delightfully refreshing when chilled, Tablas Creek's Vermentino is a reminder of carefree summer days and before summer runs out, head to your local wine shop or take a trip on Highway 101 to find it.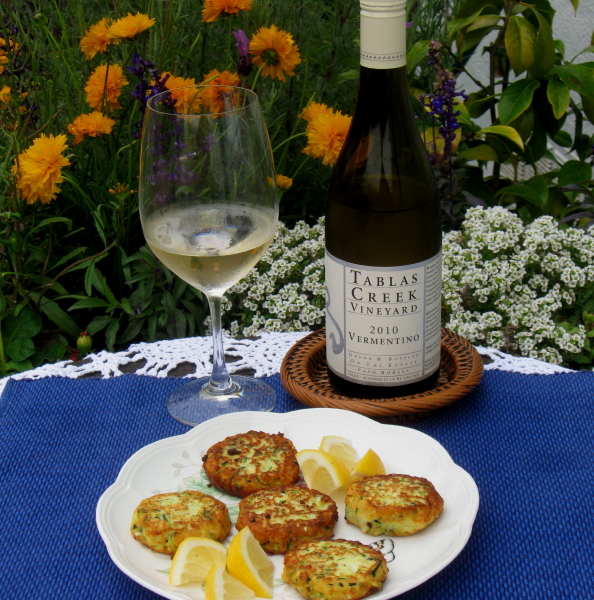 Comments Off on The SLO Vine