Oct 21 2009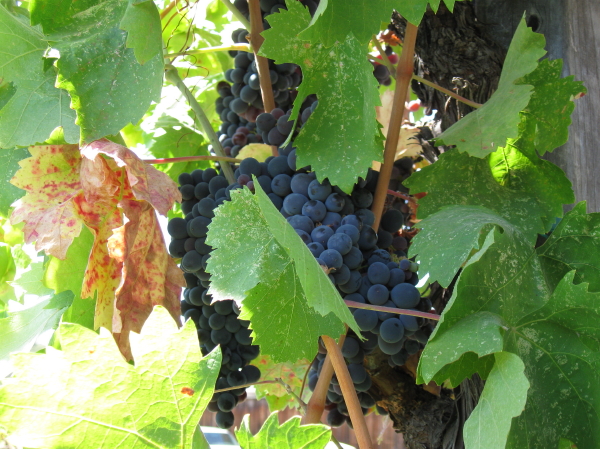 Diamond Mountain, located on the western northern end of Napa Valley on the Mayacamas Range, is one of the taller peaks bordering Napa Valley and is home to famed Cabernet Sauvignon grapes.   Diamond Mountain is a highly regarded American Viticultural Area ("AVA") and is recognized for producing deep, expressive fruit that can hypnotize your palate and romance any meal into sheer decadence.   It is no secret that Diamond Mountain Cabernet Sauvignon grapes are some of my favorite grapes.
In order to do this special AVA proper justice, naturally a truly spectacular Diamond Mountain Cabernet Sauvignon would be selected to be highlighted in this article.    In my opinion, no wine is better to demonstrate the characteristics of this AVA than Laird Family Estate's ("Laird") 2003 Diamond Mountain Cabernet Sauvignon ("Laird Diamond Mountain").   While Laird itself does not sit upon Diamond Mountain, due to a long-standing relationship, the winery sources the grapes from one of the most respected Diamond Mountain vineyards.    The result of this sourcing produces a wine consisting not only of high quality grapes, but of one hundred percent (100%) Diamond Mountain Cabernet Sauvignon grapes.  Since the wine is comprised of only Cabernet Sauvignon grapes, it indicates that it is capable of standing alone without the assistance of Malbec, Cabernet France or Merlot (which are typically added to Cabernet Sauvignon wine to help fill out the palate).    Laird's Diamond Mountain Cabernet Sauvignon treats your palate to a uniquely velvety, rich and lush wine.
A pour of the Laird Diamond Mountain introduces the wine glass to deep gorgeous ruby notes.    The wine is an elegant cabernet sauvignon at first sight and its rich velvet-like coloring easily entices you to explore that which it has to offer.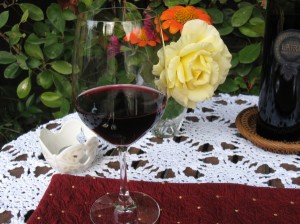 Venturing further, the nose is not disappointed as it is greeted with a bouquet primarily of licorice and blackberries.   However, as you linger to take in the aromas, there is a slight earthiness reminiscent of the porous volcanic soil of Diamond Mountain, accompanied by the scents of eucalyptus and rose petals.
As the wine finally meets the mouth, it is primarily spiced with anise and fruit-driven with big blackberry fruit on the entry followed by cherry as it crosses the palate.   The sensations from this Cabernet Sauvignon are akin to a rich full mouth from the onset.  Alone, this wine is rich and dreamy triggering sensations of velvet.  It could be paired with something as simple as cheese and crusty bits of bread.   The tannins are in check and do not hijack your palate to communicate that the wine would benefit from cellaring.   Instead, this Cabernet Sauvignon is very balanced, has the presence of tannins to provide structure and is a very accessible wine.   The wine itself is hearty, showing solid structure and sets forth a strong lingering finish.    
While this wine could be enjoyed by itself in all its Diamond Mountain glory, it does pair extremely well with food.    It could easily pair with a rich sensuous meal or something heavier like a steak.   Taking this wine's individual attributes into consideration, this week's menu hosts:
1)      Fresh Garden Side Salad with Blue Cheese Dressing;
2)     Grilled Top Sirloin Peppered Steak with Moliterno with Truffle Crumbles; and
3)     Drunken Portobello Mushrooms Au Gratin.
The salad featured is frankly a way to make you feel a little better about the richness to come.   It is also a great way to incorporate some seasonal vegetables from the garden (featured here, a variety of late ripening heirloom tomatoes, carrot and lettuces) into your meal and drizzling with some blue cheese dressing which pairs well with steak and cabernet sauvignon.   Taking a quick initial sip of the wine, the salad primarily allows the blackberry fruit to come forward; which for those skittish about tannins, this provides an excellent way to build your confidence and prepare your palate for what comes next.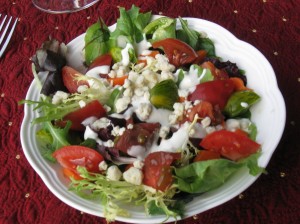 Steak and Cabernet Sauvignon go together like hand and glove.    Depending on the cut of meat and how it is seasoned will greatly accentuate the nuances found in the Cabernet Sauvignon paired.   Given that the Laird Diamond Mountain Cabernet Sauvignon is primarily fruit driven and has balanced tannins, a leaner cut of steak will pair well.    Some pepper on the steak will help to flush out the spice in the wine, but the real accolades belong to the cheese crumbles selected to sit atop the steak.   Moliterno with truffle is a pecorino cheese made from sheep's and goat's milk which originally hails from Italy and is recognized for its rich, earthy flavor due to the black truffle infused into the cheese.   Crumbling a bit of this aged pecorino cheese atop a piece of steak as it finishes on the charcoal grill adds a certain richness to the meat which pairs beautifully with the wine.  
To accompany the steak is a side of mushrooms.   However, this is no ordinary side of mushrooms but Drunken Portobello Mushrooms Au Gratin.   In order to tie the wine intimately to the meal, some of the wine was sacrificed to sauté slices of Portobello mushrooms.  While the steak finished on the grill, the mushrooms were put into a ramekin and topped with Moliterno with Truffle shavings.   Heated in the oven, a small mushroom au gratin side dish results and brings a whole new level of decadence to the meal.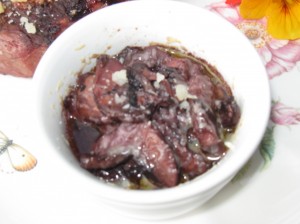 Pairing this wine with Drunken Mushrooms Au Gratin and a fresh cracked peppered steak is a meal fit for a king.    The Laird Diamond Mountain Cabernet Sauvignon wine by itself is rich and warming.   Incorporating the wine in the sautéed Portobello mushrooms brings forth berry fruit to mingle with the earthiness of the Portobello and the cheese's truffle.   Couple this ensemble with the grilled steak and prepare for absolute decadence.  
Laird's Diamond Mountain Cabernet Sauvignon is good for a chilly evening or even that first autumn storm that reminds us all that winter is just around the corner.    Rich and lush, this wine can stand solidly on its own and romance your palate with abandon.   Despite its bold individuality, this Diamond Mountain Cabernet Sauvignon pairs well with food.  Pair this wine with some protein or something of substance because this is no ordinary date, and this wine unabashedly lets you know its sensual side.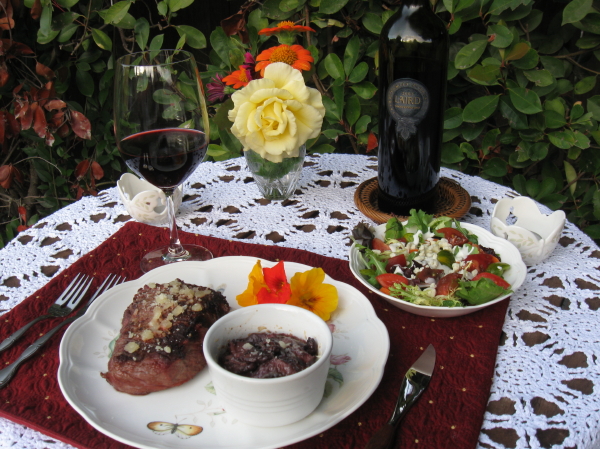 Comments Off on Decadent Diamond Mountain Cabernet Sauvignon