Oct 14 2009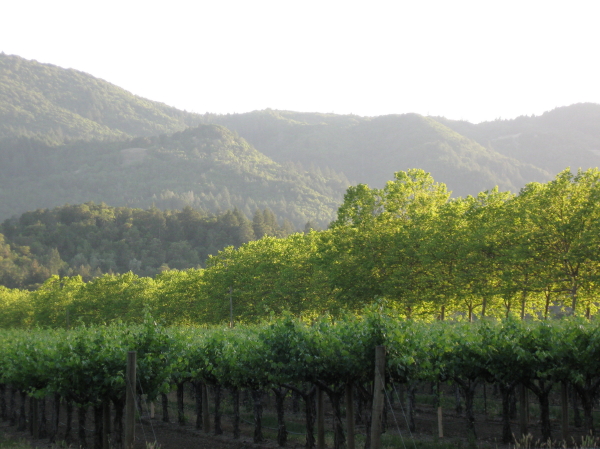 Cabernet Sauvignon, a small and thick-skinned grape, packs quite a punch in Napa Valley wines.   As discussed earlier this week, depending on the fruit's origin, the components found in the wine can vary greatly allowing Napa Valley to produce a collection of Cabernet Sauvignon wines boasting unique characteristics.   Some areas produce grapes with cherry flavors, others contribute dark berry fruit and some set forth a dusty component.  If a Cabernet Sauvignon wine is made with only grapes from a specific hill or officially designated American Viticulture Area ("AVA"), the wine's label will specifically refer to that AVA.  If more than one AVA or hill is combined, then the wine is referred to as a "Napa Valley" Cabernet Sauvignon. 
Is one AVA better than another or is the quality of a Napa Valley Cabernet Sauvignon a lesser wine?   That would be arguable by the individual palate.    However, when grapes from these diverse AVAs in Napa Valley are combined, it produces a wine with the unique capability of painting a geographical picture on the palate setting forth diverse layers of flavors and nuances.   
Given the regional diversity of the fruit contributed to a Napa Valley Cabernet Sauvignon, the resulting wine easily translates into a red wine lover's delight.   Looking for the proper balance in representing the different AVA's, Artesa Vineyards and Winery ("Artesa") offers a wonderful example of a Napa Valley Cabernet Sauvignon.
Artesa's Napa Valley Cabernet Sauvignon Reserve consists of fruit from Atlas Peak and Oakville, among other areas.   Because of this combination, the nose and the palate is met by the spice of anise and a cornucopia of different berries:   raspberry, blackberry, blueberry and a surprise dash of cranberry in the finish.   Taking on aspects of the soils were the grapes are grown, the wine's bouquet demonstrates a hint of tobacco while also showing off the presence of oak barreling with warm aromas of cedar.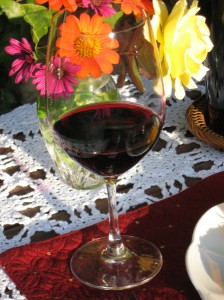 On the palate, the wine itself is smooth, light-bodied, easy drinking, yet rich due to the elements contributed from the different regions of the valley.   Rich romantic blackberry reminds one how daring and challenging that berry can be.   Rich spice, herb components, berry juice and yet balanced tannins so that the wine is very accessible with little decanting required or cellaring.  This is what I would refer to a "drinkable cab" meaning that you could have it today or five (5) years from now.  It is easy going and for those nights where one is not feeling as culinary adventurous, this wine readily qualifies in my book as a "good cheeseburger" wine.  
Pairing food with Cabernet Sauvignon generally requires dishes loaded with protein and fatty components to combat high alcohol content and tannins.    As silly or mortifying as a "cheeseburger" may sound, it does represent many of the simple elements required for a successful food pairing with Cabernet Sauvignon:   cheese, beef, bread, and fat content.   However, when you do discover a Cabernet Sauvignon such as Artesa's Napa Valley Cabernet Sauvignon Reserve, the wine's accessibility allows you more latitude with food pairings and the opportunity to be creative.   To demonstrate, this week's menu offers:
1)      Almond-Crusted Grilled Pork Chop With Blackberry-Blueberry Sauce; and
2)     Herbed Wild Rice With Cranberries and Sautéed Sweet Onions.
While Cabernet Sauvignon generally pairs brilliantly with beef, Artesa's Napa Valley Cabernet Sauvignon Reserve can pair with other dishes because its tannins are balanced.   Creating an Almond Crusted Grilled Pork Chop with Blackberry-Blueberry Sauce presents an entrée that is specifically tailored to accentuate the nuances found in the wine.   Because the pork chop dons an almond crust and a blackberry-blueberry sauce, it has dressed for the occasion and this cabernet sauvignon does not overwhelm.   These additional elements give the pork chop more strength to stand up to the otherwise powerful cabernet sauvignon grape.    The almonds help work to continue to clear the palate from any tannin in the wine and the blackberry-blueberry sauce mirrors the fruit found in the wine.   Putting the pork chop on a charcoal grill also creates char, plumping it with a savory flavor of smoke which ties the nose back to the tobacco notes found in the wine.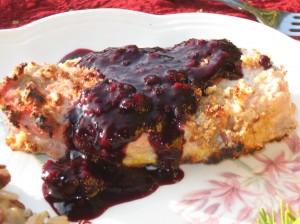 Starches generally have trouble pairing with tannic Cabernet Sauvignon wines.   Picking a Napa Valley Cabernet Sauvignon which emphasizes the fruit in the wine, more than its tannic components, will not overpower a well-planned starch dish.   Wild grain rice pairs nicely and represents an earthiness typically found in Cabernet Sauvignon.  The cranberries are intentional to mirror the finish of the wine and similarly they help to cleanse the palate and start the tasting process over again with the next sip of wine.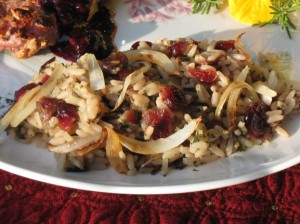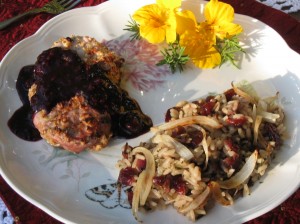 Cabernet Sauvignons tend to warm the soul.  When they represent fruit from several different AVAs, they offer layers of complexity with its diverse flavors and spices and take the palate on a tour of Napa Valley.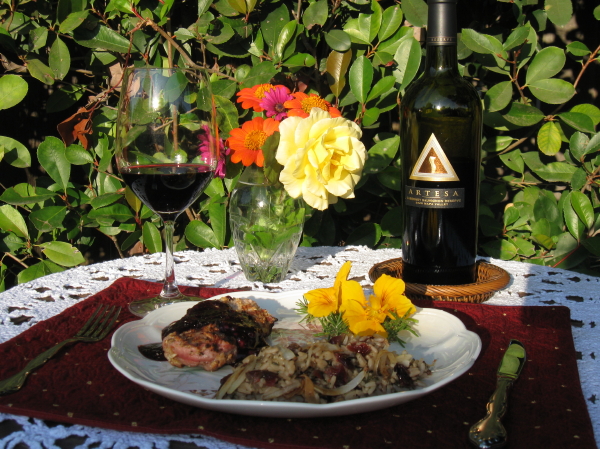 Comments Off on Napa Valley Cabernet Sauvignon