Oct 11 2009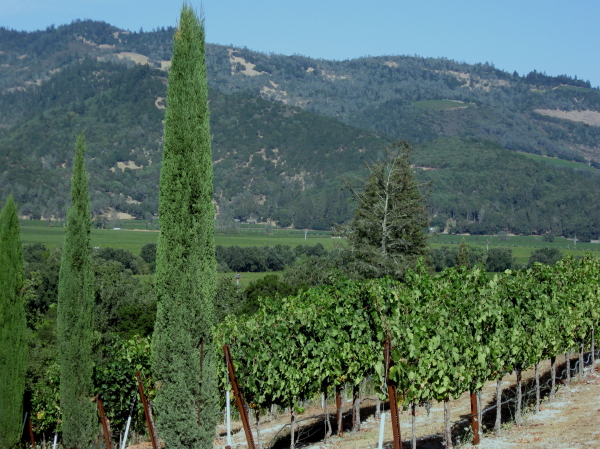 Why is it that Cabernet Sauvignon wine in Napa Valley can taste so different?    Where the grapes are planted influences wine greatly.   It is often said that "location" is everything and that is particularly true with wine.   In Napa Valley, Cabernet Sauvignon is king due to its ease of growth and adaptability to the region's geography, which consists of hills receiving moist fog or marine air, dusty warm valleys and western and eastern mountains of varying height.    Cabernet Sauvignon is a small grape which can be known for intense flavors and is a great grape to use as an example to show how soil and climate can influence its flavor.     The following is a discussion of the main geographic hot spots for Cabernet Sauvignon in Napa Valley:
1) Mt. Veeder:   Located at the southern end of Napa Valley and at the start of the valley's western Mayacamas Mountain Range has a cool and moderate climate.  Many vineyards are above the fog line, however, Mt. Veeder is close to the neighboring cool Carneros region of Napa Valley and can easily have first pick of the cool marine air that frequents the region.   Its soil is unique to any other area discussed here as it is not volcanic but instead known for oceanic qualities which include sand and loam.    The sandy quality of the soil encourages drainage so Cabernet Sauvignon does grow here with berry and earthy flavors and firm tannins.  Hess Collection has a Mt. Veeder Cabernet Sauvignon and at the base of Mt. Veeder, Hendry Ranch similarly offers a Cabernet Sauvignon (although it is grown on a bench land, as opposed to a mountain-side vineyard).

2) Spring Mountain District:  Located in St. Helena, Spring Mountain is known for its cooler temperatures and high elevation.    Both of these characteristics promote acidity.    The soil itself is composed of sandstone and is loamy exhibiting good drainage.   Cabernet Sauvignons hailing from this region will often exhibit dark fruit flavors with very present tannins and herbaceous qualities that remind the connoisseur of the forest floors.   Terra Valentine and Robert Keenan Winery both produce notable Spring Mountain District Cabernet Sauvignons.
3) Atlas Peak:   Located at the southern end of Napa Valley on the eastern Vaca Range, Atlas Peak is cooler than Napa Valley's floor in the summer.    It is alleged that here summer temperatures rarely reach above 90 degrees.    Its altitude is high enough that the grapes grown here are typically above the fog line.   The soil itself is shallow and volcanic in origin.   The fruit itself is known for more acidity, which lends age ability to any Cabernet Sauvignon produced from this region.   Characterized by bright cherry flavors, if made well, this wine can be a true treat.    Girard Winery has an Atlas Peak Cabernet Sauvignon which is showing potential but with time will be a fun Cabernet Sauvignon to watch.   Ready and accessible now is Sequoia Grove's elegant 2005 Stagecoach Vineyard Cabernet Sauvignon.  
4) Rutherford Bench:    Sitting in the middle of Napa Valley, just north of Oakville and south of Zinfandel Lane, is the famed Rutherford Bench.    Given its location in the valley, the soil is often described as well-drained and loamy.  The soil also has immediate access to layers of river deposit and volcanic soil.   As winds come from the West, the dust of the Mayacamas Range is brought down to the Rutherford Bench and rumored to settle into the top soil where the vines are planted.    Whether this is the true contributor or not, any Cabernet Sauvignon made from Rutherford Bench fruit will often exhibit a certain dusty factor that is readily recognizable.   While difficult to precisely describe, it is most often noted as a certain dusty mocha taste in the wine, accompanying traditional berry and spice components.   Tannins are present in these cabernet sauvignons, however, if made well they will be in balance yet providing structure to the body of the wine.   While there are many notable producers of Rutherford Bench Cabernet Sauvignons, wines to explore include Elyse's Morisoli Vineyard Cabernet Sauvignon and Sequoia Grove's Rutherford Bench Reserve Cabernet Sauvignon.  
5) Pritchard Hill:   Looking down upon Lake Hennessey and characterized by rocky eastern slopes in Napa Valley, Pritchard Hill is not an officially recognized American Viticulture Area ("AVA") but that does not deter the quality and reputation of Cabernet Sauvignon which is produced from the grapes grown here.  The grapes are commonly recognized for intensity which is attributed to Pritchard Hill's steep slopes and volcanic soil.   Typically found on the palate will be blackberry, black cherry, currant, dark chocolate, and other spices.    While famously known for Chappellet's Pritchard Hill Cabernet Sauvignons, Girard Winery also produces an award-winning wine "Pritchard Hill Cabernet Sauvignon" (which the 2005 vintage notably received a rating of 90+ points from The Wine Spectator and Robert Parker).
6) Stag's Leap:  On the eastern side of the valley, slightly south of Yountville and at the foot of the Vaca Mountain Range, is famous for historic wine and the Cabernet Sauvignon wines produced from this area are known for lesser, softer tannins.   The area itself is warm but receives afternoon marine winds to cool down the region.  Its soil is characteristic of that of the valley floor, consisting of both volcanic and a gravel loam.   The hillsides in this area are said to not be as fertile as bedrock can be found as easily as two feet beneath the soil to six feet below.   Cabernet Sauvignons in this region tend to have not only softer tannins, but are recognized for red berry fruit (such as raspberry) and cherry notes.  Stag's Leap Winery is famous for their Cabernet Sauvignon from this region.    
7) Diamond Mountain:  Located just north of St. Helena and south of Calistoga, sits Diamond Mountain on the western Mayacamas Range.    Benefiting from the warmth due to its proximity to Calistoga, when combined with its altitude Diamond Mountain still has cooler temperatures than the valley floor.   Its soil is fine and of volcanic origin, yet yields other sediments.  Cabernet Sauvignon wine from this mountain tends to be rich with strong black fruit flavors, cedar notes, spice and solid structure.   Notable Diamond Mountain Cabernet Sauvignons can be found at Schramsberg Vineyard, Girard Winery, and Laird Family Estate.
8 ) Howell Mountain:  Towering above the eastern side of Napa Valley near St. Helena, Howell Mountain is powerful in its presence and the wine produced from its grapes is equally as powerful.   While its climate is similar to that of St. Helena's other mountains, it does tend to be warmer as it faces west.  The soil is volcanic but shallow and with good drainage.    Cabernet Sauvignon from Howell Mountain will represent blackberry and currant flavors, with spices evidencing the volcanic soil and big tannins to provide a powerful structure.    These Cabernet Sauvignons are not for the faint-hearted.    Goosecross Cellars traditionally offers a Howell Mountain Cabernet Sauvignon which begs for dark chocolate but, for the true cab-lover, Bremer Family Winery makes a captivating powerful Cabernet Sauvignon from their estate Howell Mountain fruit.
9) "Napa Valley" Cabernet Sauvignon:   A bottle of cabernet sauvignon labeled as "Napa Valley" is not indicating that it is merely from Napa Valley.   Instead, the labeling is to indicate that the Cabernet Sauvignon in question is a blend of cabernet grapes from various vineyards throughout Napa Valley.   A Napa Valley Cabernet Sauvignon, which is truly going to showcase the best that the valley has to offer, will be a collection of grapes which come from many of the areas described above so that the discerning palate can note a hint of mocha dust, bright blackberry fruit, cherry notes, leather, among others and the slight presence of tannins to provide structure to the wine yet miraculously allow it to be readily accessible (meaning that it does not require much cellaring or aging).   Some favorites include Sequoia Grove's 2005 Napa Valley Cabernet Sauvignon, Alpha Omega's 2006 Napa Valley Cabernet Sauvignon, and Artesa's 2005 Napa Valley Cabernet Sauvignon Reserve.   
In conclusion, it is easy to understand why Cabernet Sauvignons can vary in Napa Valley.   Each weekly wine and food pairing article on this web site starting this week and for the next several weeks will feature a different Cabernet Sauvignon from some of the areas listed above.   The food pairing will be tailored in an attempt to coax out some of the nuances that are found in the wine due to its geographical location.   As temperatures start to drop this autumn, it is the perfect time to start dusting off warming cabernet sauvignons from the wine cellar.  
*Do you have a favorite Cabernet Sauvignon from one of the regions listed above?    Join the Fan Page for "The Casual Connoisseur" on Facebook and post a comment to share yours and why.   Cheers!
Comments Off on Location, Location, Location!