Oct 07 2009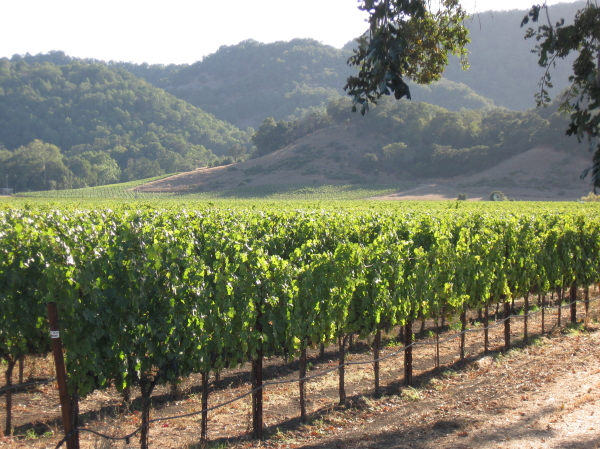 Yes!   A thousand resounding times, "Yes!   Red wine and Fish!"   Typically when you are sitting in a restaurant and you ask your server for suggestions about what wine to pair with what food, the drill is simple:  (i) white wine with fish and chicken and (ii) red wine with meat and pork.   While this is generally true, for the more adventurous taste buds, certain fish can pair marvelously well with certain red wines.
Red wine generally pairs well with beef because a heavier meal like beef manages to offset the tannins (which generally overwhelm the palate) found in most red wines.   That being said, not all red wines are alike and some red wines are lighter, more delicate in style:   one, by example, is Pinot Noir.  
Pinot Noir, which was discussed earlier this year in my article titled, "Romancing the Senses:  Pinot Noir", if made properly, is a lighter, dry red wine that shows the palate a variety of nuances akin to delicate layers peeling back.   Because it is lighter in consistency, it can pair well with some of the fattier fishes such as salmon.  
Naturally when attempting to pair Salmon properly with a Pinot Noir, the attributes of the very wine selected must be taken into close consideration.
Elyse Winery ("Elyse") presently offers a Pinot Noir that sets forth lots of black cherry, a tease of red raspberry, a hint of anise and the faint aroma of smoke on the nose.   The palate is met by juicy black cherry, followed by a warm dash of black licorice and a spiced finish which drifts off the back of the palate into the horizon of an autumn evening.   Regardless of where you might find yourself, this Pinot Noir warms you and presently is showing well.  It evidences light layers of flavor which can be delicately peeled back to reveal a semi-complex wine which changes slightly with its attitude as it opens throughout the evening.
Given the wine's light layers, dry nature and slight acidity, it is primed for pairing with salmon.  Salmon is a heavier fish known for its fatty consistency.  In order to offset this fatty consistency, a wine that has some acidity should be paired.   While the mind again might immediately leap to certain white wines, Pinot Noir with its light dry style and mild acidity fits into this category.    When preparing the salmon, knowing that acidity is permissible, this opens the cook to an array of choices.    Certainly citrus would be an easy choice if white wine were paired, however, given that Pinot Noir will grace the table, tomatoes should be considered.
Taking these elements into consideration, this week's menu hosts:
1)      Grilled Salmon With Red Wine Heirloom Cherry Tomato Sauce; and
2)     Roasted Fennel Atop Sautéed Spinach with Garlic.
How you elect to prepare your piece of salmon will also determine whether it is compatible with a red wine, such as Pinot Noir.   Putting the salmon on a grill, for example, will create a certain degree of char which is more compatible with red wine as opposed to a lighter pan-seared version.   Keeping this in mind, my salmon was cooked on a smoky charcoal grill with thyme sprigs and olive oil.   Using some of the wine, heirloom cherry tomatoes from the garden and shallots, a red wine sauce was created to top the grilled salmon.  Putting the pinot noir together with the heirloom cherry tomatoes creates a bright juicy cherry flavor to mirror the wine and adds a nice dash of acidity to offset the fattiness of the salmon.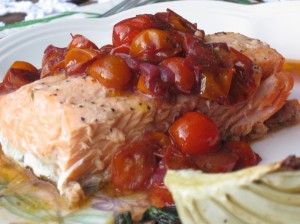 Roasting fennel should be just as much of an autumn culinary tradition as roasting butternut squash.   Fennel is an odd looking vegetable resembling an onion with its bulb and also dill with its feathery green tips.    As exotic as it may sound, fennel is something that most people are all familiar with in the form of the spice of anise or fennel seed, which is found in many recipes.    Once roasted, fennel softens and proffers forth rich, warm licorice flavors.   Roasted Fennel on top of sautéed spinach in garlic, butter and balsamic vinegar brings forth the deeper richer components of Elyse's Pinot Noir.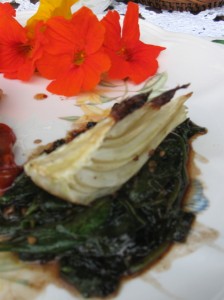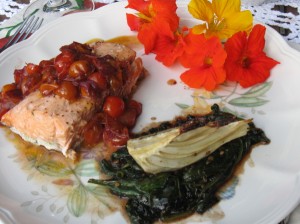 Putting together this meal with a silky Pinot Noir such as Elyse's invokes warm autumn spices proving a seasonal meal and contradicting traditional wine and food pairing guidelines:  proving that while summer has passed, culinary adventure has not.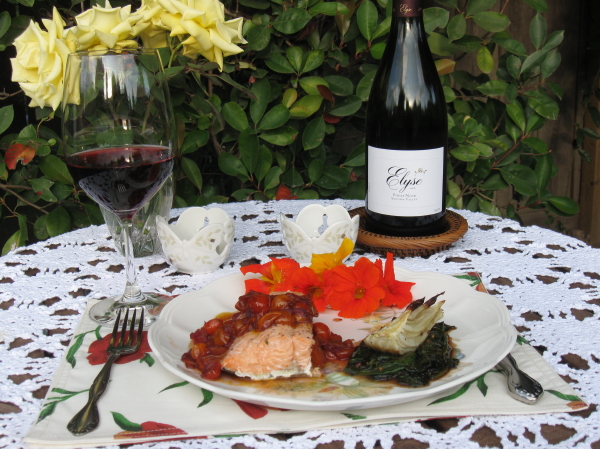 Comments Off on Red Wine and Fish?