Sep 30 2009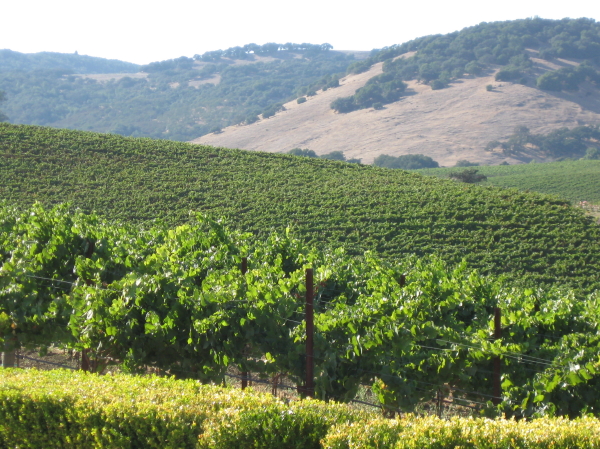 Cool autumn evening temperatures are descending upon Napa Valley and for many, backyard patio entertaining has retreated indoors.   Some still brave the fading hours of daylight, perhaps with the hope of cozying up to a significant other.   It is in those moments that a good glass of Bubbles can hold its own.    
As noted in my July article titled, "For the Love of Bubbles," wine that would otherwise be referred to Champagne in France is referred to in the United States as sparkling wine.  More lovingly and casually among its true aficionados, it is also known as "Bubbles".
Not all sparkling wines are created equally and they exhibit different nuances on the nose and palate.   J Vineyards, located in Sonoma County, California, has produced a bottle of Bubbles which transitions the palate through varying stages of fruit, nuts and spice, "J Cuvée 20".  The J Cuvée 20 has achieved notoriety by scoring 90 points from The Wine Enthusiast, but its true success comes from the blend of grapes and wine which is combined to make this unique bottle of Bubbles.    In tribute to J Vineyards making wine for twenty years, its winemaker elected to fuse "old with new" in the making of this sparkling wine.   Using the current vintage, he blended reserve wines to create an alluring personable bottle of Bubbles.   The final blend consists of 49% Chardonnay, 49% Pinot Noir and 2% Pinot Meunier, signifying its capacity for depth and the potential to entice one's senses.
Initially light and flirtatious with a hint of lemon zest, the J Cuvée 20 warms the mid-palate with flavors of almond and hazelnut and rounds out the finish with substantive lush flavors of pear and stone fruit.   Sipping this sparkler is much like the initial stages of a relationship:  fresh and charming it awakens your senses, yet hints of depth worthy of further exploration.   And just like when you have met someone with potential, you want to take your time with this wine and discover the nuances that it can deliver.
Seductive and coy with its own respective depth, the J Cuvée 20 is the perfect Bubbles for romantic entertaining when accompanied by some well-paired small plates.   This week's menu, focusing on the concept of "small plates" (so as to not overwhelm the Bubbles), holds:
1)      Ricotta-Risotto Cakes on a bed of Miniature Greens With Pear Vinaigrette;
2)     Crab-Stuffed Mushrooms; and
3)     Grilled Peach Slices With Tupelo Honey and Mini Vanilla Bean Scoops.
Using ricotta in my miniature risotto cakes was a crucial decision to make the dish feel sensually lighter on the palate.    Since this is the starting "small plate", the airy, fluffy nature of ricotta is compatible with the same initial light and flirtatious feel of the Bubbles.   To further match the risotto cakes to the wine, I used a carefully calculated blend of chive, basil, minced garlic, gruyere and fontal cheese.  While the risotto cakes are small, the flavors found within float past like a culinary slide show on the palate.   Next, instead of creating a salad with regular lettuces, using miniature salad greens creates a myriad of quick flavors and a similar sensual light feeling in the mouth.   Adding seasonal pomegranate seeds make the flavors of the salad pop and bring forward the brighter fruit components in the sparkling wine.   Again this adds depth to the salad and ricotta cakes which is in line with the complexity found in the Bubbles.   Finally, a simple drizzle of pear vinaigrette ties to the pear finish in the wine.   This salad while a small plate, uses small miniature ingredients to provide big, bursting flavor and sets off fireworks on the palate akin to the lightning bolts of a good first date.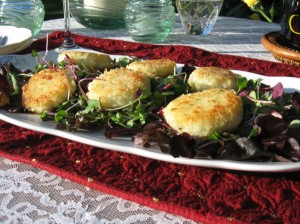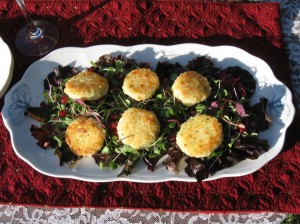 Next, Crab-Stuffed Mushrooms are a wonderful small plate pairing for this wine as it seems to coax out the deeper notes of the pinot noir grapes.    The darker, more romantic flavors of the wine are brought forward when paired with the crab filling and the rich flavors of the baby portobella mushroom caps.  Also, when choosing an onion to incorporate into the crab filling, it was necessary to select one that would be lighter in flavor so as to not overwhelm the wine.    Green onions worked exceptionally well, although spring onions would be a suitable substitute if in season.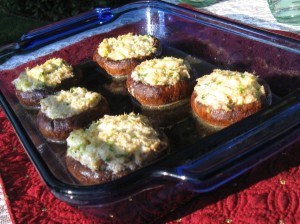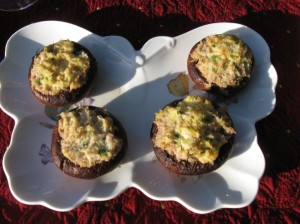 Finally to finish a light menu of small plates, a grilled peach is not only a seasonal simple dessert, but it refocuses the palate's attention on the pear and stone fruit finish of the Bubbles.   As this is paired with a multifaceted sparkling wine, the dessert hosts a subtle layer of flavors:  miniature scoops of vanilla bean ice cream, a drizzle of Tupelo honey and a sprinkle of cinnamon.   A perfect light dessert for two and much like the wine, there is more going on here than readily meets the eye.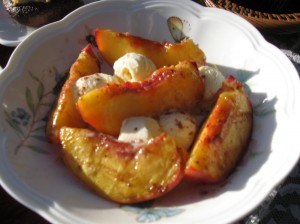 Small plate dishes when paired with the right glass of Bubbles can command the attention of one's senses in a very big way.   It is often the little things in life and relationships which mean the most and this is no exception.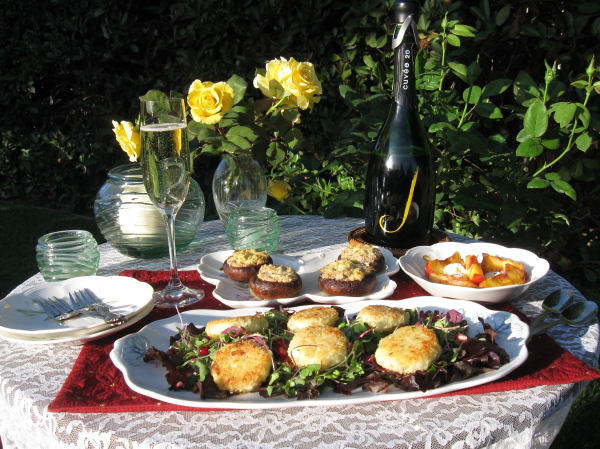 Comments Off on Bubbles' Small Plates Seduction