Sep 23 2009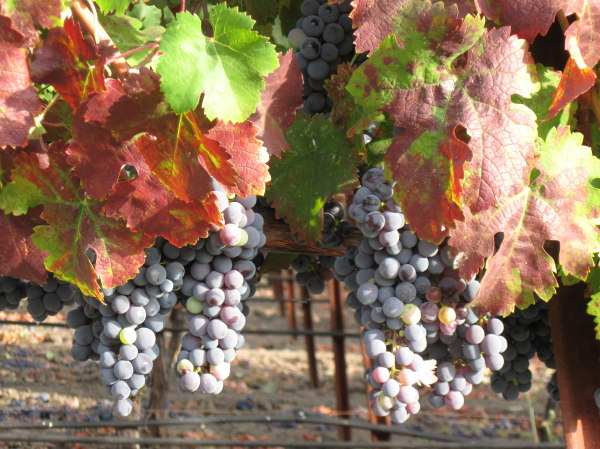 Ah, comfort food. . . it is generally warm, soothing, sensual and aptly named for its comforting side effects.  Everyone has a favorite.   Similarly everyone has a favorite time or triggering event that merits it.   Indeed it is a fact that comfort food is very personal.  
Given the personal nature of "comfort food", it is only fitting that a Cab/Syrah Blend be the wine paired alongside.    Cab/Syrah Blends are the New World fusion of red wine.   In Napa Valley, where Cabernet Sauvignon is king, Syrah has been more recent to gain popularity among wine connoisseurs.   But when you blend the two wines together, nearly half-and-half, the result is a warm red wine that has the capability to soothe the tired soul.     Cabernet Sauvignon wine is typically quite rich and often heavy for a red wine.   Its characteristics on the palate are typically characterized by notes of cherry, tobacco, and spice and similarly is renown for a stately long lingering finish.    Syrah is known for blackberry, leather and spice and is historically recognized for its boldness and often described "brambly" nature.   Add a talented winemaker with carefully selected grapes, and suddenly red wine is taken to a whole different proprietary level.
Laird Family Estate ("Laird") produces an excellent example of a vibrant Cab/Syrah Blend wine.   Known for its exceptional vineyards and grapes in Napa Valley, it is only natural that the winery would create a delicious, juicy Cab/Syrah Blend.    Known as "Jillian's Blend", the wine's percentages vary with each vintage but this past year's release, the 2005 Jillian's Blend Red Wine, consisted of a blend of fifty-five percent (55%) Cabernet Sauvignon and forty-five (45%) Syrah.    As the wine pours into a glass with a lively tumble, it is rich and ruby colored as if to convey its very decadent nature.   On the nose, the wine has an alluring bouquet of blackberry preserves and spice; it follows through on the palate with not only blackberry preserves but notes of cherry and a warm spiced finish from its Cabernet Sauvignon component.    Laird immediately tags Jillian's Blend as best paired with comfort food, such as pasta or even steak.    
Comfort food indeed goes with this wine and to personalize the notion of comfort food in a seasonal and sustainable spirit, this week's menu simply holds:
·         Garden- Fresh Vegetable Casserole
Summer has ended and autumn has begun.    In my vegetable garden there are still heirloom tomatoes, carrots, green beans and zucchini, among others.   Also present for harvesting are enough herbs to create Herbes de Provence.    Adding crimini mushrooms, Vidalia onion, rye bread, mild cheddar cheese and some other seasoning to these vegetables and herbs, a filling, healthy garden-fresh casserole is made.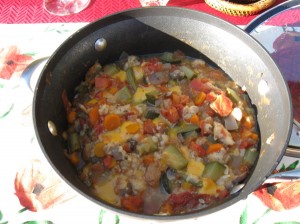 Pairing this Vegetable Casserole with the Jillian's Blend creates all of the comfort sensations that one appropriately expects from comfort food.   Warm tomatoes, zucchini, mushrooms, onions, cheese and rye bread blend harmoniously with this rich red wine.   When both are put together, a cool autumn evening is suddenly warm and inviting, just like a Cab/Syrah Blend.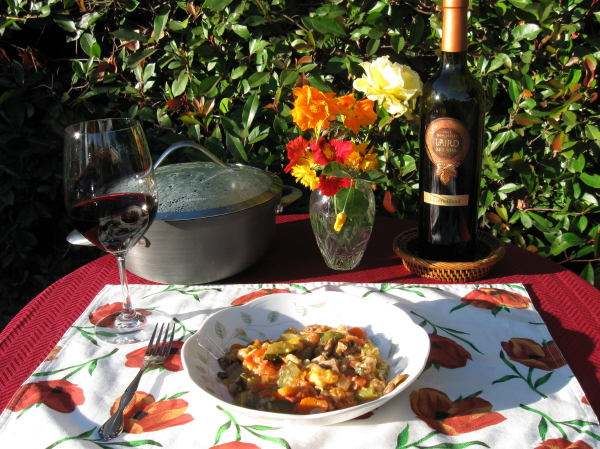 Comments Off on Comfort Food & Cab/Syrah