Sep 16 2009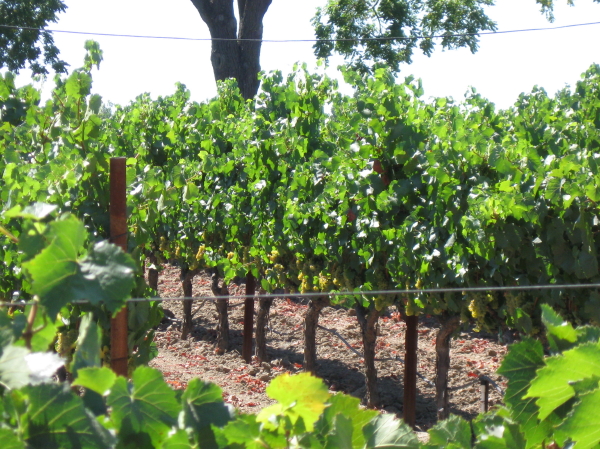 This weekend surprised Napa Valley with an uncharacteristic thunderstorm and cool, cloudy weather.   While the moisture was welcomed, it certainly was atypical for Harvest.   However, it provided ample opportunity to mull over autumn recipes and pour a white wine better suited for slightly cooler temperatures:   Chardonnay.
Chardonnay originally hails from France and in the region of Chablis, only Chardonnay grapes are permitted to be planted.    In the United States, Chardonnay is an extremely popular white wine and dominates grocery store shelves and restaurant wine lists.   California has had the most success in the United States producing this popular white wine.    While there are endless vintners who make Chardonnay, none taste exactly alike and many can vary vastly from one another.  
The grape itself is delicate and subject to manipulation, or even described as malleable.  Thus it is highly influenced by its terrior , its barreling and its winemaker.   For example, depending on the region or soil where the grape is grown, Chardonnay can taste crisp or with minerality.   In other regions the geography will not heavily influence but instead malolactic fermentation will set forth big buttery, creamy smooth flavors.   The Chardonnay grape itself is thin-skinned and fragile thus making it easily influenced by the winemaker's technique or ability.   While many styles of Chardonnay are made, Chardonnay is traditionally recognized for its full body and smoothness.   As a result, even the most discerning connoisseur can find a Chardonnay that will delight his or her senses once he or she recognizes what other characteristics speak to him or her.
Bremer Family Winery ("Bremer"), located on Howell Mountain in Napa Valley, produces a beautifully balanced Chardonnay.    This wine demonstrates careful, loving winemaking as its aromas and flavors on the palate are not so bold to overwhelm your senses but instead convey a sense of quiet, smooth elegance and finery.   You will not find big brash oak or butter in this Chardonnay.   Instead, the Bremer Chardonnay on the nose sets forth a whisper of honey, memories of freshly baked banana bread and macadamia nut.   Gliding across the palate, flavors of pear, fig, almond and macadamia nut come forth only to fade into a lovely caramel-like finish.   Sipping this wine by itself would cause a revered hush to fall upon any room, but if paired with the proper food, the Bremer Chardonnay transcends dining into elegance.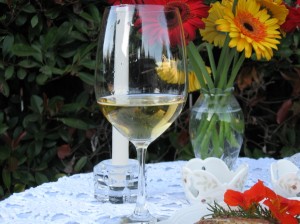 It is a common misperception to believe that Chardonnay will pair with just any food pairing.    For example, white fish frequently gets lost on the palate when paired with a Chardonnay.   In a pairing such as white fish, a Chardonnay runs the risk of seeming like a Pamplona bull on the loose at your dinner table as opposed to a refined well-behaved guest.   Not to discourage, however, there are many food pairings which will nicely accompany and compliment the Chardonnay traits of which you are fond.    Given that Chardonnay is known for having its sugar and acid levels in balance, one vegetable in particular that pairs well is butternut squash.
My vegetable garden presently is loaded with butternut squash.   Butternut squash, if happy where it is planted, can be prolific.   Aside from taking over the northwestern edge of my back lawn, it now colorfully boasts over twenty-five ripening golden squash.    With autumn on the way, it is time to start finding a creative way to incorporate butternut squash into my menu.   Depending on how one seasons or augments butternut squash, it can appear in a wide array of appetizers, meals, or desserts.  Also in season this month are figs which are found abundantly throughout Napa Valley.  With both of these aspects in mind, this week's wine and food pairing menu hosts:
1)      Butternut-Apple-Shallot Soup With Gorgonzola Crumbles;
2)     Braised Figs With Gorgonzola Crumbles;
3)     Herb Roasted Chicken Breasts; and
4)     Butternut Mascarpone Ravioli With Crème Fraiche Glaze.
Starting with the Butternut-Apple-Shallot Soup with Gorgonzola Crumbles creates a lovely starter which can be a dynamic substitute for the traditional cheese plate.    Rich in flavor, the soup has depth with a hint of sweetness and coaxes out the headier nuances in the Bremer Chardonnay.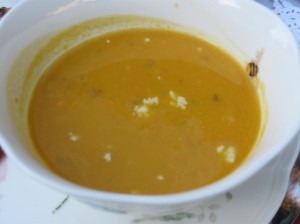 Using a small bit of the chardonnay to braise the figs helps to tie the flavors of the wine into the meal.    Braised in the oven with a drizzle of honey and gorgonzola crumbles, the figs will be an excellent accompaniment to the Herb Roasted Chicken Breasts.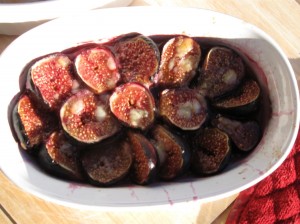 Similarly, the chicken will roast in the oven in a bit of the Chardonnay, some garlic and freshly cut herbs from the garden.    Roasting in the wine, the chicken not only takes on some of the wine's attributes, but it also helps keep the chicken moist.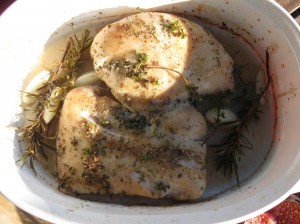 Once the Herb Roasted Chicken and the Braised Figs are combined, the flavors are warm, rich and elegant just like the Bremer Chardonnay.    The Bremer Chardonnay travels across the palate like the perfect companion to this meal and the sweetness of the Braised Figs accentuates the caramel finish of the wine.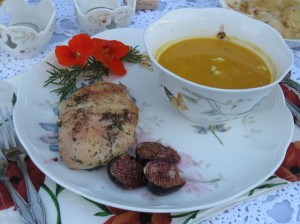 As you polish off the last bit of wine in the glass, the perfect way to end the meal is with a slightly sweet dessert without reaching for traditional crème brulee.    Instead, using some reserved butternut squash to combine with mascarpone cheese, sugar, cinnamon and a dash of nutmeg, I created dessert ravioli.    Using wonton wraps as a pasta substitute also helps to keep the dish lighter in texture.    A drizzle of crème fraiche glaze atop the ravioli sweetens the dish and dances nicely with the caramel finish of the Bremer Chardonnay.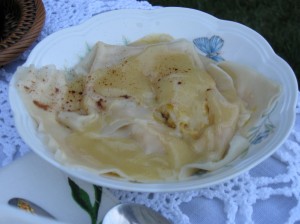 An elegant meal at home paired with the right wine can sometimes be even more meaningful than one at a five-star restaurant.    There is no one to rush you and no corkage fee to open the wine.  Instead there is the satisfaction of a well-prepared meal at home, relaxing ambience and the leisure to linger over a fine wine and elegant meal.    As the temperatures start to cool this autumn and grey clouds fill the skies, explore Chardonnay to find one that fits your own taste, sense of style and creative culinary endeavors.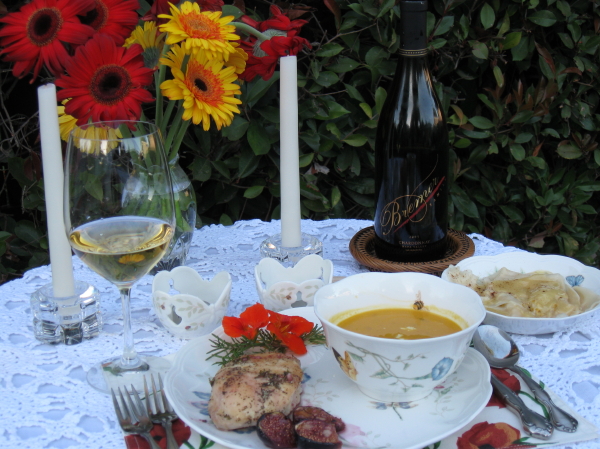 Comments Off on Casual Backyard Elegance