Sep 09 2009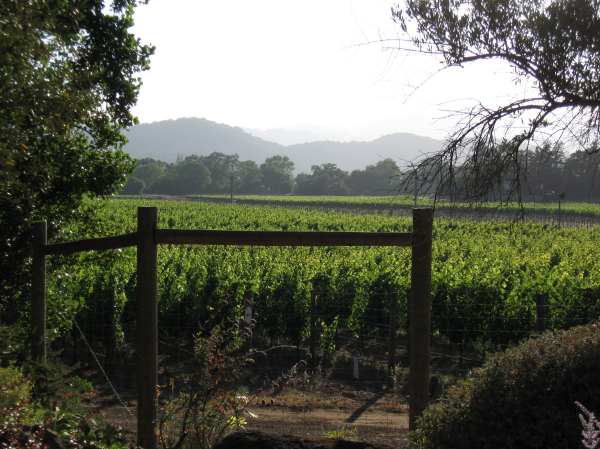 Napa Valley is buzzing with activity as it prepares for Harvest.    While the wineries are harvesting grapes, residents are harvesting their vegetable gardens for heirloom tomatoes, lettuces and other vegetables.    Whether the day is spent toiling in a vineyard, crushing grapes at a winery or tending to a backyard vegetable garden, a cool glass of Sauvignon Blanc refreshes after hours spent in the warm sun.  
Sauvignon Blanc is a green-skinned grape used to produce a white wine with origins tracing back to the Loire Valley in France.   In the United States it is primarily grown in California and a notable style comes from New Zealand.   Sauvignon Blanc is a lively alternative to Chardonnay as it is characterized by acidity with distinct flavors ranging from herbaceous, citrus, tropical or mineral.    The method of fermentation determines what flavors will be found in the wine and typically does not involve oak barreling.   Depending on the nuances of these factors, a wine might be described as having bright citrus fruit, gooseberry, lemongrass, hay or flinty characteristics.    Depending on the style that you prefer, upon sampling Sauvignon Blancs, you might find that you prefer the New Zealand style which is often racy with citrus and acidity or the Californian style which generally has more herbaceous qualities and a softer, rounder feel in the mouth.    In Napa Valley, one stand out traditional California style Sauvignon Blanc is made by Girard Winery ("Girard").
Girard's Sauvignon Blanc is no stranger to accolades.    Quiet and unassuming, this white wine sits on the winery's tasting menu and is priced at a mere $16.00 per bottle.   Yet year after year, this Sauvignon Blanc receives rave reviews and often 90 point ratings from a vast array of publications, including The Wine Enthusiast.    After pouring it into your glass and taking your first taste, it is easy to understand why this wine is one of California's best efforts in the making of a true Sauvignon Blanc.   It is light, refreshing, setting forth lovely aromas of lemon blossoms with a blend of grapefruit, tropical fruit and lemongrass on the palate.  Always smooth and well-blended, Girard's Sauvignon Blanc has just the right amount of acidity such that your mouth never puckers.    Tasting notes aside, Girard has a consistent winner with this wine as it is also the best deal for a "grown-up" tasting Sauvignon Blanc in Napa Valley.    Girard's commitment to keeping this wine priced under $20 a bottle is also a testament that price is not always a necessary component of a high quality, fine wine.    The price also affords a certain guiltless pleasure while enjoying this Sauvignon Blanc because, as I have often described it, this wine is "painfully drinkable":  it goes down easy and the bottle could be empty before you and your guests know it.
Given the balanced nature of Girard's Sauvignon Blanc, it may be paired with a broader spectrum of food, (as opposed to the zesty citrusy New Zealand-style Sauvignon Blanc wines).   This wine's acidity is present, but not overwhelmingly so, with only a spritz of lemon zest at the back of the palate.   While this Sauvignon Blanc can be easily paired with shellfish, Chilean sea bass, and poultry, it conveys a certain delicate richness and a breath of sophistication that allows it to be considered in other pairings.    Because the wine's acidity is in check, it is a unique white wine which can be paired with dishes hosting garden fresh heirloom tomatoes.   
As we slowly meander into September, my garden is still loaded with ripening heirloom tomatoes which are perfect for stuffing and roasting.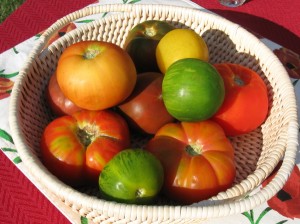 Given that I have waited all year for heirloom tomato season, this week's menu enthusiastically hosts:
·         Roasted Stuffed Heirloom Tomatoes With Ricotta, Spinach and Artichoke on a bed of Mixed Garden Lettuces With Grilled Sourdough Baguette Slices
Stuffing an heirloom tomato to roast may sound taxing or involved, but its preparation is a progressive, manageable labor of love.   Total preparation takes less than one hour of time and once complete, the tomato can be filling and satisfying enough for dinner.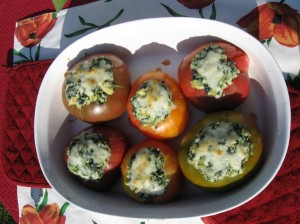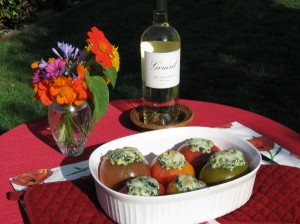 Placing a stuffed heirloom tomato on a bed of lettuce drizzled with balsamic vinaigrette provides for a salad that suffices as a main entrée.   Slices of sourdough baguette which are brushed with olive oil, serve as a crouton or to scoop up excess tomato juice with ricotta remnants reminding one of bruschetta.    When paired with the Sauvignon Blanc, the roasted tomato containing warm ricotta cheese, spinach, artichoke, and garlic pair seamlessly with the wine's lemongrass and herbaceous notes.    Finishing on the back of the palate with slight lemon zest, the wine pleasantly cleanses the palate.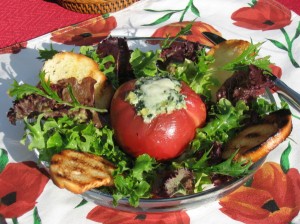 Pick some heirloom tomatoes, whether from your garden or a farmer's market, and enjoy them alongside a glass of Sauvignon Blanc.   This pairing best exemplifies an elegant simplicity in wine and food pairing and can be equally easy on your wallet.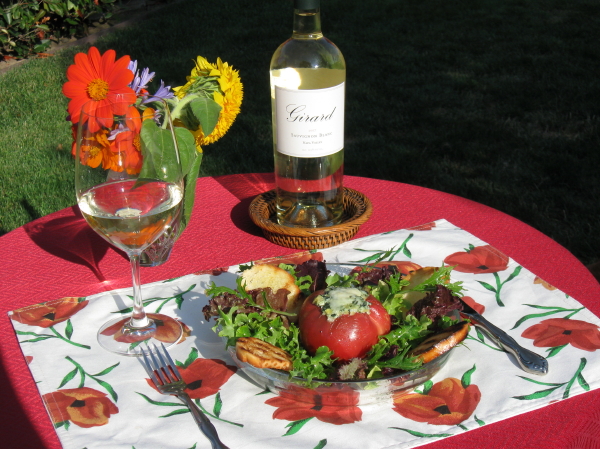 Comments Off on A Harvest Delight: Sauvignon Blanc