Sep 03 2009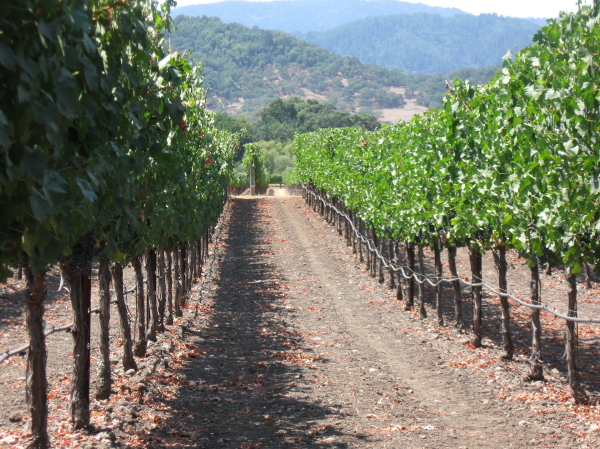 This week launched the month of September but brought hot temperatures to Napa Valley.   Despite sweltering weather, the end of summer looms as this weekend hosts the bittersweet holiday of Labor Day.   Societal lore dictates, after next Monday, that white pants are not to be worn until next summer and summer backyard barbeques are to move to the backburner of activities.   Whether you subscribe to these theories or march to your own cultural drum, this Labor Day weekend merits one last serious barbeque before you wave fare-thee-well to summer.
Mention barbeque and Zinfandel immediately comes to mind as a pairing suggestion.   Most Zinfandels do pair well, but so do other wines.   Syrah (referred to as "Shiraz" in Australia, South Africa and Canada), pairs beautifully with a thoughtfully planned barbeque menu.
Syrah is a red wine grape which originates from the Rhône region of Southeastern France.   Most Syrah grapes in the United States are grown in California, with origins easily being traced back to the 1970's.   When Syrah is made into wine, the result is a big, bold and intense red wine.   Syrah grapes generally like heat for growth and thus its wine can have a higher alcohol content.    Depending on the age of the wine, where its grapes are grown and the talent of its winemaker, a Syrah wine can be rich and complex.   It is characterized by black fruit, most notably black currant and blackberry.   The typical spices found on the nose of any Syrah are pepper and anise (akin to the smell of black licorice).   Barreling in oak and its duration therein, presents nuances which vary from the pleasant sweet smell of vanilla to the mysterious rich smell of smoke.   Depending on the terrior where the grapes are grown, some Syrahs will actually have a slight earthy smell or aromas of truffle.   Thus, it is easy to grasp that when exploring various Syrahs, no wine will taste exactly alike but will easily entertain you with its various layers of aromas and flavors.
Lava Vine, a Napa Valley winery located in Calistoga, presently offers two different Syrah wines on its tasting menu.   One wine in particular, best exhibited the traditional Syrah characteristics of the Rhône region of Southeastern France:   Zacherle Spring Mountain District (Crowley Vineyard) 2006 Syrah (the "Zacherle Syrah").   All of the complexities that one would hope for in a good Syrah are present here, but with the added benefit of a sensually rich texture.  On the nose, there is the presence of characteristic blackberry fruit, the enchanting aroma of anise, pepper, and a seductive hint of smoke.   As this Syrah wine reaches your palate, it washes across like a smooth, velvety wave of spices and blackberry fruit.    While it has the potential to be big, bold and intense, this Syrah keeps its audacious personality in check and instead presents itself as a beautifully balanced wine with rich, subtle layers of complexity.   Given its characteristics, this Syrah could easily be enjoyed alone but similarly it has the versatility to be paired with food (particularly with a good North Carolina barbeque).
Barbeque in North Carolina is a serious topic and sauces vary regionally throughout the state, most notably between the Eastern and Western parts.    Barbeque sauce in Eastern North Carolina is a vinegar-based sauce and does not involve any tomato or ketchup products.  This sauce can still be just as spicy and sweet (depending on the ingredients), and its origins trace back to an influence from England as a dressing.    In Western North Carolina, however, the barbeque sauces involve ketchup as a starting point, thereby creating the red barbeque sauce to which most people are accustomed.   Keeping these points in mind and the notes in the Zacherle Syrah, I created the following menu for this wine and food pairing:
1)      Western North Carolina Barbequed Pulled Pork;
2)     Carolina Slaw;
3)     Oven-Roasted Sweet Potato Fries; and
4)     Molten Chocolate Cupcakes.
To prepare the pork, I first created my own barbeque sauce which was fashioned after the red barbeque sauces of Western North Carolina.    In North Carolina, many people develop their own barbeque sauce and rumor to protectively keep the recipe under lock and key.   Some folks have even admitted that they only will make their barbeque sauce recipes on Sundays, while everyone else is attending church.    Hearing these tales and admissions is culturally amusing, but once embarking upon creating your own sauce, it is easy to understand the motivation for such precautions.    Creating the sauce was a slow process.  I made sure to balance its sweet elements with vinegar and spice.  Of course I found some unique special ingredients from the pantry in order to make the sauce my own individual unique creation.    Once made, the sauce sat overnight which allowed the ingredients and spices to marry.    As for the pork, overnight I allowed it marinate in some red wine and black raspberry vinegar to allow it to tie back to the Syrah.   The next morning, the pork was placed into a slow-cooker upon slices of sweet onion with a few cloves of garlic and covered in some of my homemade barbeque sauce.   After the pork had finished cooking, it was juicy and shredded effortlessly with forks.   Tossing the pork in some of the reserved homemade barbeque sauce, I next heated it quickly on the stove top.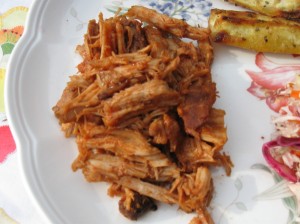 Given that I also wanted to represent the culinary tastes of Eastern North Carolina, I made a Carolina Slaw.   The dressing that is made for Carolina Slaw is much like barbeque sauces found throughout Eastern North Carolina.    The dressing here is vinegar-based with sugar (and other ingredients) and then heated to dissolve all ingredients.    Once heated it is poured over the slaw mixture and set in the refrigerator to chill for several hours.    To make my slaw mixture, I elected to use carrots freshly pulled from the garden.   Garden-fresh carrots have a far sweeter taste than those found at the grocery store and it is this flavoring that creates more depth to the traditional slaw mixture.   I also could not resist adding red cabbage to my Carolina Slaw because its coloring is similar to that of the Zacherle Syrah.   The wine's coloring is a pretty plum making it the perfect accessory to my Carolina Slaw.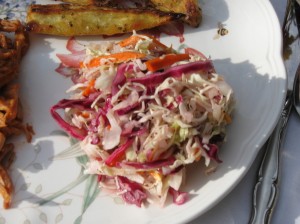 Oven-roasted sweet potato fries are another wonderful Southern side dish to add to a barbeque menu.   Many restaurants use yams to make their sweet potato fries (hence the bright orange coloring) but the true sweet potato is lighter in color.   Using true sweet potatoes coated in some thyme, marjoram and other spices, I created a delicious oven-roasted potato fry that even children would love.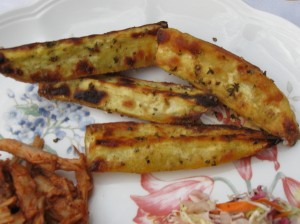 Putting the barbeque pulled pork, Carolina slaw and oven-roasted sweet potatoes together on a plate and pairing them with the Zacherle Syrah is a match made in heaven.    There are components of sweetness, spice and layers of complexity that linger with you:   whether it is the wine or the food.   The barbeque sauce warms and comforts as it goes down and with a sip of the Zacherle Syrah, its velvety wave of blackberry and spices follow as if second nature.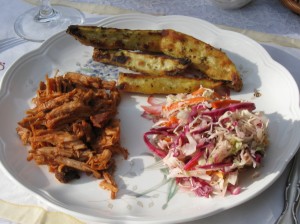 For dessert, chocolate pairs intuitively with red wine.  With a rich, delicious red wine such as the Zacherle Syrah, the more chocolate is the better.    Creating Molten Chocolate Cupcakes is akin to creating small chocolate lava cakes, with an "oohey-goohey" chocolate fudge pudding drizzling out of the center.    Garnished with a sprinkle of powdered sugar and a raspberry on top, it is the perfect mirrored finish to the fruit found in the wine.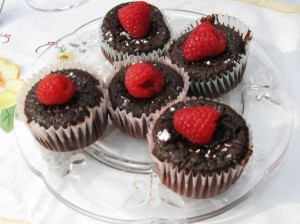 At the end of the day, sitting down to this home-made North Carolina style barbeque paired with a rich, layered Syrah tastes just like something you would find either in a little barbeque shack found far off the beaten path or on a good friend's back porch.   The sauces are slowly simmered and the pork takes its time roasting, but it is all worthwhile if it helps to slow down the last weekend of summer.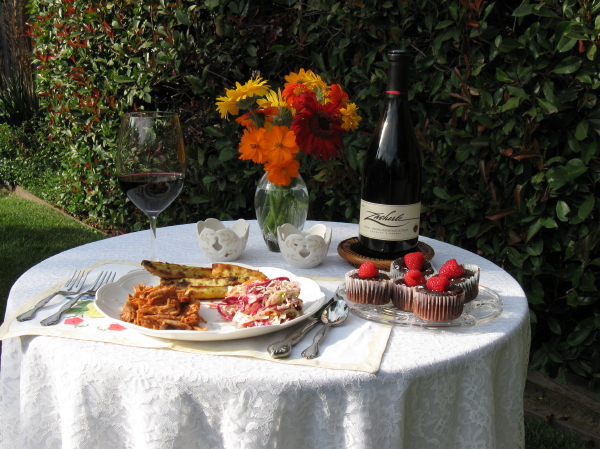 Comments Off on Sugar, Spice and Syrah, Oh So Nice!