Apr 13 2016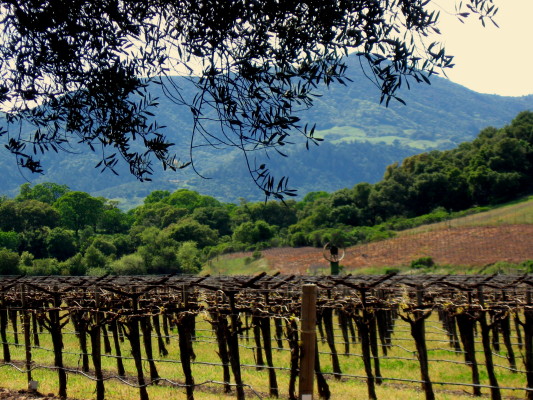 Spring is slow-coming this year.  New England has been hit recently with multiple "spring" snowstorms putting the brakes on trees with budding leaves, flowers emerging from the ground and garden planting.
Warmer weather has not arrived with any regularity yet and at this point, it cannot arrive soon enough.  Inclimate weather provides the opportunity to slow down and spend some quality time in the kitchen, whether that is exploring a new recipe or simply learning how to master a new culinary technique.  And why shouldn't you?  Sometimes you simply have to "treat yourself."
The idea of "treating yourself" is certainly familiar in Napa Valley.  Often heard among hospitality is the justification, "because it's Wednesday."   The idea of treating yourself to something whether it is a nice bottle of wine with dinner or a nicer meal does not have to be relegated to a special occasion.  Instead, as the theory suggests, you can enjoy a nice bottle of wine with a nice dinner simply "because it's Wednesday".
This past week knowing that I was going to prepare a nice meal, I decided to explore my wine collection and revisit a lovely vintage of a red wine blend, "C'est Si Bon" made by Elyse Winery ("Elyse").  C'est Si Bon (which means "It's so good" in French) is a delicious blend of grapes indigenous to the Rhone Valley in Southern France and consists of Grenache, Mourvedre, Syrah, Cinsault, Counoise and Viognier.   It is a lighter bodied red wine than many of its other red wine counterparts and it is also noted for its distinctive acidity.  Always delicious when released by the winery and difficult to set aside and allow to age, if you can age any of this flagship wine by Elyse, you will be delighted.   The 2007 vintage of C'est Si Bon hails from that landmark year which was a textbook growing year and the red wines made in Northern California were outstanding.   Given the strength of the growing year, the wines of that vintage have a wonderful aptitude for cellaring.  Case in point, opening a 2007 C'est Si Bon today makes the wine almost 9 years old since harvest and the wine still shows bright round juicy flavors of red plums, raspberries, a hint of milk chocolate and subtle aromas of lavender.  Previously the wine was rated 89 points by The Wine Enthusiast and today it does not disappoint but exceeds even the knowledgeable palate's expectations.  The wine awakens the front of the palate with big sweet cherry flavors and then explodes into the mid-palate filling it with delicious fruit, subtle nuances of milk chocolate and finishing gently with cherry flavors which slowly fade away.  In the glass the wine is jewel like, with a deep garnet color yet with the ability to capture the light and edge the glass with ruby notes.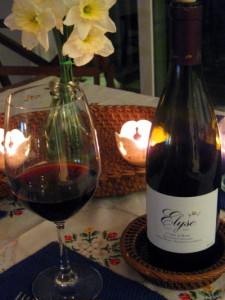 Even though the wine is a blend of red varietals, it has versatility to pair with poultry, fish or vegetable dishes in addition to beef.  To demonstrate this, I prepared chicken breasts roasted in Vermont Grade B maple syrup, lemon juice, slices of lemon and sweet onion, Herbes de Provence and ribbons of fresh sage.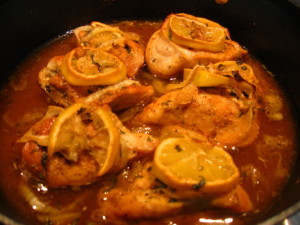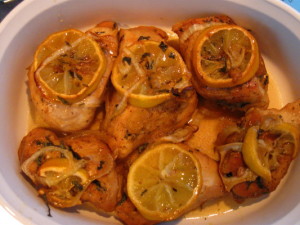 To accompany the chicken, steamed seasonal asparagus, a polenta with lemon zest and fresh sage drizzled with a sauce made from reducing the drippings with a bit of balsamic vinegar.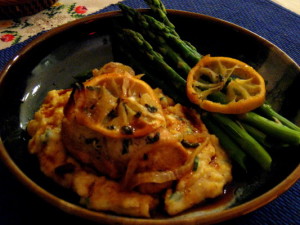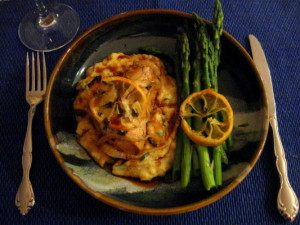 Dinner, which would at first blush look like a hearty winter meal, offers bright flavors akin to spring by incorporating lemon and its zest in both the chicken and the polenta.  Sweet, herb and juicy acidity bring together a delicious meal which pairs wonderfully with the 2007 vintage of the C'est Si Bon.
And to enjoy something like this on a Wednesday night provides a sufficient break from the routine and revitalizes one to finish out the remainder of the work week.   That in itself is more than enough justification to enjoy this:  because it's Wednesday.  So why not?  Cheers!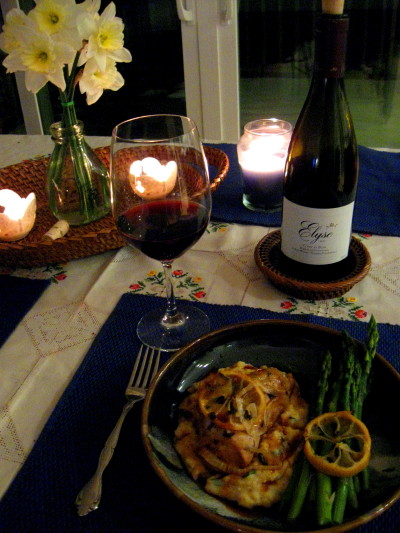 Comments Off on Because It's Wednesday