Feb 24 2016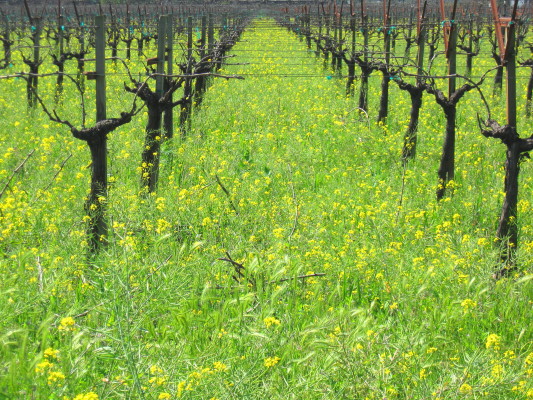 February, regardless of where you live, is that point in winter when you have a couple of substantial storms under your belt, waved goodbye to the holidays in the rearview mirror and you note that finally the sun has begun to rise a bit earlier and set a bit later. It is right about now when nearly everyone gets a bit restless and when that first spring-like breeze teases us, we are all too ready to bound outside whether it is truly warm or not. We all seek a bit of brightness right about now.
As we seek signs of pending spring, Napa Valley comes alive with brilliant yellow mustard blooms and the rest of us in the country look hopefully at the start of daffodils peeking up from the winter earth.
Whether you find yourself surrounded with spring blooms, overcast with clouds or under a pile of snow somewhere, you can find a bit of brightness in a thoughtful dinner paired with the right varietal of wine.
Throughout the colder months we reach for hearty red wine which warms the soul. However, Pinot Noir with its coy acidity is a lovely varietal to consider in February. Pinot Noir, a red grape varietal, grows throughout the world but thrives best in cooler climates. A sensitive if not temperamental grape, Pinot Noir with the proper cultivation, vineyard location and care can produce elegant and complex wines.
Once bottled, not all Pinot Noir wines are equal and frankly, their quality depends on where the vineyard is located and the vineyard's age. In California, Pinot Noir wines vary widely up and down the coast. The farther north you go, Pinot Noir wines have the potential to be bigger and bolder.
For this article I elected to enjoy Domaine Carneros' 2011 Mt. Eden Clonal Series Pinot Noir. Domaine Carneros and its vineyards are located in the Carneros American Viticultural Area ("AVA"), right down the road from where I lived in Napa Valley. While Domaine Carneros is readily known for its wonderful sparkling wines and glamorous chateau patio that looks out over the Carneros AVA, for many years the winery has been making Pinot Noir with notable success. When this wine was first available for tasting, it was 2013. At the time of release, the wine very young. Now today in February of 2016, this Pinot Noir has truly grown into its own, has aged well and offers a wonderful mature profile.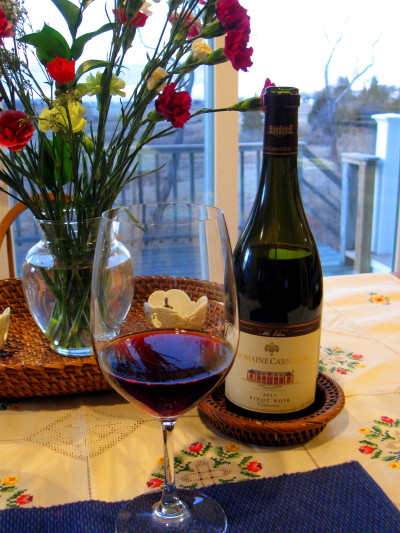 The wine's nose is smoky to the point of seeming meaty. The flavor profile presents sultry notes of roasted raspberries, bits of bacon fat, subtle hints of lavender and bits of winter sage. The front of the palate experiences big round complex flavor before the wine rumbles aggressively across the middle of the palate releasing earthy flavors and politely leaves with a finish that is elegant and sweet.
So what is it about Pinot Noir that makes people grin and often passionately seek it out? It is a combination of the complex flavors that it can yield and that coy acidity that I originally mentioned. Most do not expect brightness from red wine and Pinot Noir can feign delicacy while letting big flavors tease an inquisitive palate. It is because of this acidity that one does not pair it with typical heavy meat dishes. It lacks the tannins which effortlessly slice through fat. Instead, it is Pinot Noir's acidity that makes this red wine varietal lighter and capable of pairing well with salmon or poultry dishes.
The earthiness of Pinot Noir allows it to pair beautifully with fresh winter herbs such as sage and rosemary, portabello mushrooms, the hint of mold found in gorgonzola cheese and winter dark leafy greens such as spinach.
These seasonal winter ingredients conjure up an image of a roaring fireplace but the wine's acidity allows us to veer away from the heavier and denser meals traditional to winter. Generally with acidity, immediately the home chef's thoughts turn to foods that might involve tomatoes but cranberry is a good winter alternative.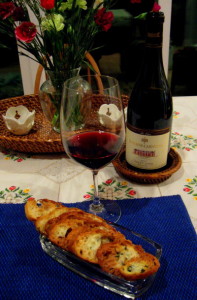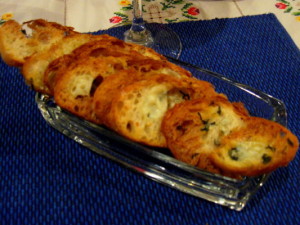 To start the meal, homemade crostini is not only simple to make but a wonderful canvas to set forth some of the actual foods that the palate identifies in the wine. Here crostini is made with ciabatta bread, sea salt, fresh ground black pepper, gorganzola cheese and fresh sage.
For dinner, roasted chicken with fresh rosemary and sage is a simple lean protein base to serve as a backdrop to the combination of flavors found in the accompanying deconstructed stuffed crimini mushrooms and cranberry sauce.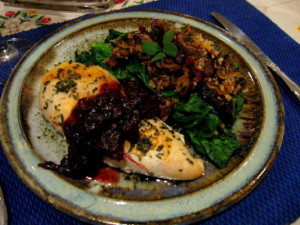 Deconstructing the stuffed mushroom, crimini mushrooms are thinly sliced, sautéed with minced shallots, chopped sage and toasted panko bread crumbs. At the last minute giant fresh spinach leaves are added to barely wilt.
The true standout on the plate is the Pinot Noir Cranberry Sauce with Herbs de Provence. The acidity in the cranberry and the acidity in the Pinot Noir neutralize each other which allows the bright red fruit flavors of the wine to become bolder and juicier and similarly the biting nature of the cranberry vanishes. My herb mix contains actual little lavender blossoms. The lavender brings a depth to the cranberry sauce and its fragrance brings romance to the plate.
In total, a savory and delicious combination of flavors. Cooking with the fresh herbs fills the house with such wonderful aromatics that you cannot help but grin and know that spring is not far off. Cheers!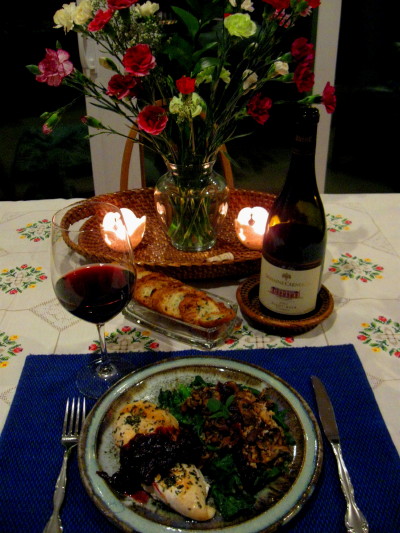 Comments Off on Seeking a Bit of February Brightness