Apr 16 2014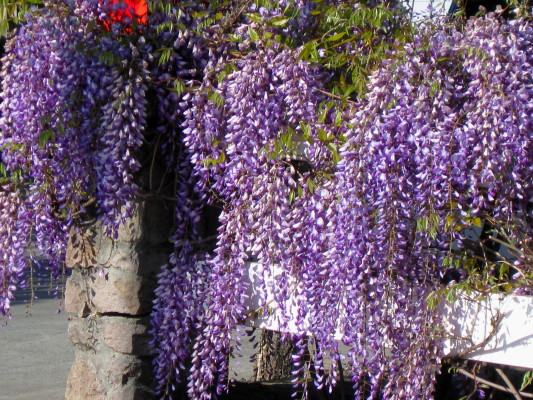 It is no secret that Rosé is summer's companion.  Often cheeky in its acidity, flavor and sweetness, it coyly hints of the arrival of summer freedom and the possibilities that lie therein.  It pairs well with hot weather:  no matter if your climate is dry or humid.  Slowly sipping Rosé on a hot afternoon brings an entitled sense of harmless laziness.
In the wine industry, however, the release of Rosé is a right of passage into the height of spring.  Here in Napa Valley, the temperatures continue to be warm and dry.  Spring is in full swing with flowers blooming everywhere and new flower varieties emerging almost daily. Just driving down some of Napa's busy roads will encompass you with the fragrance of roses.  The wineries are ever ready to stock one's collection in these early weeks of spring to prepare one for the warm days ahead and the pending arrival of summer. For those of us in the know, a good glass of chilled Rosé is easy at hand.
There are many different styles of Rosé.   These wines vary based on the grape varietal (or blend) used and the style in which they are made.   The hand of the vintner is readily apparent.  The easiest and most common way to identify that which you prefer is simply whether you like a dry style or not.  As our temperatures continue to warm, I will feature some of my favorite Rosé wines (some are new to my wine cellar).   To kick things off, however, it is only fair to commence with the winery that makes one of the most consistent Rosé bottlings in Napa Valley:   Elyse Winery.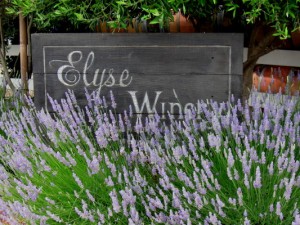 Elyse Winery ("Elyse"), located on Hoffman Lane just south of the town of Yountville, has year after year bottled a wonderfully consistent, elegant, dry style Rosé.  Elyse has strived to present its Rosé in a style most likened to those hailing from Tavel, France.  Regardless of the vintage, there is always a unique tart quality coupled with flavors of rhubarb, strawberry, apricot and perhaps raspberry.   None of these fruits are overly sugary and all yield a certain degree of acidity.  So when you taste a bit of Elyse's Rosé, it should come at no surprise to you that the wine will be dry, as opposed to sugary (if not candied) flavors.  While there is a tartness to the wine, it is not one that makes you pucker.  Instead, it begs for salty pairings such as prosciutto, parmesan cheese, certain olives or even tangy cheeses.   Its acidity opens the palate to a realm of pairing possibilities and when couled with its hint of sweet fruit, consider that culinary gate flung wide open.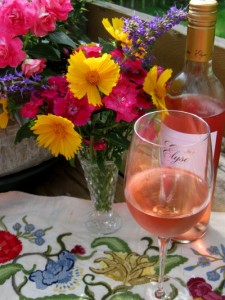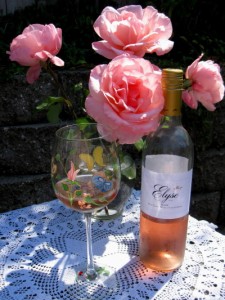 Year after year, I seek out this wine for my Rosé rotation.  If I can manage to save some, I even enjoy it at Thanksgiving with my roasted turkey recipe (which I have posted on the Facebook Fan Page for my web site in years past).  This year, I find it wonderfully enjoyable in the spring.  Admittedly, I am still finishing my 2012 vintage.   Elyse has recently released the tasting notes for the 2013 vintage so if it is not already available for purchase in the tasting room, surely it will be soon.
For the curious, the 2013 vintage consists of 47% Grenache, 38% Mourvedre, 10% Carignan, 3% Cinsault, and 2% Counoise.  One of the other consistently attractive attributes of this wine is that its alcohol content is ony 13.6% which makes it tolerable for sipping in warmer weather.  A simple rule of thumb for me is that if a Rosé hits 14%, no matter how delicious it may be, I simply do not want that level of alcohol content on a hot day.  Once the alcohol level rises that high, I find (as do many of my dining guests) that something more substantive needs to pair alongside. 
Pairing suggestions, as I mentioned earlier, are versatile. The first year that I paired Elyse's Rosé on this site, it fit perfectly with a grilled sourdough apricot mozzarella sandwich.  A few years later, the wine paired wonderfully with a butter roasted herbed chicken and an asparagus prosciutto risotto.  When I attended a winemaker dinner hosted by Ray and Nancy Coursen at Redd, they entertained their guests on the patio of the restaurant with a lovely thin crusted pizza with olive oil, arugula, prosciutto and whisps of shaved parmesan.  When I want something simple, I pick up a can of Graber Olives and can slowly nibble and sip while reading on an afternoon.   Most recently, I created some parmesan puff pastry twists and a unique kale salad and yes, Elyse's Rosé paired just fine.
Puff pastry twists are utterly simple to make and easy to improve.  Using freshly grated parmesan and a wonderful spring collection of herbs (lemon thyme, marjoram, opal and sweet basil), these snacks are a fantastic centerpiece to set in front of guests, fill their glasses and allow the conversation to begin.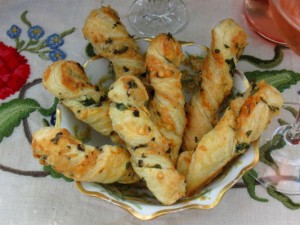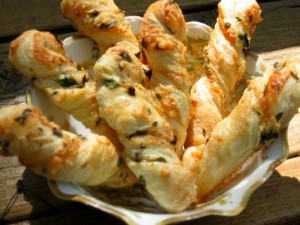 Salads are generally a challenge in wine pairing but when you have a wine with some acidity, salad becomes a cinch.   Wonderful dark leafy kale can be marinated with a lemon dressing to soften its bitterness.  I used Meyer Lemons from my tree, some locally made honey and tossed in blueberries that I grow along with chopped pecans.  The result was delicious, satisfying and paired wonderfully for an afternoon lunch.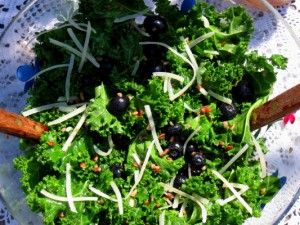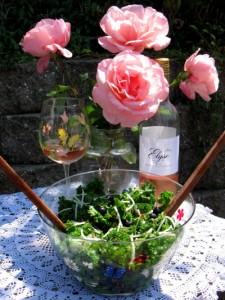 There is something about Elyse's Rosé that causes you to linger and enjoy, while time carelessly whisks away.   While it could be paired with a myriad of choices, pairing it with something straightforward will not leave you disappointed.
Right now, in the midst of spring, a glass of Rosé is the perfect way to take in the bevy of floral and herbal aromas around you, to ponder the powder blue sky above, to soak in the warm rays of the sun or simply embrace the slow sway of the green leaf canopy above you.  You, too, intuitively slow, simply sipping and nibbling while you soak up spring and wonder about all that summer this year may be.  Cheers!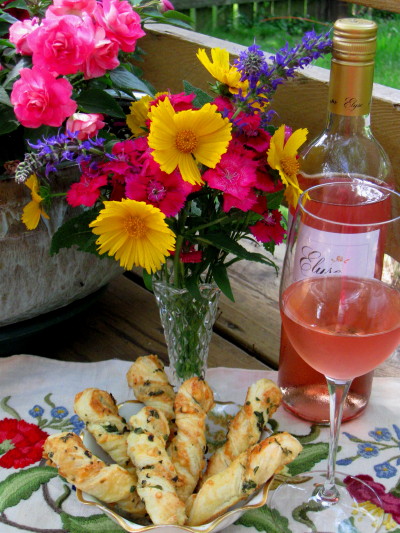 Comments Off on Get Into The Spring of Things With Rosé