Oct 05 2011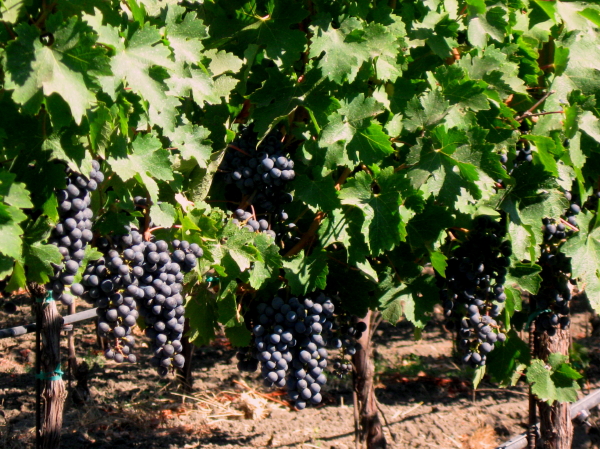 This growing season in Napa Valley has not been without its challenges.  Rain and cooler temperatures visited the valley early in the season and growers watched breathlessly hoping that "shatter" would not happen.   The summer then progressed far cooler than average.   Yields are less, yet flavors should be more concentrated without high sugar levels, high alcohol contents or off balance acidity.   While harvest is happening later this year in Napa Valley and many grapes have made it to their respective bins, growers and vintners are still hoping that later ripening varietals will continue to ripen and cross the finish line. 
Up until the last two days, Mother Nature was humoring Napa Valley and showering it with warm temperatures and plenty of autumn sunshine.  Rain typically does not arrive in Napa Valley until a month from now, so yesterday's and today's dropping temperatures and significant rainfall prompted a scramble and flurry of activity in the vineyards to hastening harvesting and avoid potential rot or other damage. 
When times such as these are anything but smooth, classic simplicity is a readily welcomed guest in any kitchen.
So often, when pairing wine with food, one's imagination can run wild.   It does not necessarily have to happen in your kitchen, it happens constantly at restaurants.   You arrive at the table with a date or friends, eyes scan the menus rapidly and minds obsessively digest all of the creative creations listed.   One person is generally tasked with picking the wine:  which must attempt to pair a wine to match the whims of all seated at the table and of course that task likely is delivered with a certain pressured expectation that he or she will select something "great".   Whew… We all know those scenarios.  Countless Cabernet Sauvignons have been ordered as a result in the hope of having a pairing "dare to be great" moment.  But what if you started with simply selecting the wine?   What if you simply selected something simple?   What if you picked something like Sauvignon Blanc?
Sauvignon Blanc recognizably is not a white wine known for its depth or complexity.  Typically graced by a flinty minerality, citrus flavor and readily recognizable acidity, this white wine varietal offers a unique dependability which is an asset if you find yourself in a clutch or if everything else surrounding you is hectic.  
Markham Vineyards ("Markham") bottles a Sauvignon Blanc that stands up to this standard but also offers a terrific side benefit of affordability.   Pouring a glass of Markham's Sauvignon Blanc offers delightful aromas of lime and lemon and the palate is greeted with delicious flavors of passion fruit, lemon and grapefruit flavors which are balanced by a classic minerality.  It is an easy sipper that can wile the hours away on a sun-drenched patio or at the end of a busier than anticipated day.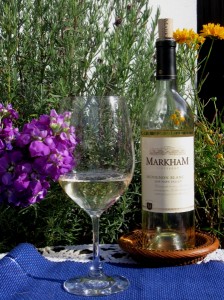 While Sauvignon Blanc easily pairs with spicy fare or fresh seafood, its acidity allows this varietal to pair well with tomatoes.   At this point in the Bay Area, tomato season is winding down and perhaps with this week's suddenly unseasonable weather, tomatoes were rescued from garden vines. A classic simple tomato dish enjoyed by one and all is bruschetta but turn it into an easy fondue and comfort food abounds.   This week's menu hosts:
Heirloom Tomato Bruschetta Fondue With Sourdough Bread
If fondue seems like a production, try using a small crock pot.   If you make a fondue in a slow-cooker, it makes entertaining "hands-off" until it's time to eat.    Similarly the slow cooking manner will help maintain consistency and texture in cheese.   If the crock itself is removable, then it can easily transport to a table for casual serving.
Here heirloom tomatoes are combined with white wine, garlic, onion, olive oil and basil to cover and submerge a ball of fresh mozzarella.   If allowed to simmer on low, a few hours later the lid is lifted to reveal an aromatic tomato-mozzarella fondue.
Slices of fresh sourdough bread are served alongside, destined to be topped with tomato goodness.
As predictable as imaginable, the acidity in Markham's Sauvignon Blanc is softened instantly by taking a bite of the tomato bruschetta.    The softer tropical fruit flavors rush forward and meld with the white wine flavors in the bruschetta recipe.   The sweet tomato flavors dependably deliver that sensation and flavor of comfort food combined with the creamy milky flavor of fresh mozzarella.
So whether unseasonal weather throws a monkey wrench into your plans or unexpected developments pull you in several directions at once this autumn, never underestimate the reliability of wine and food pairing basics to satisfy your taste buds and those of your guests.
Comments Off on Welcomed Simplicity With Sauvignon Blanc