Sep 20 2011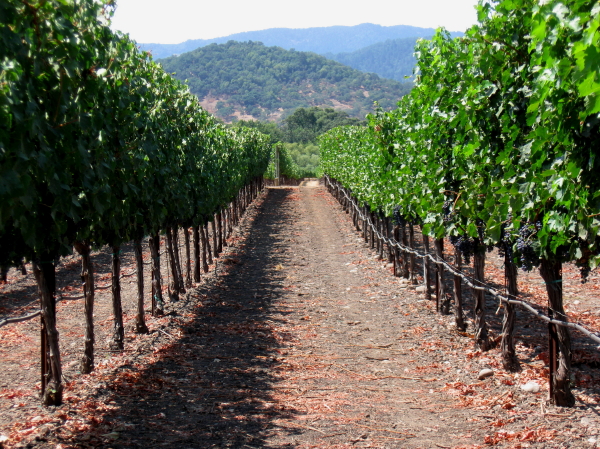 As mentioned in last week's article, heirloom tomatoes continue to dominate the local produce scene in the Bay Area.   In September, a late summer heat descends upon the Bay Area.  With warm sunshine, heirloom tomatoes of all varieties practically tumble off the vine, ready for enjoyment.
Recently I realized that I had yet to feature any pairings this summer with the classic garden ripened tomato and similarly, as I have contemplated a variety of heirloom tomato based recipes I realized that I had overlooked pairing Zinfandels, too. 
Zinfandel is the classic red grape varietal that finds its way most often to backyard patios and perfectly paired with nearly anything off the barbeque grill.   While Zinfandel can pair well with standard barbeque sauces and creative marinades, it also pairs well with tomatoes given the wine's acidity level.    Rarely tannic, a Zinfandel wine is easy drinking for many and given its often big fruit-driven flavors it is an easy choice for food pairings.
During the summer of 2009, I featured a certain old vine zinfandel from Sonoma County on this site in an article titled, "Old Vines and Classic Times".   The wine in question was offered at the time by Ledson Winery and Vineyards ("Ledson"), located in neighboring Sonoma County.   The wine, Ledson's 2006 Amy's Vineyard Russian River Valley Old Vine Zinfandel was delicious at the time with big round raspberry fruit flavors and delicious spice.  The vines that grow the grapes for this vintage are over 100 years old.   The wine itself was drinking beautifully in 2009 and in 2010, long after this vintage sold-out, the Wine Enthusiast awarded this wine 92 points to reflect the outstanding quality that was still being enjoyed.   In 2011, when I opened another bottle of this vintage, my palate was not disappointed.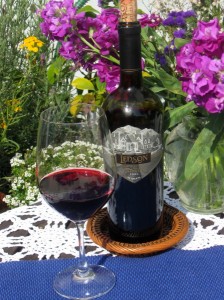 Pouring into the glass, the same gorgeous deep jewel tone ruby colors dance.   The nose is greeted by voluptuous aromas of red raspberry and smoke while yielding a slight perfume of violets.   When the palate is finally allowed to explore this sensual beauty, it finds that this aging old vine zinfandel is smooth like silk with almost a silt-like texture that slips past.   Ripe round red fruit is easily enjoyed across the palate and it is clear that this wine boasts enough acidity to saddle up to tomatoes and is perfect for lazy warm Sunday afternoons with neighbors as the grill smokes away and tomatoes have been picked from a backyard vine for enjoyment.
To accentuate the flavor profile of the wine and its beautiful texture, this week's heirloom tomato inspired menu boasts:
Grilled Heirloom Tomato Open-Faced Sandwich on Grilled Sourdough Bread with Avocado, Pancetta, Blue Cheese and a Buttermilk Thyme Shallot Dressing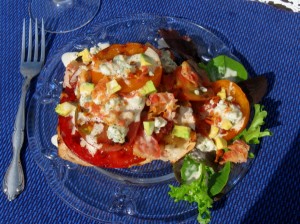 Sourdough bread is one of the many things that San Francisco is famous for.   The tangy flavor of the bread makes a well-suited festive match for the spices found in a Zinfandel.   The varietal's spice profile is accentuated by this type of bread.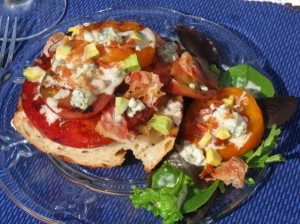 Grilling heirloom tomatoes introduces a caramelized, smoky and rich flavor that nearly melts in your mouth.  When paired with the wine, the Zinfandel literally tumbles forth with wonderful ripe full flavors of red raspberry, roasted plums and smoky spice.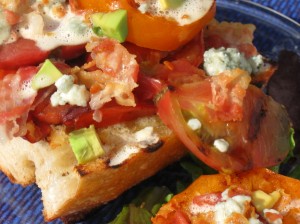 When starting with something as simple as fresh heirloom tomatoes and a visually simple open-faced sandwich can turn gourmet in the blink of an eye; it is easy to understand why pairing your wine varietals is of importance.   It becomes a dual opportunity to show off the grape's best natural attributes and similarly the ingredients.   When both are paired perfectly, each helps the other to show off the best that it can be.
In this case, grilling heirloom tomatoes creates a delicious caramelized flavor akin to comfort food.  When these delicious tomatoes greet the bottle aged 2006 Amy's Vineyard Russian River Valley Zinfandel, bright red fruit bursts forth from the wine.  It is like stumbling along a berry patch on a hike and feeding on the labors of the summer sun as you continue your September excursion.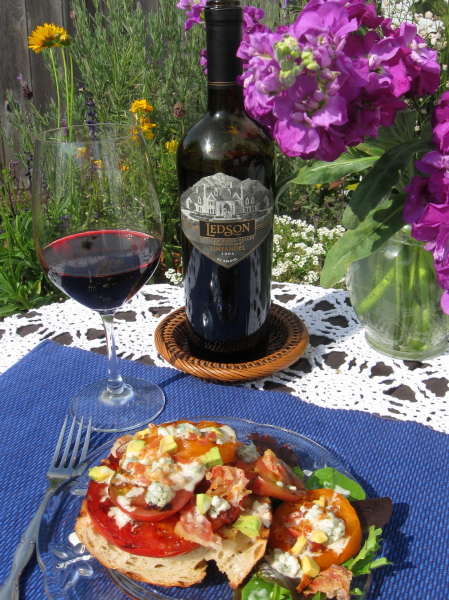 Comments Off on Old Vine Zinfandel: A Timely Revisit