Apr 06 2011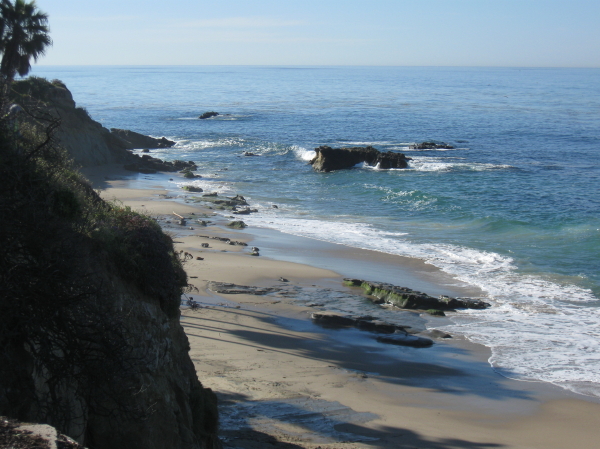 No matter where one finds oneself in California, one senses a movement to eat locally and consume wine locally.   This concept, while increasingly popular is largely rooted in common sense.   Produce simply tastes better when the time lapse from "vine to dine" is as small as possible.    While Northern Californians often like to assume a certain proprietary pride regarding this idea, there are equally passionate communities throughout the state.   Travel to Southern California and the commitment to local food and wine consumption is visibly apparent.
As mentioned in my prior article, last week brought me to Southern California.   Originally from Southern California, I am a veteran of its farmer's markets and roadside produce stands since infancy.  Motoring down Highway 101 from the Bay Area takes one through lovely Monterrey County where roadside visible fields abound with colorful fresh lettuces, spinach and other cool climate crops.  Next comes San Luis Obispo County which has more farmer's markets than the memory can schedule as almost anything grows and thrives there.  Travelling through the Santa Ynez Valley in March lets one know that bud break has already happened in this wine country and that a new growing season has commenced.   At the end of the day you arrive in Malibu, in Los Angeles County, and your mouth is watering from a day long road trip through some of California's largest agricultural producing regions.   Interestingly enough, stopping in Malibu one finds that there, too, in Los Angeles County, is a strong movement to eat locally as people are embracing the unique terroir, proximity to the ocean and the coastal climate that often nurtures produce and grapes to incomparable quality.   While Highway 101, El Camino, is known for its history in linking the missions for early settlers, it today provides travelers with a readily discoverable path to seasonal, fresh produce in California at its best.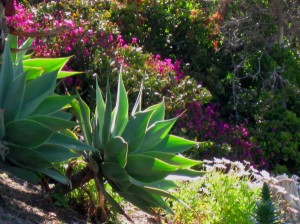 Upon discovering the strong commitment to local produce in Malibu it was only logical that vintners would be also be a part of this community.   Malibu technically has two American Viticultural Areas (each an "AVA"), the Saddle Rock-Malibu AVA (located in Los Angeles County, high in the Santa Monica Mountains) and the Malibu-Newton Canyon AVA (established in 1996 and within the city limits of Malibu).   Between Malibu and reaching up to Agoura Hills, microclimates abound and depending on where a vintner finds himself, grape growing could yield delicious success.
Within the Malibu region there is a collection of grape growers and vintners who are committed to tending the local soil and bottling that which the unique terroir offers.  Under the label Casa Dumetz, Sonja Magdevski and Emilio Estevez presently produce three wines, with one boasting 80% of its grapes from the winery's Malibu estate.   Having literally planted grape vines in their yard, winemaking could not be any more local.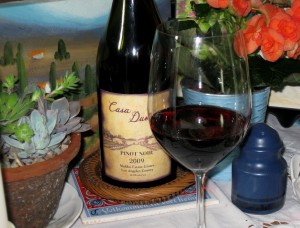 Growing grapes in Malibu presents its challenges as there can be extreme heat, strong winds, fog and colder temperatures.   Yet as Casa Dumetz proves, Pinot Noir will grow here.   Casa Dumetz's El Camino Malibu Estate Grown 2009 Pinot Noir ("2009 Pinot Noir") also reaches to its Highway 101 neighbor, Tierra Alta in Santa Ynez Valley, to add 20% of Grenache to its bottling.   Grenache is a grape that grows well in warmer climates and when blended adds a brightness to the wine with round, soft fruit flavors.   This in turn will make a wine more readily accessible to the palate.  Taking into consideration that production is limited (only 48 cases produced), any wine aficionado will readily realize that something good with a unique artisanal touch of winemaking awaits him or her in the bottle.
In the glass, Casa Dumetz's 2009 Pinot Noir shows off a rich color that is surprisingly darker yet graced with ruby jewel tone hues.   From appearance alone, the wine shows character and your nose confirms this as it draws to the upper rim of the wine glass to explore.   Round ripe aromas of raspberries and pomegranates are perfumed gently by notes of cedar.   As the glass tilts back, the nose is showered with the perfume of rose petals and anise.   Graced by time in the bottle, on the palate, the wine softly caresses with chewy cherries, warmed raspberries, rick plum and delicately unfolds to reveal pepper and bits of lavender.   The Grenache is readily identifiable as it festively brightens the wine.  The wine also offers a sophisticated, yet sultry earthiness that encourages one to contemplate the origins of the grapes and all that the Malibu terroir  has to offer.   Despite the character that the soil gives the wine, this location in Malibu does not overwhelm the historically finicky Pinot Noir vine as the wine reveals delicate layers of flavors (as a Pinot Noir should) that dreamily peel back, gently shifting from bright fruit, to spice and to herb.
Knowing that this wine would reflect a certain brightness due to the Grenache and a diverse layered flavor profile as a Pinot Noir, creating a menu from a variety of seasonally fresh ingredients would allow the 2009 Pinot Noir to truly flaunt its attributes.   Further, being in Southern California for the week, it did not take convincing to rise early on a Saturday morning and head to the local farmer's market.   Given the warmer temperatures in Southern California, the growing season for produce is far ahead of its Northern California counterparts:   strawberries, avocados, oranges, tomatoes, sweet potatoes, leeks and onions are already coming into season to accompany the already present varied greens, mushrooms, asparagus and artichokes.   With this in mind, all ingredients (except for the fish and the olives) in this week's menu came either from the local farmer's market or my own backyard:
1)      Tomato-Zucchini-Olive Ragout Atop Spinach-Cheese Bread;
2)     Cedar-Wrapped Salmon With Caramelized Leeks and Roasted Mushroom Medley; and
3)     Japanese Sweet Potato With Chive Butter.
When you step into a farmer's market and can smell the produce before reaching the various farmers' tables, you know that you have landed in the right place.   Picking up tomatoes that are fragrant, plump, meaty and juicy will make a delicious starting course of Tomato-Zucchini-Olive Ragout to top off bread from one of my favorite bakers from Yorba Linda.
Baker's Best Bread, located in Yorba Linda, is prepping itself to be launched in Whole Foods in Southern California, yet you can still pick up a European loaf which has been lovingly handcrafted from the owner himself at the Irvine Farmer's Market. Baker's Best Bread truly is the best with fresh flavors, wholesome ingredients and texture that makes you feel as though it has just been pulled from the oven and brought to the farmer's market especially for you.   While his Rosemary-Garlic bread has been a long-standing favorite of mine, I decided to use the owner's Spinach-Cheese Bread which has visible flakes of spinach throughout and is deliciously flavored with Asiago cheese.   This bread alone without anything else would make a fantastic snacking pairing with Pinot Noir.  Toasting it in the oven, the bread will readily hold the Tomato-Zucchini-Olive Ragout.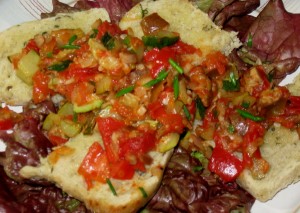 To create the ragout, not only am I using tomatoes from the farmer's market but am also using zucchini.  From the garden a shallot is plucked and two types of thyme are harvested:  both Lemon and Lime.   Lime Thyme is the new celebrity in my garden as it adds a certain festivity to dishes, both flavorfully and fragrantly.   Shallot is coarsely minced and gently sautéed with razor thin slices of fresh garlic.   As the tomatoes and zucchini simmer, aside from adding the thyme medley, the only other seasonings used are a bit of olive oil, sea salt and a tiny dash of freshly cracked black pepper.   When produce is this fresh and this local, the flavors are exponentially better and less is needed to flavor.  Further, no respecting Southern Californian would forget to roughly chop up some left-over Graber Olives to add to this ragout.   Graber Olives have long been grown and canned in Ontario (Southern California) and can frequently be found on the shelves of grocery stores throughout Los Angeles and Orange County.    Growing up on Graber Olives was a treat as these delights are incredibly buttery and nutty in their flavor.   Adding them to the ragout presents the flavors of olives, but gives an earthy and smooth flavor.  More importantly, these olives in particular add a "wow" factor to the dish which will impress any guest.   When paired with the 2009 Pinot Noir, the wine's brighter fruit flavors dance across the palate.    The pairing gives a sense of ease, ready enjoyment and an artisanal feel as if you sitting on a patio overlooking a vineyard after a day of working with the land.
To demonstrate the wine's more serious attributes, salmon is wrapped in cedar paper.  The cedar paper was previously soaked in a bit of the pinot noir and water to create a bridge of flavor between the wine and the main course.   Since I am caramelizing leeks from the farmer's market, the greens of the leeks are sliced such that they can be used as a tie for the cedar paper and also infuse flavor into the fish.  Baked in the oven, a more environmentally gentle manner of preparing cedar roasted salmon emerges.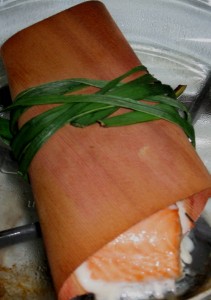 As finely sliced leeks slowly caramelize, next I have a medley of exotic mushrooms from the farmer's market to roast.
While exotic mushrooms can be pricey, purchasing them at the farmer's market allows you to control cost as you can select the right balance of that which you need for your dish.   It also permits you to access a flavor profile that is unlike anything you will ever find in your local grocery store.   Minced shallot, garlic, lemon thyme and white wine are added to the mushrooms to roast in the oven and then slowly simmer on the stove.   Once completed, the leeks and the mushrooms are placed atop the salmon for the main course.   Paired with the 2009 Pinot Noir, the wine becomes instantly more masculine as the earthy notes are more pronounced.   Since the salmon is baked wrapped in cedar papers, the fish then solicits a mystical smokiness from the 2009 Pinot Noir making it perfect for those evenings when the marine layer returns to the coast and delivers a slight lingering chill to the air.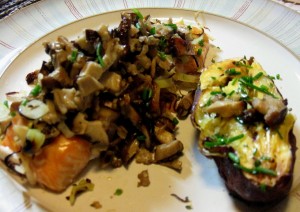 Finally, while all of this is transpiring, roasting in the oven is a Japanese Sweet Potato.   This sweet potato is unlike its counterparts.   Available at the farmer's market, these sweet potatoes are delicately sweet, similar to the texture and gentle unfolding layers of a Pinot Noir.   Topped with a butter laced with chopped chives from the garden, the Japanese Sweet Potato serves almost like a dessert in addition to being a healthy side dish.
Working with the earth is an honor:  its yields grace our tables and our wine glasses.   Depending on where you are located, the flavors of your produce and grapes will vary yet have an indelible fingerprint of where you are.   Head to your local farmer's market this spring; however, if you are interested in truly eating locally, step out into your yard and get busy planting, mindfully.
*Special Announcement:  Put your money where your palate is and consider attending Hall Winery's Cabernet Cookoff on April 30th to benefit Napa Valley non-profits.   I will be dicing for dollars with my cooking team to win in the amateur round.   Keep reading this month for more information, press releases and join the fan page on Facebook to learn more fun details.   Cheers!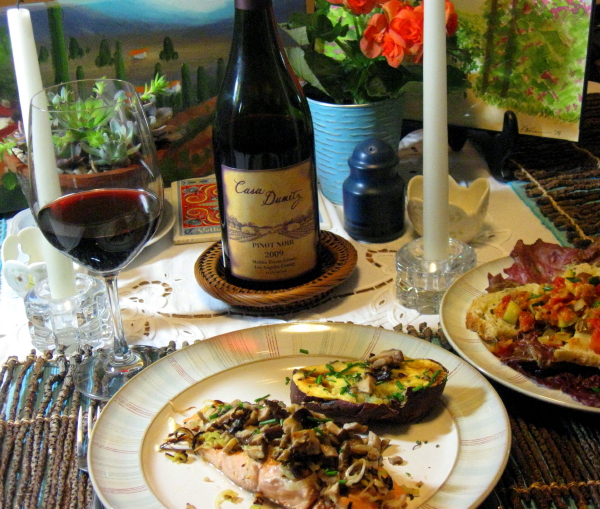 Comments Off on Drink Local, Eat Local