May 26 2016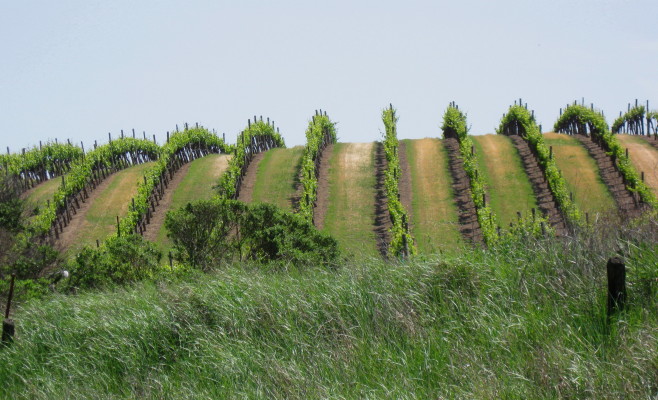 Week by week the weather improves and every so often a weekend will be laden with sunshine, warmer temperatures and everyone everywhere seems to relax just a little bit more.  It is the month of May, the tempress that she may be:  teasing with temperatures that slowly creep up the thermometer and with a flash of a sunny bright warm day that is more readily found in the month of June. 
As I write this, the East Coast has just had one such weekend with Saturday being the stellar day, but its indelible mark reminiscent of summer has remained and why shouldn't Sunday be just as spectacular?   Granted the temperatures settled farther down the the thermometer than I would have liked but with its abundant sunshine and moderate breeze, it was finally comfortable for outdoor dining mid-afternoon on the back deck. 
Wine pairing in the afternoon is an art because the wine itself cannot be of a certain alcohol content or the remainder of the day is utterly wasted.  Similarly, as warmer weather approaches that higher alcohol content dehydrates you that much faster and ultimately isn't that enjoyable.  What a host or hostess searches for is a wine that isn't there to hijack the remainder of your weekend but to be a pleasant, fun-loving guest who knows how to hold its own throughout the afternoon event and yet know when to graciously leave so that you may still be useful towards preparing for the start of the work week.  
While rose wines are making quite a splash presently, not all are created evenly and a seemingly fun light-hearted pink can whallop a punch with a sneaky higher alcohol content depending on the grapes used and where they grew.  However, by and large, white wines do not offend and can maintain that light carefree feel (with a few exceptions like a Viognier) keeping their own composure and helping you to maintain yours largely due to a lower alcohol content.
Not wanting the pleasantness of the weekend to end, I decided to take a drive, winding through the trees to go pick up a lobster tail.  I had an idea of what I would do in order to prepare it and I knew that a glass of Chardonnay would pair well with the recipe.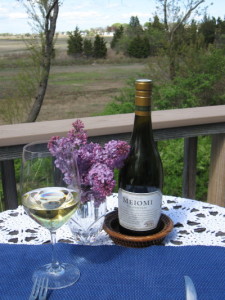 For the Caymus fans, the children of Chuck Wagner do not disappoint and in the last 8 years each has really made his or her respective way into the wine scene.  Charlie Wagner is known for his lovely oaked and unoaked Chardonnays under his Mer Soleil label which I have featured many times before.  His sister, Jenny has recently emerged on the scene with her label Emmolo making a terrific Merlot and Sauvignon Blanc.  Their brother Joseph "Joe" Wagner largely specializes in Pinot Noir under his labels Belle Glos and Meiomi but last year my taste buds were pleasantly surprised by a Chardonnay under the Meiomi label which picked up 90 points from The Wine Enthusiast.  
If last year's released vintage received 90 points, this year's released 2014 vintage should score higher.  It has a sleek undercurrent of sophistication as it transitions the palate.  The wine incorporates Chardonnay fruit from three different California wine regions:   Monterrey County ("Monterrey"), Sonoma County ("Sonoma") and Santa Barbara County ("Santa Barbara").  The 2014 vintage is a blend of 37% Monterrey Chardonnay fruit, 36% Sonoma Chardonnay fruit and 27% Santa Barbara Chardonnay fruit.   According to Meiomi, Monterrey provides the ripe stone fruit and round creamy texture; Sonoma provides crisp apple and lean minerality; and Santa Barbara sets forth the exotic sweet spice and lively tropical fruit notes.   Having gotten to know each county's wine region and having tried Chardonnay from each region, this description is more than apt.  The climate of each area varies and each allows Chardonnay to offer different characteristics which may or may not be found in the other regions.   To blend Chardonnay fruit from each county actually sets forth a lively, bordering on vivacious Chardonnay.  This can be a go-to picnic wine, lunch entertaining wine or simply that wine you reach for when you have a simple light dinner or cheese plate at hand.   Its flavor profile boasts versatility and to test it, I paired it with my Sunday afternoon grilling:
Grilled Lobster Tail with Salad of Mango-Kumquat-Herbs-Spices.
Not wanting much labor in my preparations for my Sunday afternoon outdoor lunch, I picked up a chef-ready lobster tail at the local market which made preparation as simple as firing up the charcoal grill and softening some butter.  Knowing that I had some Meiomi Chardonnay to enjoy, I decided to create a salsa cruda consisting of chopped mango, thinly sliced kumquats, chopped shallot, garlic and scallions and then spiced with red pepper flakes, threads of saffron, cilantro, ginger and lemon thyme.  The salsa was ultimately tied together with a quality single grove olive oil from Northern California.  It alone was a lively medley of flavors but one that would accentuate the attributes of the wine and not be lost among the smokey bites of grilled buttery lobster.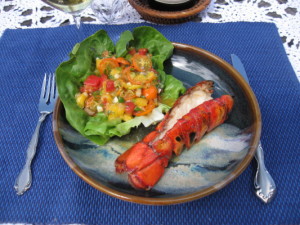 The blend of sweet and acidic, accentuated with sweet exotic spice notes mirrors almost perfectly to flavor profile of the Meiomi Chardonnay.   Sweet luscious peach fruit comes forth before being outlined by green apple and minerality and that spice in the wine is ginger which almost becomes seductive with the saffron in the salsa cruda.  
Meanwhile, lobster and Chardonnay are old friends:  one due to the buttery notes which have always harkened to the oaks notes in Chardonnay but second to the fact that lobster is largely tasted and truly experienced mid-palate (just like Chardonnay).
The plate is also a stunner for a lunchtime presentation as it is colorful and festive.
The combination of the flavors, near effortless preparation and the Meiomi Chardonnay wine is as carefree as the spring sunshine.  It would make entertaining on a summer afternoon fun and easy-breezy.  Adding the ocean breeze is optional; but if you've got it, flaunt it. Cheers!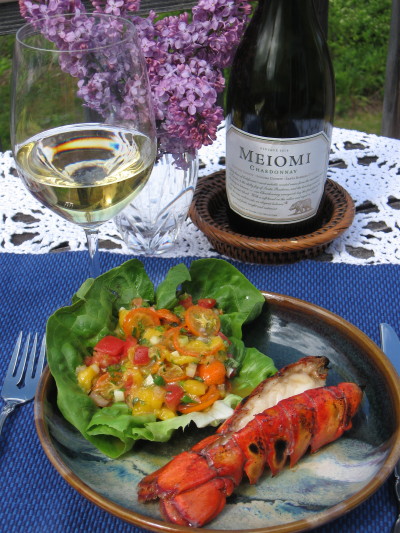 Comments Off on Sunday Funday